Nerissa Fernandes
Content Lead, Arrive at RBC Ventures
Read my experiences from my first month in Toronto.
How to navigate Toronto by public transit
As I settled in, it took me a couple of weeks to get over the jet lag. Giving myself that time to settle, I planned some of the other important activities, such as getting a personal ID,  for the following month. April also had a few other surprises in store for me, read on to find out what they were.
Public transit in Toronto, commonly referred to as TTC (Toronto Transit Commission),  is a quick and easy way to get around the city. I bought a Presto card from Shoppers Drug Mart because it is the most convenient way to use public transit in the city. The adult card costs $6 and it can be topped up, online or at the station, with various denominations and is very easy to use. It can be used in transits across Toronto, GTA, Hamilton, and Ottawa.
TTC tip: Use a Toronto transit app to help you find transit routes and get transit alerts.
Getting personal identification in Ontario
Having an ID card is essential for all residents and since one can only hold either the Ontario Photo ID or a Drivers License, I decided to apply for the Photo ID by visiting ServiceOntario and applying for it in person. It's a simple process and the card takes about 4 to 6 weeks to be delivered; I got mine in just five weeks.
Coping with the weather in Ontario
While the weather was supposed to get better in April, the opposite happened – there was a major ice storm in Toronto – another first for me. Temperatures dropped to -12 degree Celsius. I watched the news and learned about the dangers of driving in such weather as there were multiple accidents being reported on the freeway. The view outside was all-white and it felt like peak winter in spring. Cold weather has dry air and that tends to cause nose-bleeds. I wasn't aware of this initially but when my nose-bleeds didn't stop, I had to get a humidifier for my room. That solved the problem so I would highly recommend picking one up right away.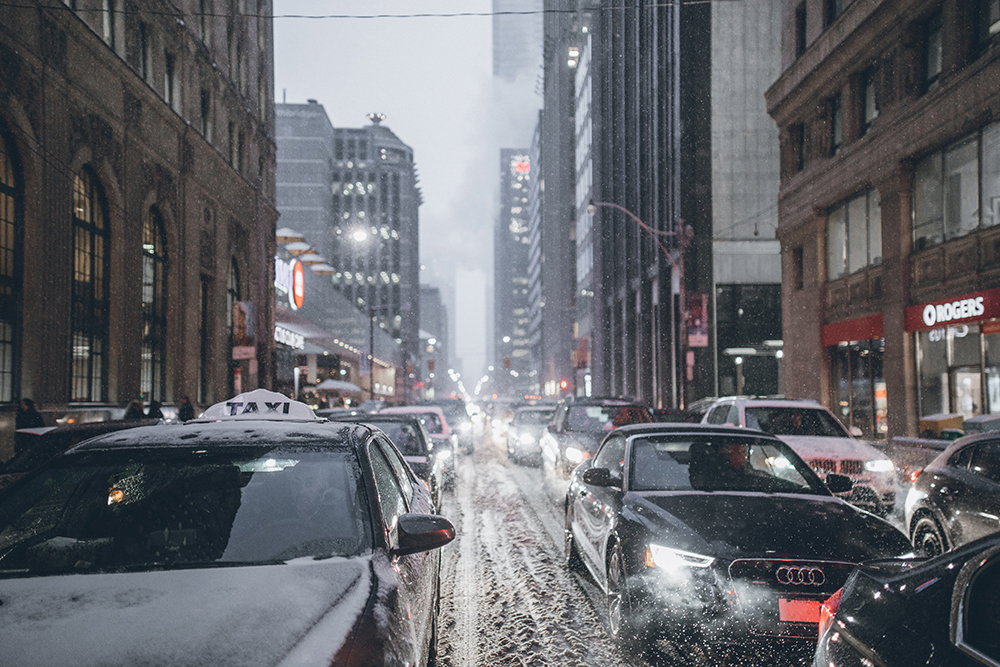 How to meet other newcomers
When the weather got better I had a chance to meet many newcomers, who I'd earlier interacted with on social forums such as Facebook and Whatsapp, in person. It was nice to get to know their stories and experiences. We planned lunches, dinners, and even visited popular tourist attractions in the city together. There is a 2-day city tour that you can sign up for that takes you around the city on the hop-on-hop-off bus. In my opinion, this is the best way to see Toronto.
What to expect from the culture in Toronto
Toronto is a multicultural city and has a very friendly vibe. While you make an effort to adjust to the weather and other day-to-day situations it is also important to familiarize yourself with the local culture. A good way to do this is by watching local television channels and commercials. In the initial days, it is truly an educational experience! Interesting note about food: the portions served in USA and Canada are huge. This wasn't new to me but most people travelling to North America for the first time will find it shocking. There is also the culture of tipping for most services – at restaurants, for cab rides and so on, which many Indians are not accustomed to. It's considered a standard practice to tip 15-20% at restaurants as people in the service industry typically get paid below minimum wage so they basically earn their income on tips.
In the month of May, the weather got much better so I was able to go around the city and visit some major tourist attractions. Have a look at my next post for some interesting tips!
Checklist for arriving in Toronto
Get a Presto card for hassle-free travel in public transit.
Visit ServiceOntario and apply for either photo ID or driving license (requires a test).
Explore the city and get to know various neighbourhoods.
Interact with locals and get familiar with the Canadian culture.
Remember to tip for services – such as at restaurants or cab rides.
About Arrive
Arrive is powered by RBC Ventures Inc, a subsidiary of Royal Bank of Canada. In collaboration with RBC, Arrive is dedicated to helping newcomers achieve their life, career, and financial goals in Canada. An important part of establishing your financial life in Canada is finding the right partner to invest in your financial success. RBC is the largest bank in Canada* and here to be your partner in all of your financial needs. RBC supports Arrive, and with a 150-year commitment to newcomer success in Canada, RBC goes the extra mile in support and funding to ensure that the Arrive newcomer platform is FREE to all. Working with RBC, Arrive can help you get your financial life in Canada started – right now. Learn about your banking options in Canada and be prepared. Click here to book an appointment with an advisor.
* Based on market capitalization
Disclaimer:
This article offers general information only and is not intended as legal, financial or other professional advice. A professional advisor should be consulted regarding your specific situation. While information presented is believed to be factual and current, its accuracy is not guaranteed and it should not be regarded as a complete analysis of the subjects discussed. All expressions of opinion reflect the judgment of the author(s) as of the date of publication and are subject to change. No endorsement of any third parties or their advice, opinions, information, products or services is expressly given or implied by Royal Bank of Canada or its affiliates.