We have shared many newcomer stories here: stories of perseverance, planning, and patience. No matter where people are coming from, the theme that emerges, again and again, is just how important preparation is. People want to know how to come to Canada: whether that means learning more about various immigration programs (and figuring out which one is right for you), preparing a pre-arrival checklist, understanding the Canadian job market, or how to establish a solid financial footing in Canada. The new Arrive app is the single source for what you need to succeed in Canada.
The team at Arrive (most of whom are newcomers themselves) have reimagined the Arrive app based on their own experience as well as what they've learned from so many people in the ever-growing Arrive newcomer community. The new Arrive app is designed to be the essential tool for newcomer success in Canada; it's your "How-to all things Canada" app.  
Find the tools and resources for your Canada journey 
Wherever you are in your Canada journey, the new Arrive app is there for you – every step of the way. Our personalized programs provide tools and resources that really help, along with relevant information you know you can trust right when you need it.

There is so much information out there for newcomers; it can be overwhelming. It's hard to know what's reliable and what really applies to your own unique journey: from banking and budgeting to finding accommodation to how to stand out in your job search. With the new Arrive app, you can browse a variety of topics to get relevant information tailored to fit your unique journey. Programs will get you timely information for the journey stage you're in. And, you can learn anytime, wherever you happen to be.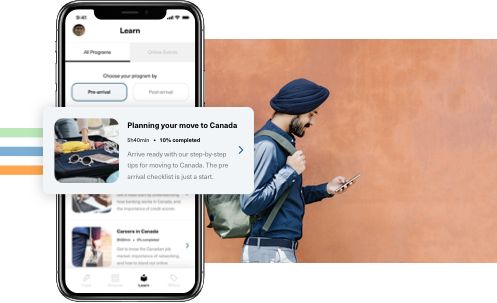 "It's looking really nice, super smooth, well organized. It has a purpose, and it's clean, easy to navigate and intuitive."
Access programs that will help at every journey stage
Immigration
Understanding the immigration process early is a real advantage. Be clear on the requirements and the options available, and more. Get information on everything from English language tests to express entry and study permits. 
Moving to Canada
Arrive ready with our step-by-step guide for moving to Canada. The pre-arrival checklist is just a start. We'll walk you through everything, from booking your flights and accommodation to calculating expenses.
The Canadian job market
Get to know the Canadian job market, the importance of networking, how to stand out online and more. You'll learn how to customize your resume to get responses and how to succeed in interviews.
Post-COVID Canada
Arrive prepared with the facts on what to expect as a newcomer moving to post-COVID Canada. Understand travel restrictions, safety protocols, how to prepare for your online job search and more.
Banking in Canada
Get a head start on your finances in Canada by understanding how banking works here, the importance of credit scores and more. You'll learn everything from opening a bank account to preparing a budget.
And more.
Benefit from expert guidance
The new Arrive app can help you reach your life, career, and financial goals in Canada faster with the help of our team of experts. You can chat with an RBC advisor to help guide you through opening a bank account in Canada, connect with industry experts and Arrive Ambassadors, who will share their insights and experiences and provide mentorship through workshops and webinars.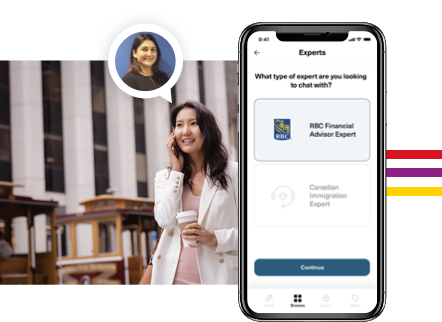 "I loved it [new app], and I am excited to see what the users have to say about the new experience. Programs will help answer questions for a lot of newcomers."
Unlock exclusive newcomer offers
At Arrive, we know what it's like starting out in a new country. Our offers are selected exclusively for newcomers. Like the information, tools and resources you get with Arrive, our offers are relevant to your journey and will help you settle and feel at home in Canada.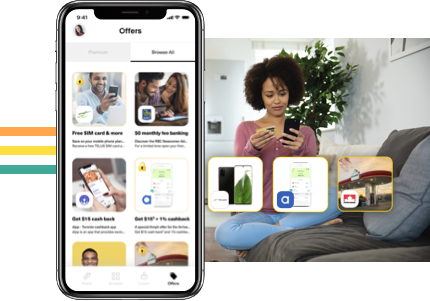 "It's much more developed and involved than the previous version – an amazing experience."
We've redesigned the way we do things so that we can help newcomers in a truly meaningful way.

At Arrive, our goal has always been to help newcomers reach their goals in Canada. We're incredibly proud of the community we have built together and are continually inspired by the amazing people we meet from all over the world. We wish you well on your Canada journey. We're sure the new Arrive app will help make your journey to Canada less stressful and your newcomer story a successful one. Arrive ready.
About Arrive
Arrive is powered by RBC Ventures Inc, a subsidiary of Royal Bank of Canada. In collaboration with RBC, Arrive is dedicated to helping newcomers achieve their life, career, and financial goals in Canada. An important part of establishing your financial life in Canada is finding the right partner to invest in your financial success. RBC is the largest bank in Canada* and here to be your partner in all of your financial needs. RBC supports Arrive, and with a 150-year commitment to newcomer success in Canada, RBC goes the extra mile in support and funding to ensure that the Arrive newcomer platform is FREE to all. Working with RBC, Arrive can help you get your financial life in Canada started – right now. Learn about your banking options in Canada and be prepared. Click here to book an appointment with an advisor.
* Based on market capitalization
Disclaimer:
This article offers general information only and is not intended as legal, financial or other professional advice. A professional advisor should be consulted regarding your specific situation. While information presented is believed to be factual and current, its accuracy is not guaranteed and it should not be regarded as a complete analysis of the subjects discussed. All expressions of opinion reflect the judgment of the author(s) as of the date of publication and are subject to change. No endorsement of any third parties or their advice, opinions, information, products or services is expressly given or implied by Royal Bank of Canada or its affiliates.