As per the 2018 Organization for Economic Co-operation and Development (OECD) data, Canada is the most educated country in the world. To highlight the importance of education in the lives of Canadians, in 2014, Canada spent 6 per cent of GDP on education compared to the Organisation for Economic Co-operation and Development (OECD) average of 5.2 per cent. 
When moving to a new country, as a parent, you want the best for your kids, and education is often a priority item on that wishlist. The schooling system in Canada may be different from your home country and might seem confusing with information from varied sources. 
In this article, we will explore the basics of schooling in Canada, explain the types of schools, grade structures, levels of education, and outline the process to enroll your kids in school, providing helpful tips all along to guide your decision-making.  
Basics of school education in Canada
School education in Canada is mandatory for children aged five to 18. Generally, the school year begins at the end of August, or early September, ends in June, and is divided into periods or quarters (also called terms or semesters). The months of July and August constitute summer break. There are a few year-round schools and some that have a year that runs from mid-August to the end of May.
Most schools follow a five-day week and work from Monday to Friday. A typical school day in elementary schools is usually from 8:30 a.m. to 3:00 or 3:30 p.m., with two 15-minute breaks and an hour for lunch. In high schools, hours are usually from 8:30 a.m. until 2:30 p.m. Extracurricular activities and sports are scheduled after school hours.
Tip: Families immigrating with kids should plan their move, taking into consideration the start of the school year as it would ensure continuity of grades in Canada.
Types of schools in Canada
There are two main types of schools in Canada:
1. Public schools
Over 95% of Canadians choose public school education for their children. These schools are funded and run by the provincial or territorial government. Each province/territory is divided into school districts governed by a superintendent and a locally elected school board (or board of education) that decides instructional policies, makes hiring decisions, purchases school equipment and oversees daily operations. Most public schools in Canada are co-ed, meaning boys and girls learn together in the same classroom.
French immersion schools:

This is a subset of traditional public education in which a school in an English-speaking province teaches students entirely in French in order to help them get fluent in Canada's second official language. The programs tend to fill up quickly, and there are often long wait times before a student will even be considered.
2. Private schools
Only a fraction of students in Canada attend private schools as they are considered to be a costly affair. Depending on the type of school you decide on, annual tuition can range from $4,000 CAD up to over $100,000 CAD. Private schools are also very selective of their students and hence, can be difficult to get into. 
Within public and private schools, you may come across Catholic schools:
Catholic schools participate in the mission of the church by integrating religious education as a core subject in their curriculum. They may have specific admission criteria and are considered a good alternative to private schools. Canada's provincial governments are supposed to avoid endorsing specific religions, and hence, any religious school must be privately-run. The exception is Catholic schools, which are publicly-funded in the provinces of Alberta, Saskatchewan, and Ontario. 
Homeschooling
A very small fraction of Canadian parents opt their children out of both public and private schools and educate them at home – this practice is known as homeschooling. Homeschooled kids are still required to pass Government-mandated exams in order to have their education officially recognized. 
Early childhood education in Canada
What is early childhood education?
Early childhood education (ECE) is usually provided to a child aged three to five. However, some preschools admit younger children, including toddlers, between one and two years old. 
General age criteria and types of child care programs for ECE in Canada:
Type of Childcare Programs
Attendance
Eligible Ages

Nursery

Optional

Up to three

Childcare and Daycare

Optional

Up to five

Preschool

Optional

Three to five

Kindergarten

Mandatory in three Canadian provinces:


British Columbia, 

New Brunswick, and 

Prince Edward Island

Four to six
Note: At times, certain terms such as preschool and nursery may be used interchangeably. Preschools tend to focus more on early learning and academics than nurseries, daycare and childcare centres. 
What age does a child start school in Canada?
In Canada, legally, children under five years of age aren't required to attend school. This means most Canadian preschools, nurseries, childcare, and daycares are private. Some receive funding, and most are regulated by the government. 
Tip: Early education might be a good option for families who don't have English or French as their first language as it will help the child learn these languages prior to starting kindergarten or elementary school.
What are the different types of preschool programs?
There are various types of preschools in Canada, such as: 
Local community or non-profit co-operative schools:

These are usually the least expensive as parents work voluntarily as teachers' aides alongside professional teachers. 

Religious schools:

Usually attached to religious institutions and may include religious education (it isn't essential for children to follow the same religion as the school). 

Private schools:

These are most expensive and vary considerably from small home-run set-ups to large custom-built schools. 

Montessori schools:

Montessori is more of a philosophy of life than a teaching method. Some Montessori schools have preschool (for children aged two and a half to six years) and elementary levels (ages six to 12).
School grades and levels of education in Canada
Schools in Canada have 13 different grades (kindergarten + grades 1 to 12), one for each academic year. These grades are usually divided into phases such as elementary, middle school and high school – which are often different physical schools. As indicated in the chart below, certain provinces/territories may have additional phases or may use different terminology for each phase.
Grade structure by province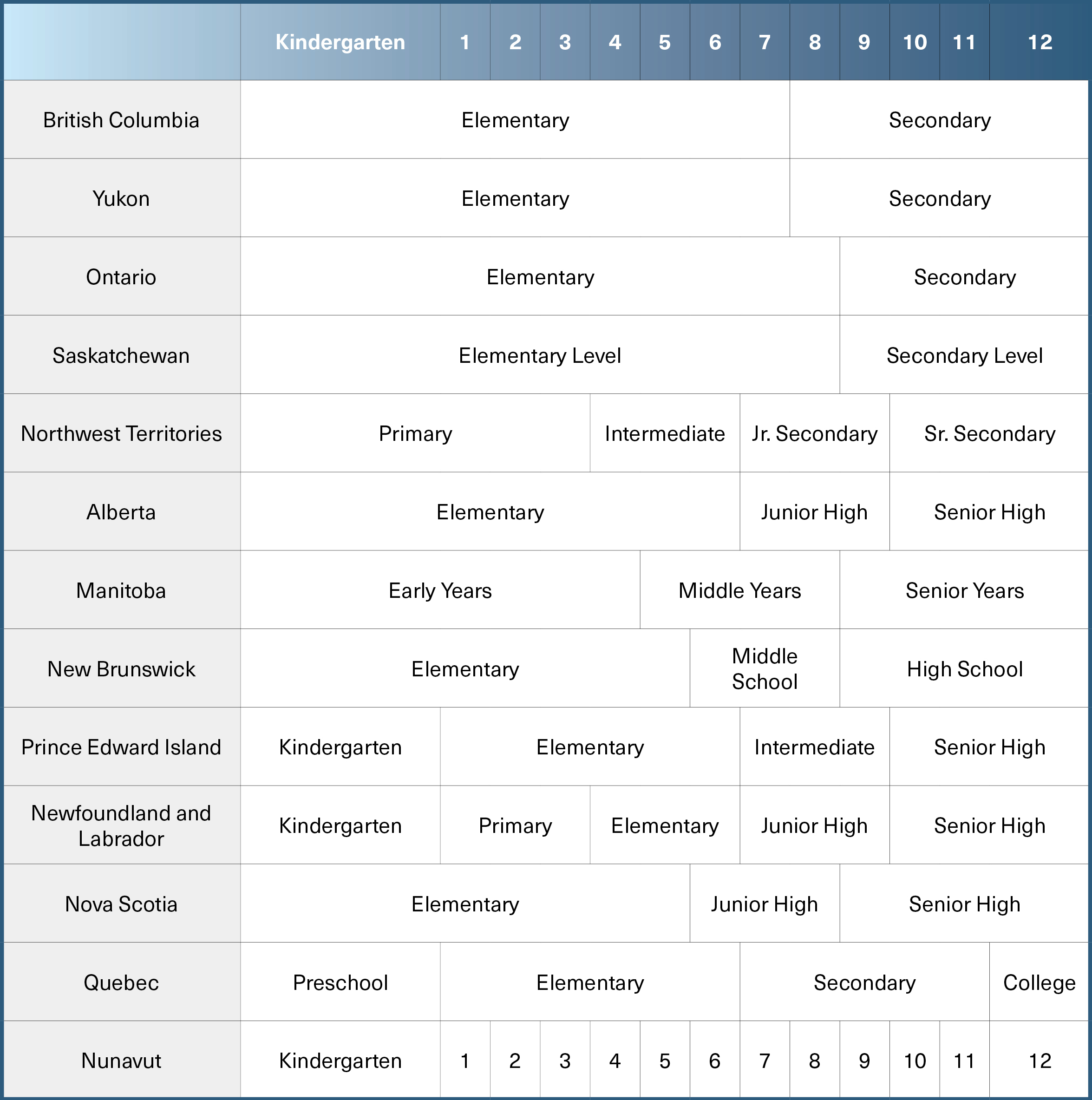 How to enroll your kids in school: Process and requirements
Canada is a bilingual country with English and French as its main languages. English is the main language of school education across most Canadian provinces. In Quebec, students are generally required to attend school in French until the end of high school. Regardless of the main language of instruction, French or English as a second language is generally taught from an early age.
Choosing a school
In some cities or provinces, parents can choose which public school to send their child/children to. However, in most areas, it's common practice to send your child to a school that's in the neighbourhood where you live; it might be difficult to enroll your child in a school that's far away from where you reside. For instance, in Manitoba, parents can choose any school in the entire province (provided there are spaces available) but in Edmonton, Alberta, parents are limited to choosing a school within the city.

If you have a preference for a particular public school, it's usually necessary to buy or rent a property in that area, although you can request that your child attends a school outside your area (called cross-boundary). 

Once you finalize your

temporary

or

permanent accommodation

in Canada, you can contact your local school district office or the school board to find out which public school your child will be assigned to. 

The reputation of the school is important to consider when choosing a school. This is often measured by the number of students the school sends to the best Canadian universities (statistics are usually provided by all schools).

Additional criteria to consider are rare language courses or language immersion programs offered, availability of settlement workers in schools (SWIS), athletic or sports infrastructure, etc.  
Age range for grade levels in Canada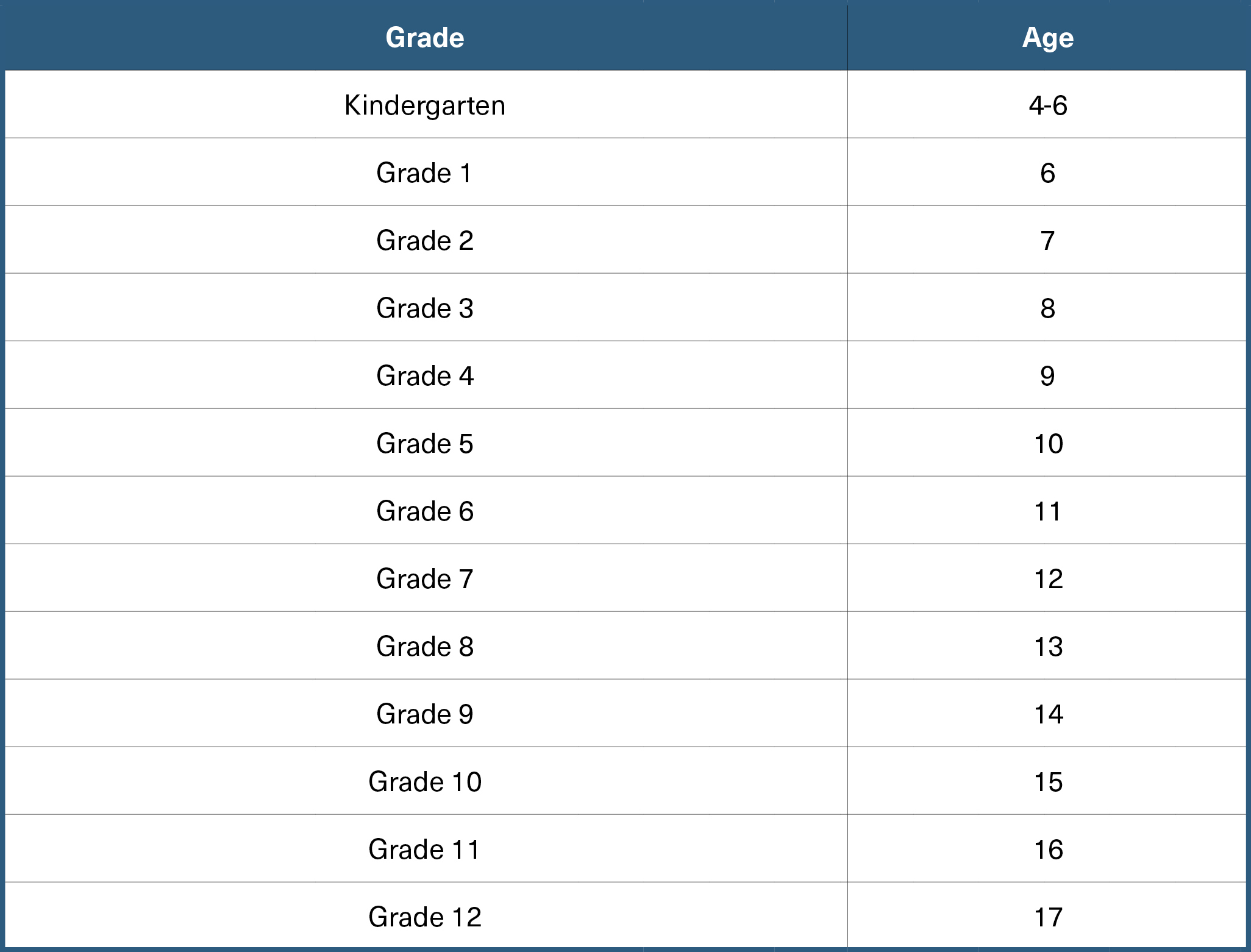 Documents required for enrollment and school admission
Basic documents required are:
Proof of child's age: Birth certificate (or a certified copy) or Passport

Proof of address: Copy of a bank statement, telephone or hydro bill, or apartment lease with your name and address

Confirmation of Permanent Residence (CoPR) or Record of landing 

Details of the child's medical history

Immunization records

Past academic records
These documents are used to assign kids to the relevant grade. 
How to enroll your child in school
Generally, the enrollment process differs by school type. Here's an overview of the process to enroll kids in a public school in Canada:
Contact your local school district office or the school board to identify a school in your neighbourhood.
Be mindful of application deadlines and reach out to the school well before the start of the school year. The school board will usually inform you of the next steps and the documents required.
Tip: If you're moving to Canada in the summer (months of July and August), note that school offices may be closed for summer break. Hence, it would be advisable to reach out to them in the spring, before you arrive.
Share supporting enrollment documents with the school board. They will assess your child to ensure placement in the correct grade. 

The school may offer free English or French language classes before your child begins academic classes.
Education expenses
Public schools are free in Canada, but there may be minimal student fees per term for extra-curricular classes such as music and art.

Major education expenses are related to basic stationery. Textbooks are provided by the school for free. They must be returned at the end of the semester or the school year. 
School dress codes and uniforms
Some schools have a dress code that describes what students may (and may not) wear to school. 

Most public schools do not have school uniforms. Private schools, however, may have uniforms, and their cost varies. 
Student transportation services
Many towns provide transportation options such as school buses. However, it may only be available for certain schools or ages or those with special needs and may depend on the distance, e.g. there may be a school bus only when the distance from your home to school is over three to four kilometres.

Normally, the school bus transportation system is free of charge.
Absence from school
Children are required to attend school every day; you should inform the school if they're absent for health or personal reasons.

If your children are going to be out of school for a long time, you should inform the teacher ahead of time. 
Examinations and grades
When a student enrols in a public school, a record file is opened for the child (which follows the student throughout all school years), and there's a continuous evaluation system throughout all grades. Students are marked on each essay, exam and course completed in each subject studied throughout their 13 years of education (Kindergarten to grade 12). 
Students are exempt from exams up until grade 8, and grades are based on the in-class evaluation, tests, assignments, homework, and class participation. The final score is a weighted average of the final exams, continuous class evaluations, tests and quizzes, practices etc. 
Children get a report card several times during the school year that informs you about their progress.
Academic grading system in Canada
Generally, the following grading system is used in high schools throughout Canada:
| Percentage | Classification | Grade |
| --- | --- | --- |
| 80 to 100 | Excellent | A |
| 70 to 79 | Good | B |
| 60 to 69 | Average/Fair | C |
| 50 to 59 | Poor | D |
| Below 50 | Fail | F |
All grades are in relation to the general standard achieved at a particular school, which usually makes it difficult to compare standards in different schools and provinces. 
Extracurriculars and field trips
Extracurriculars are activities that take place before and after school, or during lunch hours. They include sports, music, arts, drama, photography, hobby clubs, etc. Each school offers different extracurricular activities. If a club of interest does not exist, students can set one up one. 
Field trips are often organized by schools for students to visit places that are relevant to their education. They include places such as museums, workplaces, cultural institutions, and city neighbourhoods.
Importance of extracurriculars in Canadian education
Canadian colleges, universities, and employers assign considerable importance to extracurricular achievements. Hence, these extracurricular activities can not only help your child pursue their interests outside of academics, make friends, and get used to the Canadian school system, but also prepare them for a promising career. 
Additional resources
Language classes
For newcomers in Canada, the Government provides a variety of resources such as English as a Second Language (ESL) and French as a Second Language (FSL) to help you settle in smoothly. Most of these resources can be accessed through various government-funded settlement organizations. 
Settlement Workers in Schools (SWIS)
Some schools have SWIS workers available to assist newcomer families and students adjust to life in Canada. SWIS workers provide information (one-on-one and in groups) about all kinds of things. They can also help you get assistance from other people if you need it. 
The education system in Canada may be different from your home country, but familiarizing yourself with the overall structure, operations, and processes can help you better prepare for your life in Canada.