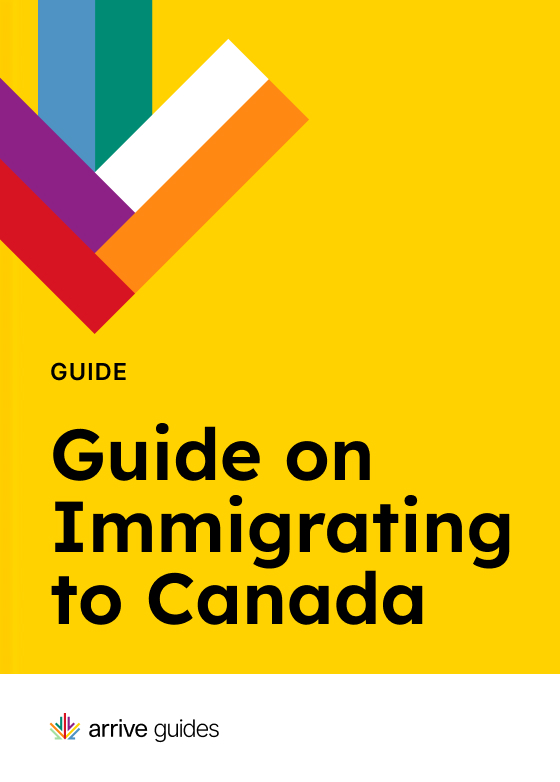 Guide to Immigrating to Canada
Download the guide
What you'll find inside
An overview of temporary and permanent residence (PR)

Permanent residence programs, including Express Entry, PNP, and more

Temporary residence programs, including study permits and work permits

Temporary residence as a pathway to PR

The cost of immigrating to Canada

Tips on choosing the right immigration program for you

Hiring an immigration consultant to help with your application

Getting ready to move to Canada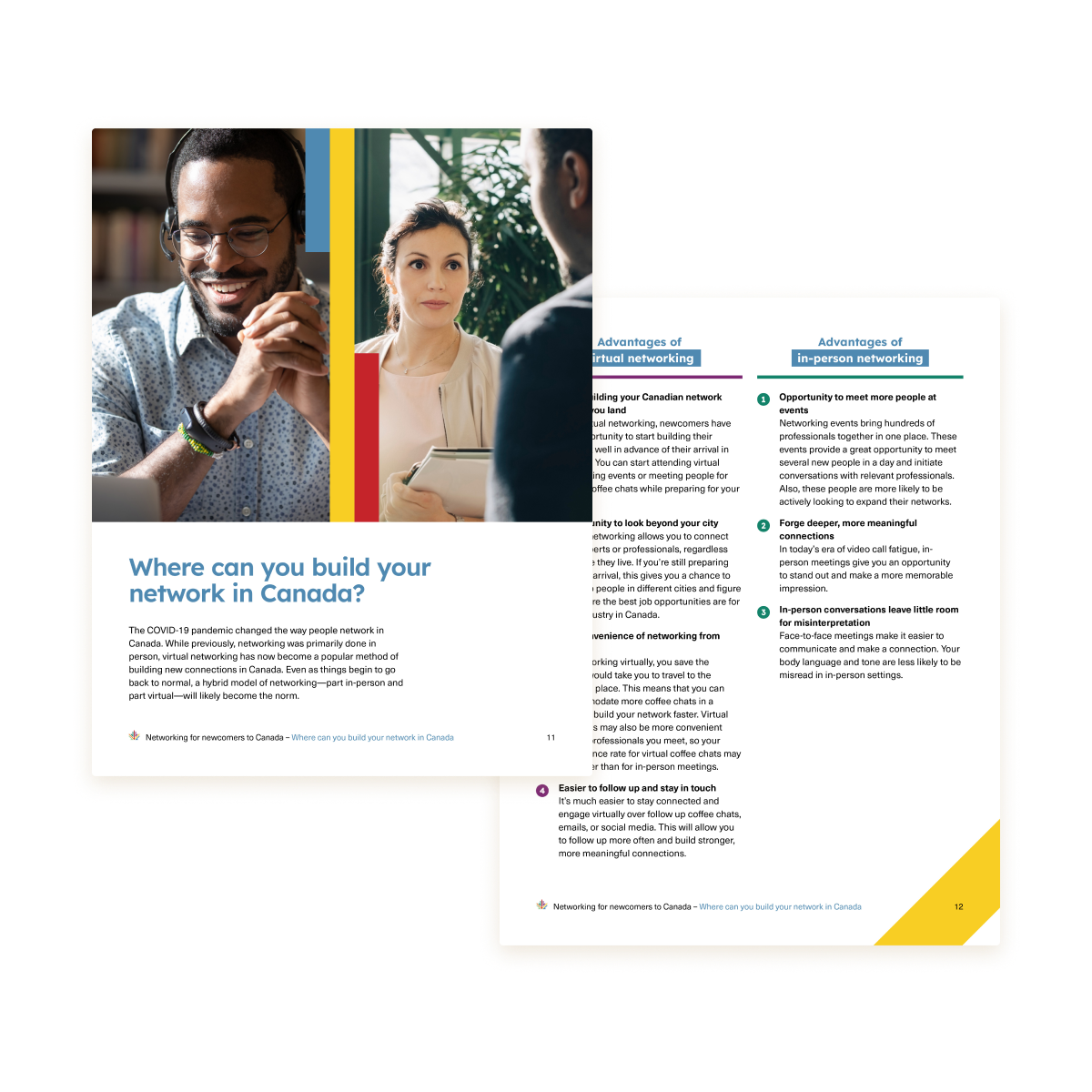 Learn how to immigrate to Canada as a temporary or permanent resident
Canada is an attractive destination that offers newcomers immense employment opportunities, world-class education programs, a better quality of life, and the possibility of settling here permanently.
Each year, Canada invites hundreds of thousands of newcomers from across the world to work, study, and live in the country. Canada's welcoming immigration policies play a huge role in bringing in skilled individuals to compensate for Canada's ageing population and fill critical gaps in the job market. Based on your skills, qualifications, and work experience, you can choose from a range of immigration pathways, and apply for for temporary and permanent residence (PR) in Canada.
As a permanent resident, you can settle in Canada permanently and enjoy most of the same rights and responsibilities as Canadian citizens. Alternatively, you can apply for a study permit or work permit that allows you to move to Canada as a temporary resident and later apply for permanent residence.
This guide covers the various immigration programs Canada offers for newcomers who wish to live in Canada temporarily or permanently. It also provides an overview of the eligibility criteria and application processes for these programs and shares tips to help you fulfil your dream of moving to Canada.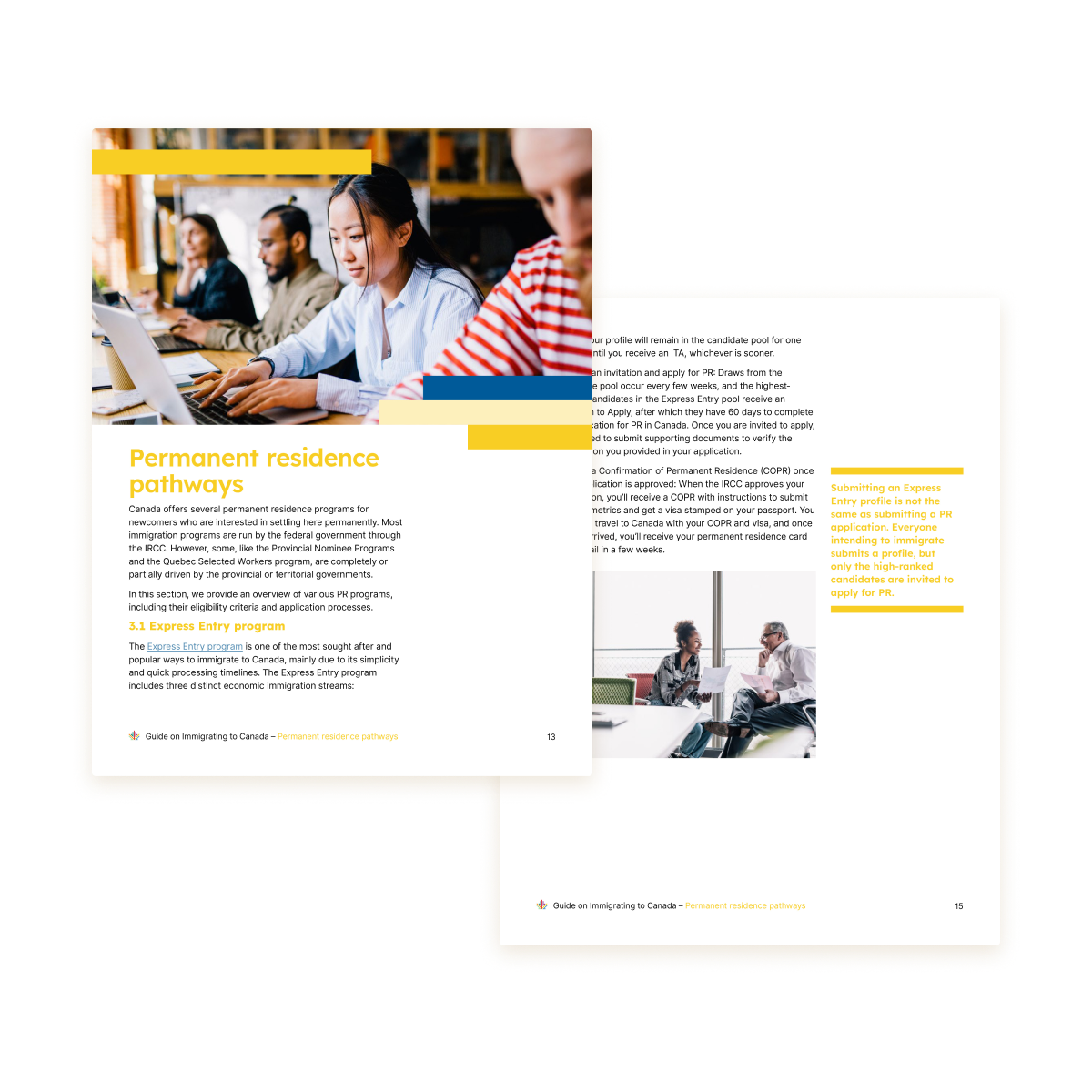 Who is this guide for?
This guide is written for newcomers who wish to move to Canada as permanent residents or to work or study in Canada temporarily. If you're exploring the idea of moving to Canada, this guide will help you identify the right immigration program for your situation and provide tips to help make the application process smoother.
Immigrate to Canada as a permanent resident or to work or study temporarily
As a newcomer, moving to Canada can unlock exciting new opportunities for your life. Whether you plan to settle in Canada permanently or thinking of working or studying here temporarily, the first step in your newcomer journey is to understand the various immigration programs Canada offers and review their eligibility criteria to choose the ideal one for you.
For newcomers planning to move to Canada permanently, the Express Entry program is the most popular option, but depending on your situation, you may also qualify for other permanent residence (PR) programs such as Provincial Nominee Programs (PNP), the Atlantic Immigration Program (AIP), the Family sponsorship program, or the Start-Up Visa program, among others.
You can also opt for temporary residence as a pathway to permanent residence and apply for a Canadian work permit or study permit. As an international student or temporary foreign worker, you can gain Canadian work experience and educational credentials which makes it easier to qualify for permanent residence later.
Many newcomers hire an immigration consultant to help with their immigration application, while others prefer to apply on their own. Regardless of the approach you choose, the information and tips we share in this guide will help you identify an immigration program you're more likely to qualify for, accurately estimate the cost of immigrating to Canada, and arrive prepared for your life in Canada.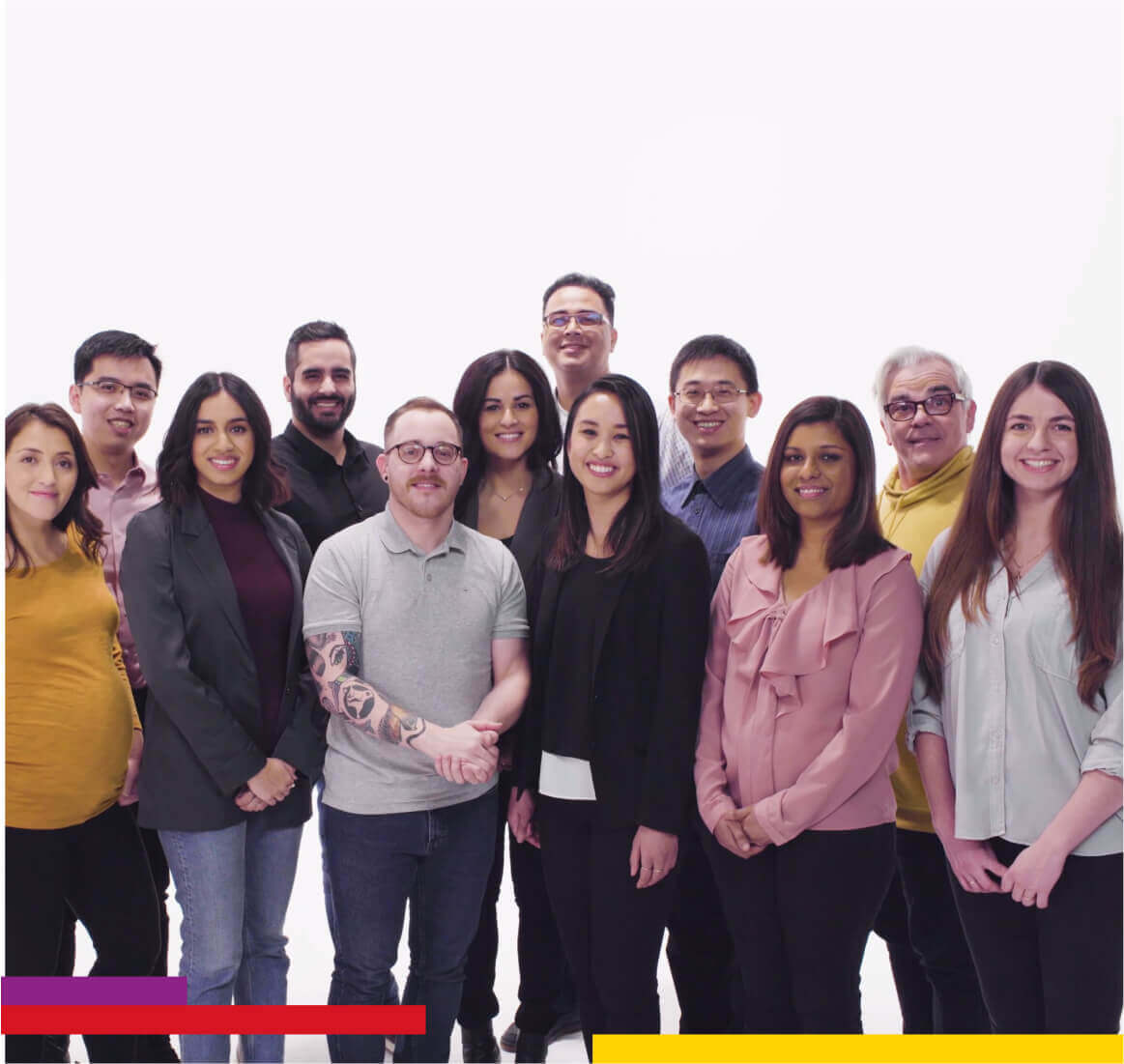 About Arrive
At Arrive, our goal is to help you reach yours. We're dedicated to helping newcomers by providing the support, guidance and resources needed for career, life and financial success in Canada.
Arrive is supported by Royal Bank of Canada (RBC), the largest bank in Canada* and one of the most reputed banks in the world, employing 80,000 people worldwide. This places us in a unique position to be able to help and support newcomers, like yourself, with credible and reliable resources that can help you get started while setting up a strong financial foundation in Canada.
Disclaimer:
This article offers general information only and is not intended as legal, financial or other professional advice. A professional advisor should be consulted regarding your specific situation. While information presented is believed to be factual and current, its accuracy is not guaranteed and it should not be regarded as a complete analysis of the subjects discussed. All expressions of opinion reflect the judgment of the author(s) as of the date of publication and are subject to change. No endorsement of any third parties or their advice, opinions, information, products or services is expressly given or implied by Royal Bank of Canada or its affiliates.