It takes commitment, determination and resolve to leave one's home country behind to start a new life in Canada. It takes planning and preparation to make it a truly successful journey. There are important things to consider before leaving: documentation, accommodation, healthcare, transportation, food and clothing, insurance, schools and more.

Many of these considerations come with an associated cost. So, to make your plan work you must also understand the financial implications and how they will affect your life in Canada.
From our own experience, and from the shared experience of many newcomers, we know how important financial success is: The basics of covering expenses, building credit and saving for the future starts with budgeting.
Budgeting in Canada: get off to a smart start
No matter where we are in the world, each of us has to balance the number of rupees, pesos, or dollars we have against all of the various living expenses in that particular place. In Canada, the costs associated with housing, transportation, food and entertainment can vary from city to city and are likely to be very different from what you are accustomed to at home. To manage these expenses, especially in your early months (while you are looking  for employment, for example), you've got to manage your money by creating and sticking to a budget.
Navigating the Canadian banking and financial ecosystem and budgeting for your expenses can be overwhelming. Get the informative, free, downloadable Finance Guide by Arrive and set yourself up for success.
What is a budget? Managing your money
Essentially, a budget is a comparison of how much money you have coming in (income) and how much money you have going out (expenses). It allows you to keep track of, plan and balance those two streams, while putting a little aside for the future or unexpected emergencies (savings). A budget doesn't have to be difficult, and budgeting doesn't mean you have to sacrifice or give up more than you would normally; it simply allows you to manage and know where your money is, which can also reduce stress.
How to budget for your life in Canada: The necessities
Like many other aspects of living in a new country, your financial life in Canada may be very different than at home. Even if your salary in Canada is higher than what you earned back home, Canada's cost of living may be higher than what you are accustomed to. For example, in Canada, the cost of necessities: home/accommodation, heating and utilities, food and clothing, health insurance, and transportation can consume 35 – 50% of your take-home pay.
Remember to make a record of everything you spend, whether you're paying by cash, cheque, debit, e-transfer or credit card.  This will help you adjust your spending to fit your budget, or vice versa.
Renting an apartment
Rental costs vary widely between cities across Canada. Toronto remains the most expensive place to rent in Canada, with the average cost of a 1 bedroom apartment reaching $2,300.00 per month. According to padmapper, the same size dwelling in Vancouver is $2,200.00, while in Winnipeg it will cost you $970.00. Remember to check whether the rental cost includes utilities like hydro, heat  and water.

You can find useful information here for first-time renters in Toronto, Vancouver, and Winnipeg.
Buying a home
To buy a home in Canada you will probably need to get a mortgage. Before qualifying for a mortgage you will be expected to have a downpayment. This is typically20% of the purchase price of the house from your own money. 
Additionally, you will have to factor in property taxes and household insurance – if it's a condo you're buying, allow for additional costs, like monthly maintenance fees.

You can compare the costs of housing in communities across Canada in the city profiles section of the Canada Mortgage and Housing Corporation (CMHC) website.
Transportation
In Canada, people buy their cars new or used, or lease them (a form of long term rental). 
When budgeting, be sure to include all the associated costs such as gas, car loan monthly installments, registration, and insurance. It is the law that all vehicles must be insured and registered. Car insurance can be expensive, but it protects you and other drivers in case of an unexpected accident. In most provinces, you can find more information by contacting the Insurance Bureau of Canada.
Public transportation is an excellent alternative and it's how most people get around in a large city like Toronto. The Presto card is the preferred way to pay for public transit in Toronto and surrounding area.  The card works on all local transit systems and can be topped up with money online, at stations, or in certain stores.
Health insurance
Some provincial and territorial health programs may not cover some newcomers for the first three months they are in Canada. Check the ministry of health in your province or territory website to see if you will need to buy extra health insurance.
[the_ad_placement id="healthcare-offer-post-custom-placement"]
Unexpected expenses
It is always a good idea to be prepared and  put money aside for occasional expenses that may arise unexpectedly, like prescription medicine not covered by health insurance, school supplies or school trips, and long-distance calls to friends or family back home.
Learn more about budgeting from newcomer, Harminder's lived experience

Harminder moved to Canada in July of 2019, having completed a soft landing (or trial run) the previous October. This allowed him to evaluate various aspects of Canandian life and gain an understanding of the associated living expenses and how to plan and budget for his permanent move. Read more about his research and results here.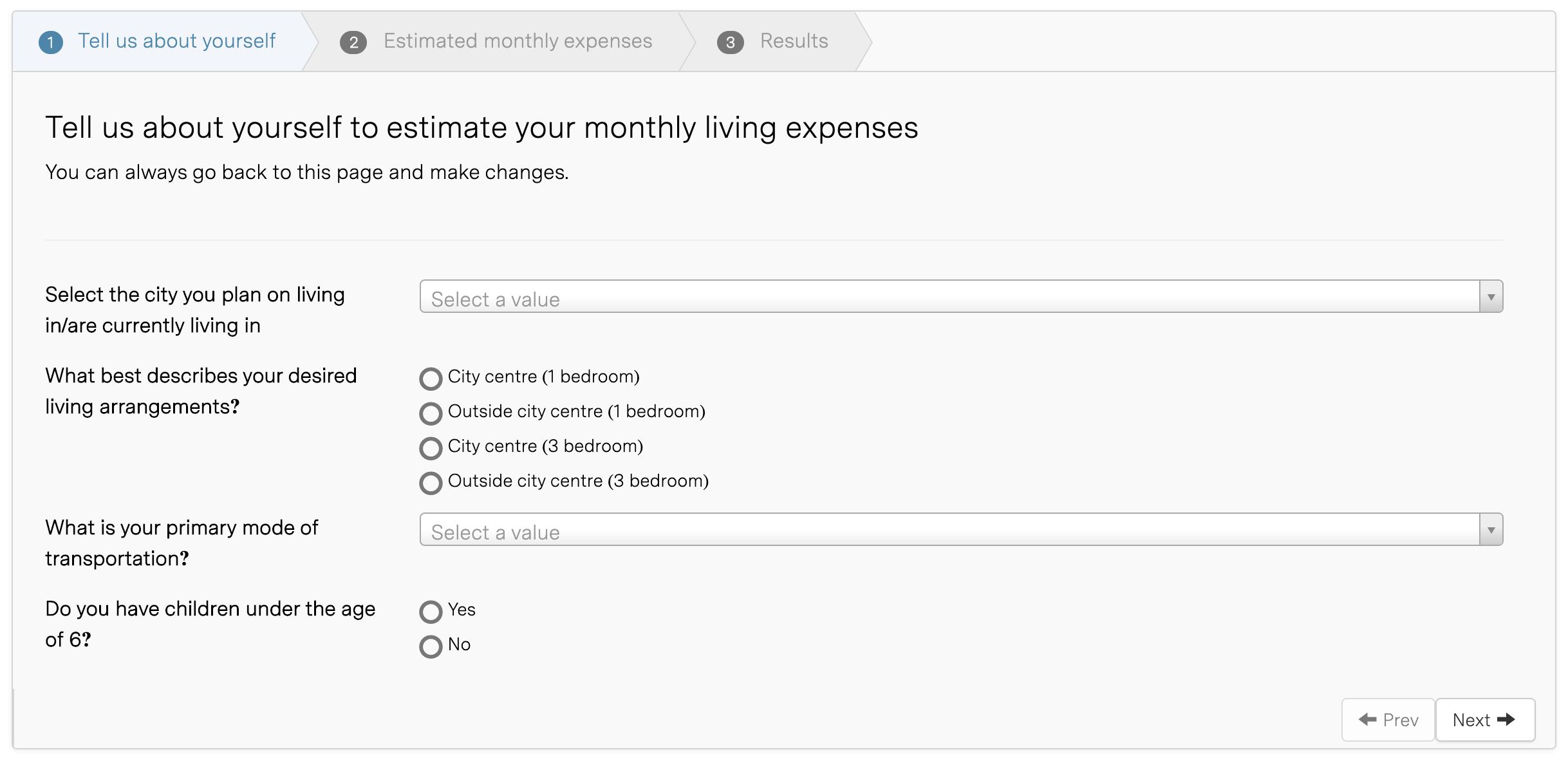 The Arrive Monthly Expenses Calculator is simple and easy to use. It helps you estimate and plan for your monthly expenses in Canada. The tool takes into account your responses to a few basic questions such as:
Housing: The type of accommodation you're looking for

Destination: The city you plan on living in 

Getting around: The primary method of transportation you'll be using 

Family: Whether you have children under the age of 6 
Additionally, you will have the option to add in estimates for food, entertainment, and other expenses. Once you complete all the fields and submit the information, you will receive a rough estimate of how much you should expect to spend each month in a given city in Canada.
Preparation is key to making your transition to Canandian life easier 
Research, advance planning and budgeting can not only help you reduce stress, but ensure you cover expenses, build credit and save for the future. Building a budget early will help you establish that solid financial footing you need to make your future in Canada a reality.
Webinar:
Arrive Ready – Get a Headstart on Personal Finances in Canada.
Join Tricia Jose (Co-founder, Arrive), Ria Ragbir (Banking Advisor, RBC), and Mila Kovalenko  (Senior Developer, RBC Ventures) as they walk you through what to do now to prepare you and your family for financial success in Canada.