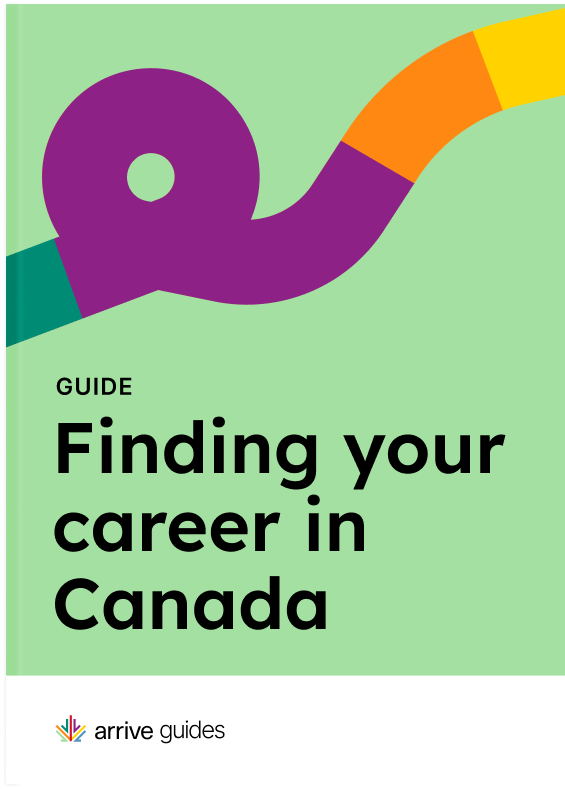 Starting your Career in Canada
Download the guide
When arriving in Canada, one of the most important things on many newcomers' minds is finding meaningful employment: it is the foundation of life, career, and financial success in Canada. 
But trying to navigate a new job market while settling-in can be overwhelming. Arrive understands the pain points and challenges faced by most newcomers — we aim to not only help you be better prepared for the Canadian job market but also fast-track your career success.
One of the ways we support you is with this Career Guide: a quick and concise overview that explains all the need-to-know information, and action items you can take to prepare yourself for finding and landing a job opportunity in Canada.  It will help you prepare for your job search before you even leave your home country with helpful templates and tools. And once you've landed in Canada, this guide will help you understand where to search, why and how to build your Canadian network, and how to prepare for and ace your interviews.
What you'll find inside
Building your resume in the Canadian format
Creating your personal brand
Starting your career search in Canada
Networking to access the hidden job market
Connecting over a coffee chat
Preparing for your interview
Common interview questions and how to answer them
Interview etiquette
Getting and accepting a job offer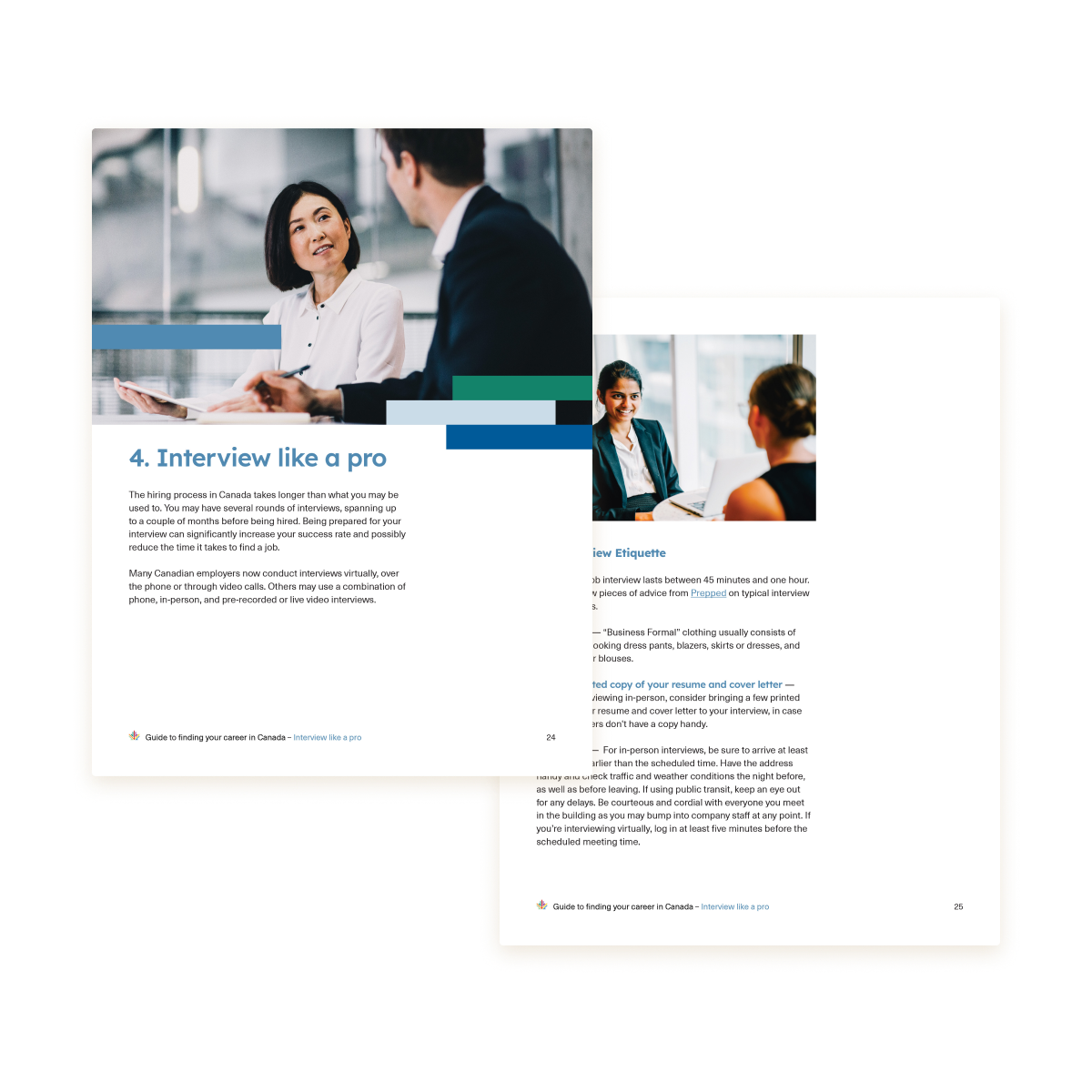 Who is this guide for?
This guide is written for newcomers preparing to enter the Canadian job market. Whether you are laying the foundation for your job search in pre-arrival or actively looking for career opportunities after landing, this guide will help you find and land your dream job in Canada.
Are you ready to start your job search in Canada? 
Newcomers in Canada are often experienced and educated professionals who leave behind well-settled careers in their home country. A large motivator for newcomers is the hope to find relevant opportunities in their field of choice, or even a new industry. While some are able to find employment quickly, others take a while before they receive an offer that aligns with their expectations and aspirations.
In this guide, we will walk you through the steps of finding employment in Canada. Get tools and tips for every stage, from crafting the perfect resume and finding your personal brand to acing the final interview at your dream job and getting hired.
Remember that everyone has a different path to success. Your job search may take a little longer than you planned, or you may end up with a new opportunity in front of you that you had never considered before. Keeping an open mind and a positive outlook will help you discover a great opportunity in Canada.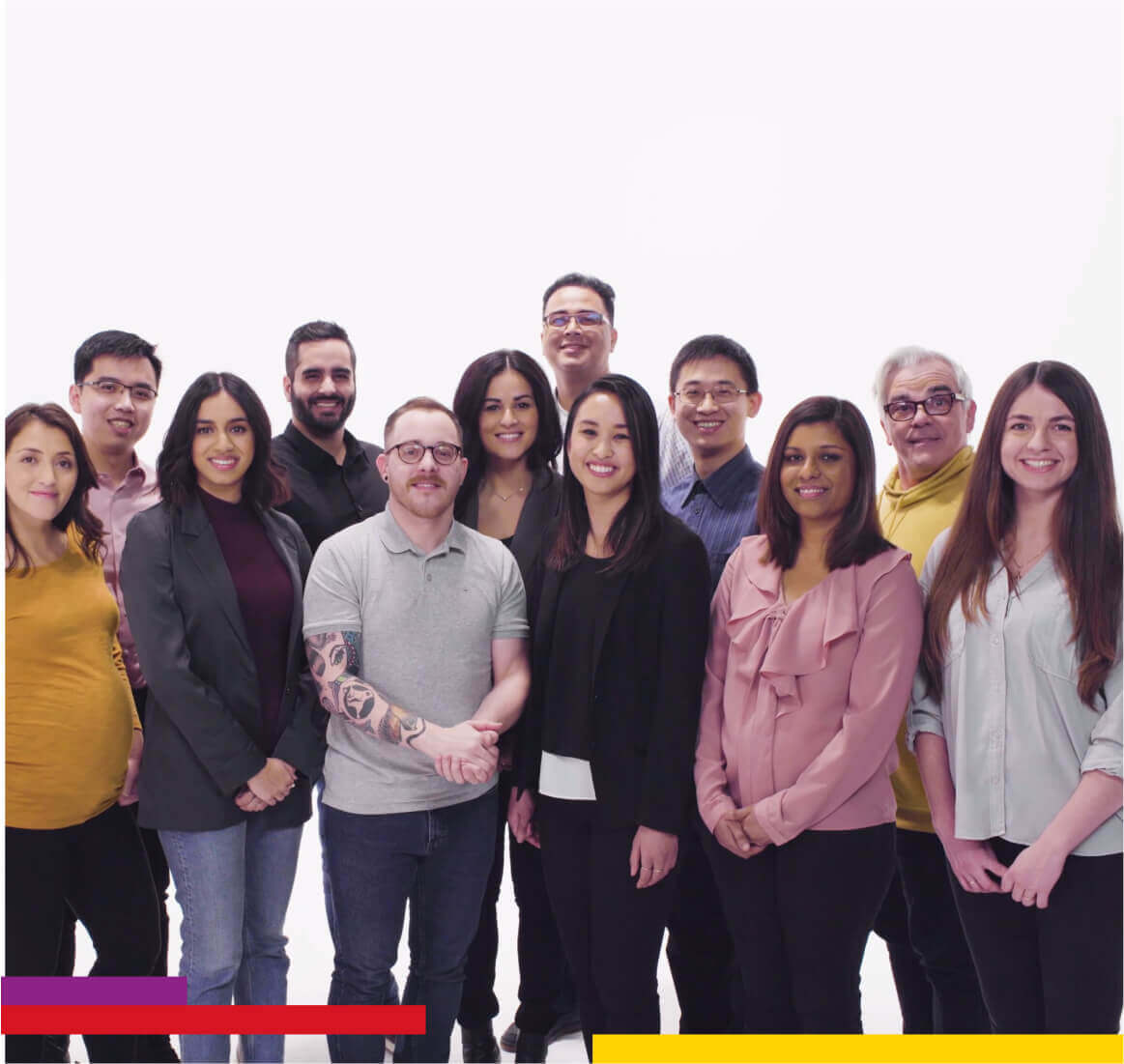 About Arrive
At Arrive, our goal is to help you reach yours. We're dedicated to helping newcomers by providing the support, guidance and resources needed for career, life and financial success in Canada.
Arrive is supported by Royal Bank of Canada (RBC), the largest bank in Canada* and one of the most reputed banks in the world, employing 80,000 people worldwide. This places us in a unique position to be able to help and support newcomers, like yourself, with credible and reliable resources that can help you get started while setting up a strong financial foundation in Canada.
Disclaimer:
This article offers general information only and is not intended as legal, financial or other professional advice. A professional advisor should be consulted regarding your specific situation. While information presented is believed to be factual and current, its accuracy is not guaranteed and it should not be regarded as a complete analysis of the subjects discussed. All expressions of opinion reflect the judgment of the author(s) as of the date of publication and are subject to change. No endorsement of any third parties or their advice, opinions, information, products or services is expressly given or implied by Royal Bank of Canada or its affiliates.