NEWCOMER'S GUIDE TO THE
CANADIAN JOB MARKET
Understanding the scope of your profession in Canada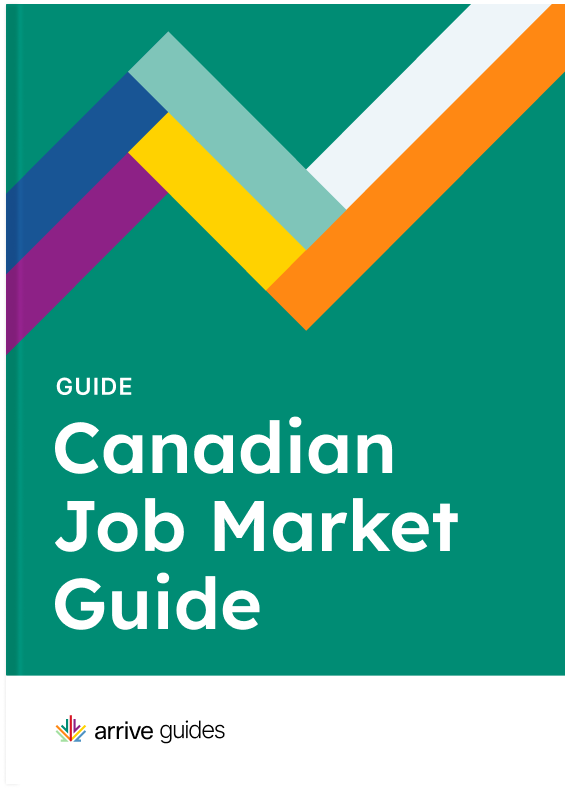 GUIDE  OVERVIEW
Newcomers move to Canada with many dreams and goals. Many of these goals are directly linked to finding stable employment in Canada. One of the top concerns of newcomers is the scope of their profession or occupation in Canada
This guide aims to equip you with the tools and resources to analyze the job market in Canada, and to help you plan your career path, and make informed decisions.
WHAT YOU'LL FIND INSIDE:
The guide covers the following industries and economic sectors:
– Information Technology
– Finance, Accounting, Insurance, and Investment
– Sales and Marketing
– Business and Management Consulting
– Human Resources (HR), Staffing, and Recruitment
– Engineering
– Project Management
– Healthcare
– Creative Arts and Design
– Logistics and Supply Chain
– Fitness, Sports, and Recreation
– Hospitality, Travel and Tourism
– Education
– Legal
AND MUCH MORE !!
ABOUT ARRIVE
Our goal is to help you reach yours. Arrive is dedicated to helping newcomers by providing the support, guidance and resources they need for career, life and financial success in Canada.
Arrive is supported by The Royal Bank of Canada (RBC), the largest bank in Canada* and one of the most reputed banks in the world, employing 80,000 people worldwide, which places us in a unique position to be able to help and support newcomers, like yourself, with credible and authentic resources that can help you get started with setting up a strong financial foundation in Canada.
*Based on market capitalization
We will only collect, use and disclose your personal information for the purpose you provided it. We will not sell your personal information to any third parties. If you have any questions, see our Privacy Policy or Contact Us. Note: California residents see our California Privacy Notice.