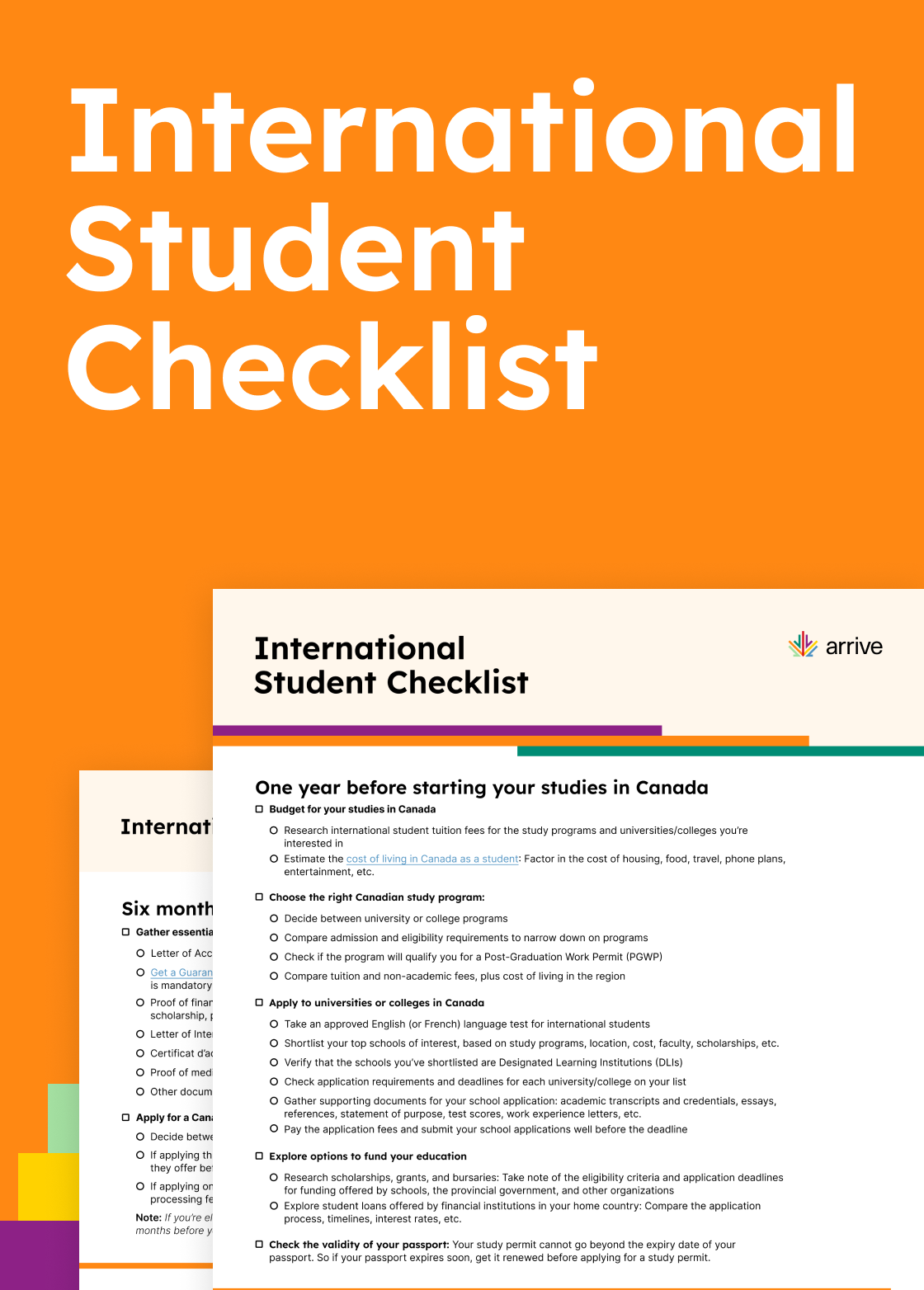 Download your International Student checklist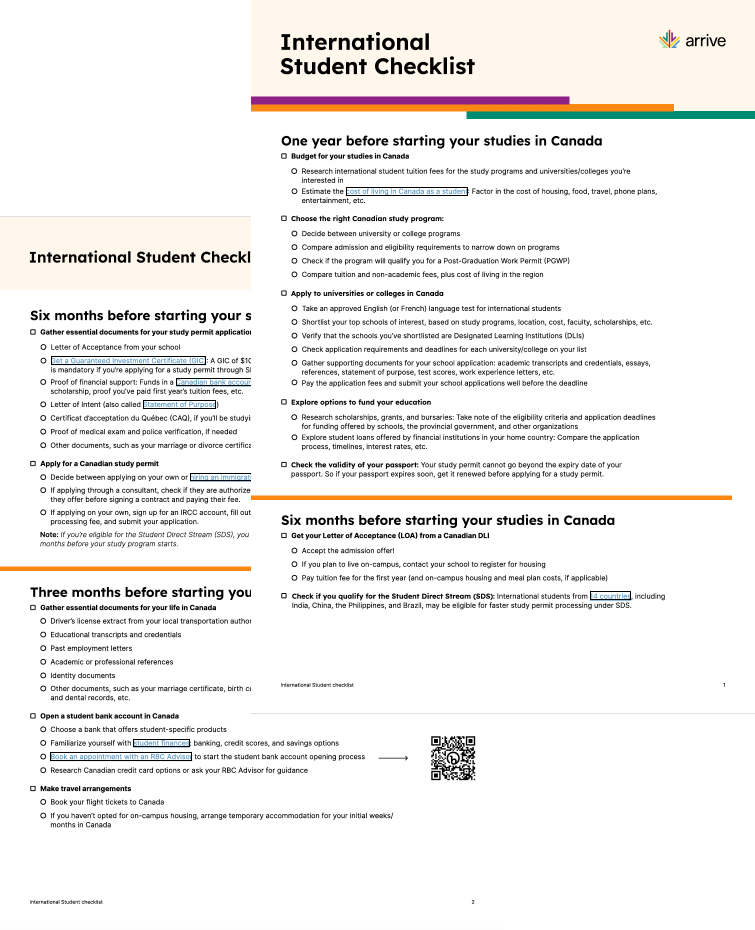 Why use Arrive's International student pre-arrival checklist for Canada
As an international student, moving to Canada to study can be incredibly exciting. However, there's a lot of preparation involved in making that dream come true. To begin with, you'll need to get admission into a good Canadian university or college, find ways to fund your education, apply for a study permit, and finally, plan your travel logistics.
Arrive's in-depth pre-arrival checklist for international students in Canada will help you overcome stress and focus on all the new beginnings you have to look forward to.
This downloadable international student checklist will serve as a guide as you navigate through your school and study permit applications and get ready for your arrival in Canada. Print it out and start checking off tasks as you complete them, so you always know what's next!
Gear up to study in Canada with Arrive's International Student checklist!
Studying in Canada is a dream for many international students. Not only do Canadian universities and colleges promise a high quality of education, but the country's welcoming policies also offer several pathways to work and settle in Canada after you graduate. Plus, the idea of living abroad and shouldering new responsibilities, possibly even working part-time, is undoubtedly an exciting one. 
If you're planning to study in Canada, there are many tasks to accomplish before your big move. First and foremost, you'll need to secure admission to a Canadian post-secondary school that fits your budget and offers a study program that'll help further your career. Given that the tuition fee for international students is much higher than domestic tuition, you may want to explore funding options, such as scholarships or educational loans.
Once you've been accepted into a Canadian Designated Learning Institution (DLI), you'll need to qualify for a study permit, either through the general or Student Direct Stream (SDS) program. This involves getting a GIC or other proof of financial support, writing a statement of purpose, and gathering other essential documents for your application. But don't worry, Arrive's international student pre-arrival checklist will help you stay organized and ensure you don't miss out on any essential steps.
Then, there are travel arrangements and other pre-arrival planning, such as making housing arrangements, getting health insurance, opening a Canadian bank account, packing, and generally wrapping up your life at home. You'll also want to prepare for your new life in Canada, whether that's looking for student jobs, perfecting your language skills, or learning about cultural differences in Canada.
We recommend that you print this Study in Canada checklist, pin it up in your room, and start checking off the tasks you complete. This comprehensive international student checklist covers everything you should research and do in the year leading up to your arrival in Canada, so you can set a strong foundation for a rewarding academic journey in Canada.