FROM BANKING TO BUDGETING:
A QUICK GUIDE
Everything you need to know for your financial life in Canada.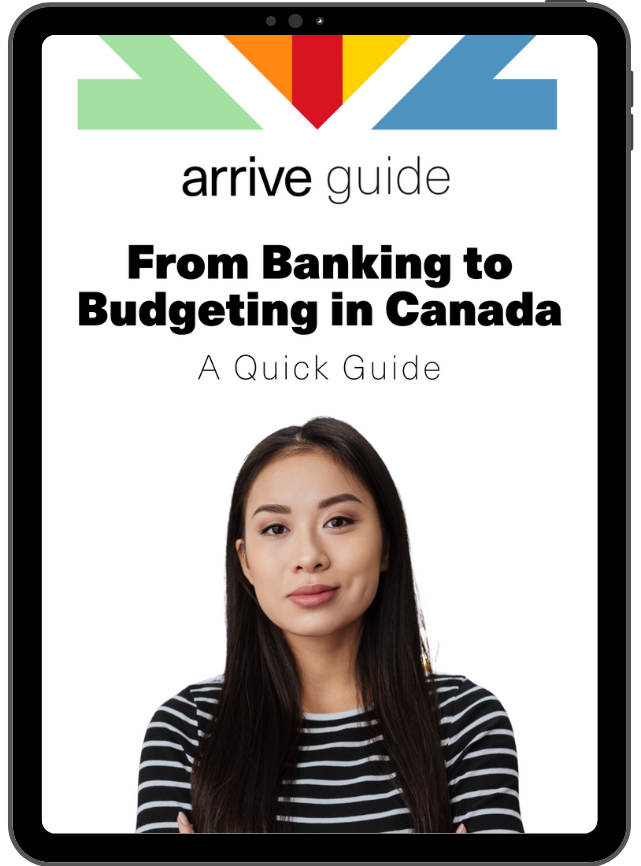 As a newcomer in Canada, you may find the banking and financial ecosystem in Canada to be different from your home country. With the availability of information from varied sources, trying to navigate the system might leave you feeling overwhelmed.
Arrive is supported by The Royal Bank of Canada (RBC), the largest bank in Canada* and one of the most reputed banks in the world, employing 80,000 people worldwide, which places us in a unique position to be able to help and support newcomers, like yourself, with credible and authentic resources that can help you get started with setting up a strong financial foundation in Canada.
Arrive's banking and budgeting guide is designed to provide you with a comprehensive understanding of the banking system in Canada. It details out the process and documents required to open a bank account, along with some useful tips and advice to plan for your initial months in Canada. The guides are informative and offer practical insights from real newcomer stories diving into some of the common expenses such as rent, transportation, and insurance.
WHAT YOU'LL FIND INSIDE:
ABOUT ARRIVE
Our goal is to help you reach yours.
Arrive is dedicated to helping newcomers by providing the support, guidance and resources they need for career, life and financial success in Canada.
We will only collect, use and disclose your personal information for the purpose you provided it. We will not sell your personal information to any third parties. If you have any questions, see our Privacy Policy or Contact Us. Note: California residents see our California Privacy Notice.