First, find your NOC:
The
National Occupational Classification (NOC)
is Canada's national system for describing occupations. The NOC code is a five-digit number that plays an important part in your immigration application. (Till November 16, 2022, NOC codes included four digits.) The NOC groups jobs based on the type of job duties and the skills, education, and experience required for the work a person does. You can
find your NOC code
on the Government of Canada website. 
Here are some of the NOCs that broadly cover all the roles in the fields of engineering:
NOC Code
NOC Code Name
Example Titles

20010

(previously 0211)

Engineering managers

Director of engineering research and development, Electrical engineering manager, Engineering department manager, Engineering manager, Production engineering manager, Telecommunications engineering service manager

20011

(previously 0212)

Architecture and science managers

Agricultural chemistry branch director, Architectural manager, Chief actuary, Landscape architecture manager, Life sciences program manager, Petroleum geology department manager, Research director – forestry, Research director – manufacturing, Research director – mining, Scientific research department manager, Statistical service manager

70010

(previously 0711)

Construction managers

Construction Manager, General Contractor, Construction Project Manager,

Commercial construction manager, Construction superintendent, Housing construction manager, Industrial construction manager, Pipeline construction manager, Residential construction manager

21300

(previously 2131)

Civil engineers

Civil Engineer, Construction Engineer, Structural Engineer, Transportation Engineer,

Bridge engineer, Construction project engineer, Environmental engineer, Geodetic engineer, Geomatics engineer, Highway engineer, Hydraulics engineer, Municipal engineer, Public works engineer, Sanitation engineer, Surveying engineer, Traffic engineer, Water management engineer, Spatial information systems engineer

21301

(previously 2132)

Mechanical engineers

Acoustics engineer, Automotive engineer, Design engineer – mechanical, Energy conservation engineer, Fluid mechanics engineer, Heating, ventilation and air conditioning (HVAC) engineer, Mechanical engineer, Mechanical maintenance engineer, Nuclear engineer, Piping engineer, Power generation engineer, Refrigeration engineer, Robotics engineer, Thermal design engineer, Tool engineer

21310

(previously 2133)

Electrical and electronics engineers

Electrical Design Engineer, Electronics Engineer, Television Systems Engineer, Avionics Engineer,

Control systems engineer, Electrical distribution planning engineer, Electrical engineer, Electrical network engineer, Electrical process control engineer, Electrical systems planning engineer, Electronics test engineer, Instrumentation and control engineer, Roadway lighting design engineer

21320

(previously 2134)

Chemical engineers

Adhesives engineer, Biotechnical engineer, Chemical process control engineer, Chemical project engineer, Environmental chemical engineer, Industrial hygiene engineer, Industrial waste treatment engineer, Liquid fuels engineer, Petrochemical engineer, Polymer engineer, Pulp and paper engineer, Refinery engineer, Pipeline transport engineer

21321

(previously 2141)

Industrial and manufacturing engineers

Computer integrated manufacturing (CIM) engineer, Fire prevention engineer, Industrial engineer, Manufacturing engineer, Plant engineer, Production engineer, Quality control engineer, Safety engineer, Work measurement engineer

21322

 (previously 2142)

Metallurgical and materials engineers

Ceramics engineer, Corrosion engineer, Electrometallurgical engineer, Foundry engineer, Hydrometallurgical engineer, Materials engineer, Metallurgical engineer, Physical metallurgical engineer, Pyrometallurgical engineer, Welding engineer

21330

(previously 2143)

Mining engineers

Mine design engineer, Mine development engineer, Mine layout engineer, Mine production engineer, Mine safety engineer, Mine ventilation engineer, Mineral engineer, Mining engineer

21331

(previously 2144)

Geological engineers

Geological engineer, Geophysical engineer, Hydrogeological engineer – engineering

21332

(previously 2145)

Petroleum engineers

Oil and gas drilling engineer, Oil and gas production engineer, Petroleum engineer, Petroleum reservoir engineer, Petroleum well completion engineer, Subsea engineer

21390

(previously 2146)

Aerospace engineers

Aerodynamics engineer, Aeronautical engineer, Aerospace engineer, Aerospace structural engineer, Aerospace systems engineer, Aerospace test engineer, Aircraft design engineer, Stress engineer – aerospace

21311

(previously 2147)

Computer engineers (except software engineers and designers)

Computer hardware engineer, Fibre-optic network designer, Hardware circuit board designer, Hardware development engineer, Hardware technical architect, Network infrastructure engineer, Network support engineer, Network test engineer, Systems designer – hardware, Telecommunications hardware engineer, Wireless communications network engineer

21399

(previously 2148)

Other professional engineers

Agricultural engineer, Biomedical engineer, Bioresource engineer, Engineering physicist, Engineering scientist, Food processing engineer, Marine engineer, Naval architect, Textile engineer

22300

(previously 2231)

Civil engineering technologists and technicians

Bridge design technician, Building materials technician, Civil engineering technician, Civil engineering technologist, Construction specifications writer, Construction technologist, Foundation technologist, Highway technician, Municipal engineering assistant, Soil technologist – civil engineering, Structural design technologist, Structural investigator

22301

(previously 2232)

Mechanical engineering technologists and technicians

Aeronautical technologist, Heating designer, Heating, ventilation and air conditioning (HVAC) technologist, Machine designer, Marine engineering technologist, Mechanical engineering technician, Mechanical engineering technologist, Mechanical technologist, Mould designer, Thermal station technician, Tool and die designer, Tool designer

22302

(previously 2233)

Industrial engineering and manufacturing technologists and technicians

Computer-assisted design/computer-assisted manufacturing (CAD/CAM) programmer, Industrial engineering technician, Industrial engineering technologist, Loss prevention technologist – manufacturing, Manufacturing technician, Manufacturing technologist, Planning technician, Plastics manufacturing technician, Pulp and paper manufacturing technologist, Quality assurance technologist, Scheduling technician – manufacturing, Textile technologist, Time study analyst

22310

(previously 2241)

Electrical and electronics engineering and technologists and technicians

Communications technologist, Electrical engineering technician, Electrical engineering technologist, Electricity distribution network technologist, Electronics design technologist, Electronics engineering technician, Electronics engineering technologist, Electronics manufacturing technician, Electronics manufacturing technologist, Lighting technologist, Metering technologist, Microwave maintenance technician, Production support technician – electronics manufacturing

22231

(previously 2262)

Engineering inspectors and regulatory officers

Air carrier maintenance inspector, Air transport inspector, Airworthiness inspector, Electricity and gas meter inspector, Elevator inspector, Engineering inspector, Engineering regulatory officer, Insurance loss prevention inspector, Marine damage surveyor, Motor vehicle defects investigator, Railway accident investigation officer, Weights and measures inspector

72600

(previously 2271)

Air pilots, flight engineers, and flying instructors

Air pilot, Captain – air transport, Check pilot, Chief flying instructor, Chief pilot, Co-pilot, Flight engineer, Flying instructor, Helicopter pilot, Pilot instructor, Relief pilot, Second officer – air transport, Test pilot

72603

(previously 2274)

Engineer officers, water transport

Chief engineer – water transport, Engineer officer – water transport, Fourth engineer – water transport, Marine engineer officer, Second engineer, Third engineer – water transport, Tugboat engineer

73310

(previously 7361)

Railway and yard locomotive engineers

Locomotive engineer – railway, Railway engineer, Switch engineer – railway, Transfer hostler – railway, Yard engineer – railway

92100

(previously 9241)

Power engineers and power systems operators

Apprentice power dispatcher, Auxiliary plant operator, Building systems technician, Control room operator – electrical power systems, Distribution control operator – electrical power systems, Electrical power systems operator, Energy from waste plant operator, Nuclear generating station field operator, Nuclear reactor operator, Power dispatcher – generating station, Power engineer, Power plant operator, Power plant stationary engineer, Stationary engineer, System controller – electrical power systems
Figuring out your NOC code makes the process of analyzing the job market easier. 
Tip: For the purpose of analysis, you don't have to be restricted to one single code; you can look at multiple codes that require your skills and decide which one might be better suited to your situation. 
Navigating the Canadian job market can be overwhelming. Arrive guides on Finding Your Career in Canada and the Canadian Job Market are a quick and concise overview that explains all the need-to-know information and action items you can take to prepare yourself for finding and landing a job opportunity in Canada.

What is the demand for engineering roles in Canada?
Before you dive deeper, it's important to understand the big picture. Statistics Canada (StatCan) publishes monthly and annual employment trends for various industries. This is a good starting point to get an idea of the employment trends in engineering; any increase or growth is a good sign. 
The monthly and annual employment trends data on Statistics Canada is grouped by industries. As per the North American Industry Classification System (NAICS), most engineering roles are categorized under code 54 – Professional, Scientific, and Technical Services. Therefore, when you look at employment trends on Statistics Canada, you will have to look up this specific category.    
Statistics Canada also allows you to filter the numbers by province – this is a good way to identify provinces that have the maximum demand for your skills and know the probability of finding a job in your field. For instance, in 2021, among all provinces, Ontario had maximum employment for NAICS code 54, followed by Quebec and British Columbia.  

If you would like to gain a better understanding of the overall job market trends, you can look at the following two sites: 
Statistics Canada

publishes monthly reports which can be found by searching for the

Labour Force Survey

. A general Google search with the keywords (Labour Force Survey + latest month and year) will take you directly to the relevant webpage. You can have a look at the reports of

September 2022 and August 2022

 to get an idea. Note that these are overall trends and not specific to the engineering sector. However, they will have subsections for noteworthy NAICS categories for that month.
Explore the job market for engineering roles in various provinces by reading a comprehensive report published by Canada's Job Bank. Once you're on the webpage, choose a province and then scroll down to sectoral profiles. Select Professional, Technical, and Scientific Services for deeper insight into the engineering sector.
Tip: For a quick overview, type in your NOC code or job title on the Occupation Trends page and search. Here's a summary of the role of a Mechanical Engineer (NOC 21301) in Canada. The main summary page will provide various details such as educational and skill requirements for the role, average wages, and the number of jobs available. Clicking on the Prospects tab will show you a provincial breakdown of job prospects.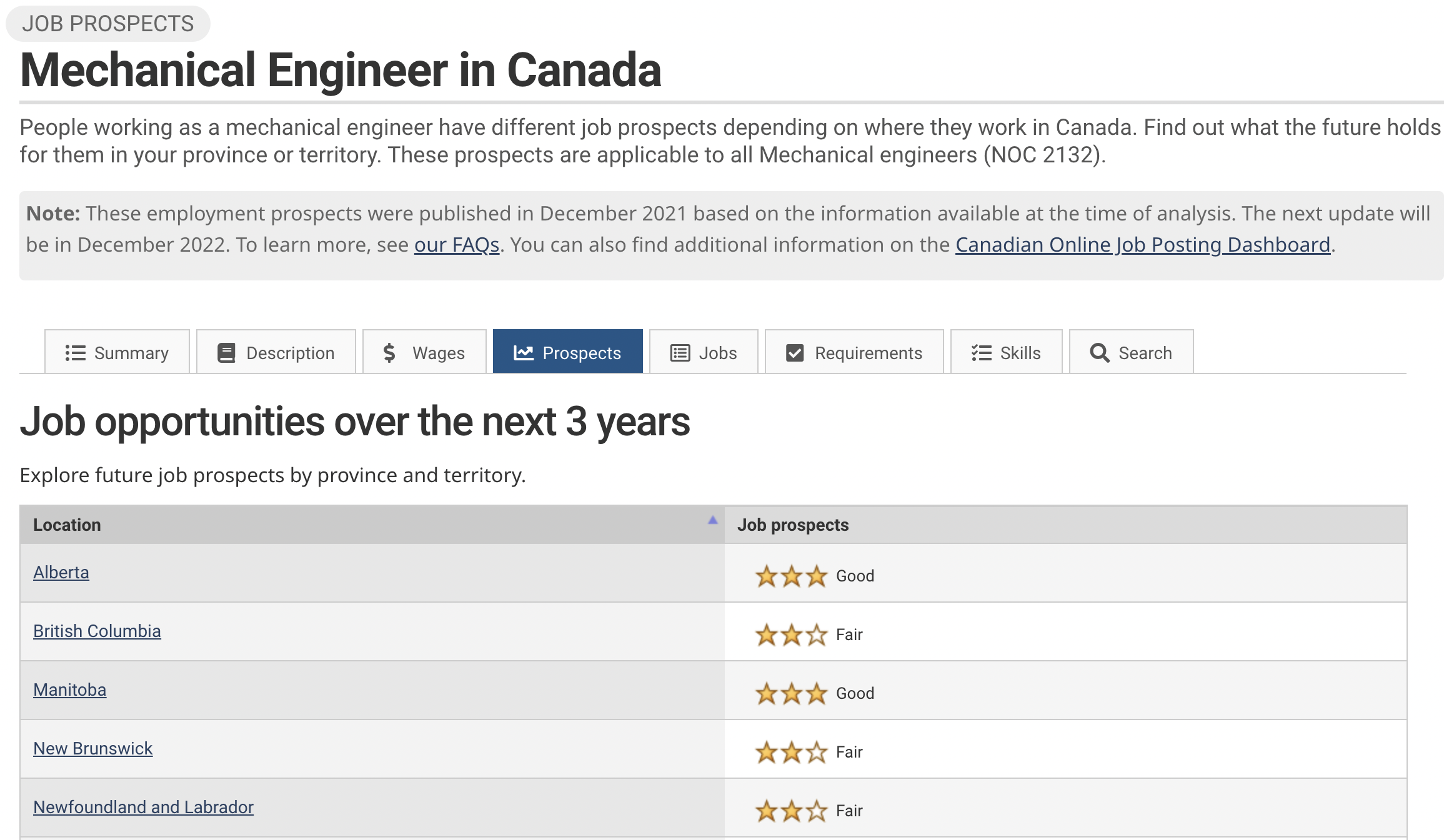 This exercise will help you set realistic expectations for being able to find a job in your field in a specific province or region. 
How to narrow your research and identify a city where engineering skills are in-demand
Once you decide on a province where you would like to work, as a next step, you can start looking at specific cities that might offer more opportunities to find a job in your desired role. For this, Canada's Job Bank website is an excellent resource. 
On the Prospects page, when you click on a specific province, it will provide a further split by region. For instance, you can view the opportunities for a Mechanical Engineer in Manitoba on the same site.  
After narrowing down the region, you can go back to the main Occupation Trends page, type in your NOC and region or city to get a similar detailed report. 

How to identify relevant engineering certifications and licenses that may be required for your role
Different provinces and territories may have different requirements for professional licenses and certifications. Identifying if you would need to obtain a license or certification can help you get a headstart in preparing for your employment in Canada.
Note:
All occupations in Canada are classified into regulated and non-regulated occupations. You can find out if your profession is regulated by typing in your NOC code and province/territory on the
Canadian Information Centre for International Credentials (CICIC)
website. Regulated occupations typically require you to have a license and/or a certification to be able to work in the field. 
The same page on the Job Bank website will provide a list of skills and requirements (such as licenses and certifications) for a Mechanical Engineer to be able to work in the field. 

In the case of a Mechanical Engineer, certification is compulsory to be able to work in Manitoba. Additionally, a bachelor's degree in mechanical engineering or in a related engineering discipline is required. 
It's also important to note that in all provinces licensing by a provincial or territorial association of professional engineers is required to approve engineering drawings and reports and to practise as a Professional Engineer (P.Eng.). Engineers are eligible for registration following graduation from an accredited educational program, and after three or four years of supervised work experience in engineering and passing a professional practice examination.
Interesting Fact:
Many Canadian-trained engineers wear an 'Iron Ring.' It is considered a symbol and reminder of the obligations and ethics associated with their profession. The ring is presented to engineering graduates in a private ceremony known as the Ritual of the Calling of an Engineer.
Navigating salary expectations for engineering roles in Canada
Setting salary expectations is another key area of importance for newcomers. There are many sites to conduct salary research: The Job Bank website, Glassdoor, and reports published by recruitment firms such as Hays and Randstad are some of them. Your salary would vary greatly depending on the city you're based in and your work experience.
Each of these sources will let you filter your profession by experience level and region and city so that you can get a very real sense of salary expectations. It is a good idea to compare numbers from different sites to get a good ballpark figure. 
For instance, a Mechanical Engineer working in Manitoba can expect to earn approximately $70,000 to $100,000 on average, depending on their level of experience. 
How to find an engineering job in Canada
Here's how you can find relevant opportunities in engineering:
1. Online and offline methods
In addition to Canada's Job Bank website and other online job search portals such as LinkedIn Jobs, Indeed, Monster, Workopolis, CareerBuilder, SimplyHired, and many others, you can sign up for industry events and register with specialized recruitment or staffing agencies who can help market your resume to potential employers. Industry events in your city or neighbourhood can be found on sites like Eventbrite. 
2. Get relevant certifications and licenses
Most engineering professions require a certification and/or a license to be able to work in your field. Getting certified in Canada will improve your employment prospects and strengthen your resume. 
3. Build a strong resume
The most important tool in your quest to find your dream job is your resume. Ensure that your resume is always up-to-date and aligned with Canadian style of formatting. Be sure to customize your resume to the engineering role you are applying for. 
4. Networking
Networking is crucial to finding employment in Canada. LinkedIn is a good starting point for you to build your network. See the top 10 tips to optimize your LinkedIn profile.
You can use the following Arrive resources to help be better prepared for your job search:
Arrive is with you every step of the way.

What does the hiring process look like for engineering roles in Canada?
The hiring process for engineering roles is usually split into multiple rounds:
Screening:

This is usually a telephonic round where the interviewer will focus on the resume and ask about past experiences, expectations for the next role, understand your motivation for the position, and discuss compensation details. 

Knowledge and skill testing:

The initial round could be telephonic or in-person.

If the interviewer determines that you are a good fit for the role, the initial round is followed up with two or three more rounds of conversations primarily geared towards evaluating your domain knowledge and skills. These rounds may include white-boarding and behavioural questions.  

Final round:

The hiring manager will usually meet with you before an offer letter is issued. The focus of this conversation is generally on soft skills and cultural fit. 
On average, the entire interview process can take between two to four weeks, depending on the urgency of the position to be filled as well as the availability and scheduling of everyone involved in the process. In rare cases, it can even take up to two months. 
To be able to find meaningful employment as an engineer, relevant certifications and licenses are a must. Obtaining these certifications is often a lengthy process so advance preparation can help you arrive prepared and face the job market with confidence.