A report from Canada's Economic Strategy Tables on Health and Biosciences indicated that by 2025, Canada will double the size of the health and biosciences sector. The country is expected to become a top-three global hub by: 
Leveraging and advancing innovative technologies, 

Attracting and retaining capital, skills and talent, and 

Ensuring a vibrant ecosystem that will unleash the full potential of the sector and lead to improved health outcomes. 
This would open up many opportunities for healthcare professionals to excel and succeed in their respective specialized fields.
In this article, we will help you understand how to analyze the scope for your healthcare role in Canada and make a successful transition to the Canadian job market.
Note:
The
National Occupational Classification (NOC)
is Canada's national system for describing occupations. The NOC code is a five-digit number that plays an important part in your immigration application. (Till November 16, 2022, NOC codes included four digits.) The NOC groups jobs based on the type of job duties and the skills, education, and experience required for the work a person does. You can
find your NOC code
on the Government of Canada website.
Here are some of the NOCs that broadly cover all the roles in the field of healthcare:
NOC Code
NOC Code Name
Example Titles

00013

(previously 0014)

Senior managers – health, education, social and community services and membership organizations

Health services institution executive director, Professional association executive director, Scientific association chairperson, Social services institution corporate controller, Voluntary organization executive director

30010

(previously 0311)

Managers in healthcare

Chief of anesthesia, Chief of emergency medicine, Chief of medical staff, Director of clinical medicine, Director of dietetics, Director of laboratory medicine, Director of nursing – medical services, Director of occupational therapy, Director of physiotherapy, Director of surgery, Home care services director – medical services, Medical clinic director, Mental health residential care program manager, Rehabilitation services director

40010

(previously 0411)

Government managers – health and social policy development and program administration

City medical officer of health – government services, Health information and promotion director – government services, Health program operations manager – government services, Housing policy and development director – government services, Immigration and settlement director – government services, Social services director – government services, Social services planning manager – government services

13112

(previously 1243)

Medical administrative assistants

Administrative assistant – medical, Medical secretary, Ward secretary

12110

(previously 1251)

Court reporters, medical transcriptionists and related occupations

Braille technician, Closed captioner, Hansard reporter, Medical transcriptionist, Transcriptionist

12111

(previously 1252)

Health information management occupations

Health information management supervisor, Health information management technician, Health records technician, Medical records unit supervisor

31300

(previously 3011)

Nursing coordinators and supervisors

Nursing care coordinator, Nursing services coordinator, Nursing supervisor, Patient care coordinator – nursing, Psychiatric nursing supervisor, Public health nursing supervisor

31301

(previously 3012)

Registered nurses and registered psychiatric nurses

Clinical nurse, Community health nurse, Critical care nurse, Emergency care nurse, Intensive care nurse, Nurse researcher, Nursing consultant, Occupational health nurse, Private duty nurse, Public health nurse, Registered nurse (R.N.), Registered psychiatric nurse (R.P.N.)

31100

(previously 3111)

Specialists in clinical and laboratory medicine

Anatomical pathologist, Anesthetist, Cardiologist, Dermatologist, Diagnostic radiologist, Emergency physician, Endocrinologist, Gastroenterologist, General pathologist, Geriatrician, Hematologist, Hematopathologist, Medical biochemist – physician, Medical microbiologist, Nephrologist, Neurologist, Neuropathologist, Oncologist, Pediatrician, Physiatrist, Pneumologist, Psychiatrist, Radiation oncologist

31101

(previously 3111)

Specialists in surgery

Cardiac surgeon, General surgeon, Neurosurgeon, Obstetrician-gynecologist, Ophthalmologist, Orthopedic surgeon, Orthopedist, Otorhinolaryngologist, Pediatric surgeon, Plastic surgeon, Thoracic surgeon, Urologist, Vascular surgeon

31102

(previously 3112)

General practitioners and family physicians

Family physician, General practice resident, General practitioner (GP), Medical doctor, Community preventive medicine physician, Medical missionary

31110

 

(previously 3113)

Dentists

Dentist, Endodontist, Oral and maxillofacial surgeon, Oral pathologist, Oral radiologist, Orthodontist, Pediatric dentist, Periodontist, Prosthodontist, Public health dentist

31103

 

(previously 3114)

Veterinarians

Farm veterinarian, Small animal veterinary specialist, Veterinarian, Veterinary inspector, Veterinary pathologist, Veterinary physiologist, Veterinary surgeon, Zoo veterinarian

31111

 

(previously 3121)

Optometrists

Doctor of optometry (OD), Optometrist

31201

 

(previously 3122)

Chiropractors

Chiropractor

31302

 

(previously 3124)

Nurse practitioners

Advanced practice nurse, Extended class registered nurse, Nurse practitioner

31303

 

(previously 3124)

Physicians assistants, midwives and allied health professionals

Genetic counsellor, Midwife, Orthoptist, Pathology assistant, Physician assistant

32103

 

(previously 3124)

Respiratory therapists, clinical perfusionists, and cardiopulmonary technologists
Anesthesia assistant, Cardiopulmonary technologist, Cardiovascular perfusion supervisor, Cardiovascular perfusionist, Certified clinical perfusionist (CCP), Chief respiratory technologist, Clinical perfusionist, Perfusionist, Registered respiratory therapist (RRT), Respiratory therapist, Respiratory therapy chief, Respiratory therapy clinical instructor, Anesthesia technologist, Polysomnographic technologist

31209

 

(previously 3125)

Other professional occupations in health diagnosing and treating

Chiropodist, Doctor of naturopathic medicine, Doctor of osteopathic medicine, Doctor of podiatric medicine (D.P.M.), Foot specialist, Naturopathic doctor (ND), Osteopathic physician, Podiatrist

31120

 

(previously 3131)

Pharmacists

Clinical pharmacist, Community pharmacist, Hospital pharmacist, Industrial pharmacist, Pharmacist, Retail pharmacist

31121

 

(previously 3132)

Dietitians and nutritionists

Administrative dietitian, Clinical dietitian, Community nutritionist, Consultant dietitian, Dietitian, Dietitian-nutritionist, Nutrition specialist, Nutritionist, Public health dietitian, Public health nutritionist, Registered dietitian (RD), Research dietitian

31112

 

(previously 3141)

Audiologists and speech-language pathologists

Audiologist, Audiology clinician, Certified audiologist, Clinical audiologist, Educational speech-language pathologist, Research audiologist, Speech therapist, Speech-language clinician

31202

 

(previously 3142)

Physiotherapists

Physical therapist, Physiotherapist, Registered physiotherapist, Research physiotherapist, Physical therapy clinical coordinator, Physiotherapy clinical coordinator

32109

 

(previously 3142)

Other technical occupations in therapy and assessment

Audiology technician, Communicative disorders assistant, Hearing instrument practitioner, Occupational therapy assistant, Ophthalmic technician, Ophthalmic technologist, Physiotherapy technician, Rehabilitation assistant, Speech aide, Speech technician, Speech therapy assistant

31203

 

(previously 3143)

Occupational therapists

Case manager occupational therapist, Clinical occupational therapist, Community occupational therapist, Occupational therapist (OT), Occupational therapy rehabilitation consultant, Research and development occupational therapist

32120

 

(previously 3211)

Medical laboratory technologists

Cytogenetics technologist – medical laboratory, Histology technologist, Medical laboratory cytotechnologist, Medical laboratory technologist, Medical laboratory technologist – anatomical pathology, Medical laboratory technologists supervisor, Medical technologist – medical laboratory

33101

 

(previously 3212)

Medical laboratory assistants and other technical occupations

Medical laboratory aide, Medical laboratory assistant, Medical laboratory technician, Phlebotomist, Phlebotomy aide, Blood bank technician, Renal technician

32104

 

(previously 3213)

Animal health technologists and veterinary technicians

Animal health technician, Animal health technologist, Laboratory animal technician, Registered veterinary technician (RVT), Veterinarian assistant, Veterinary technician, Veterinary technologist

32121

 

(previously 3215)

Medical radiation technologists

Mammography technician, Nuclear medicine clinical instructor, Nuclear medicine technologist, Nuclear medicine technologists supervisor, Radiation oncology technologist, Radiation therapist, Radiation therapy clinical instructor, Radiation therapy technologist (RTT), Radiography technologist, Radiological technologist, Radiotherapy technician, X-ray (radiology) technician, Diagnostic imaging technologist, Magnetic resonance imaging (MRI) technologist

32122

 

(previously 3216)

Medical sonographers

Diagnostic medical sonography instructor, Medical sonographer, Medical sonographers supervisor, Registered diagnostic medical sonographer (RDMS), Ultrasound technologist

32123

 

(previously 3217)

Cardiology technologists and electrophysiological diagnostic technologists

Cardiac stress technologist, Cardiology supervisor, Cardiology technologist, Electrocardiographic (ECG) technologist, Electrocardiography technologist, Electroencephalograph (EEG) technologist, Electromyography (EMG) technologist, Electroneurodiagnostic (END) technologist, Electroneurophysiology (ENP) technologist, Cardiac catheterization technologist, Cardiovascular technician, Cardiovascular technologist

32124

 

(previously 3219)

Pharmacy technicians 

Pharmacy technician, Pharmacy technician supervisor

32110

 

(previously 3221)

Denturists

Dental mechanic, Denturist, Denturologist

32111

 

(previously 3222)

Dental hygienists and dental therapists

Dental hygienist, Dental nurse, Dental therapist, Registered dental hygienist

32112

 

(previously 3223)

Dental technologists, technicians 

Dental technician, Dental technician supervisor, Dental technologist, Registered dental technician (RDT), Registered dental technologist (RDT)

32100

 

(previously 3231)

Opticians

Contact lens fitter, Contact lens practitioner, Dispensing optician, Licensed optician, Optician

32209

 

(previously 3232)

Other practitioners of natural healing

Aromatherapist, Ayurvedic practitioner, Herbalist, Holistic nutritionist, Holistic practitioner, Homeopath, Hypnotherapist, Naturotherapist, Osteopathic manual practitioner, Reflexologist, Rolfer

32101

 

(previously 3233)

Licensed practical nurses

Graduate nursing assistant, Licensed practical nurse (L.P.N.), Operating room technician, Registered nursing assistant (R.N.A.)

32102

 

(previously 3234)

Paramedical occupations

Advanced care paramedic, Ambulance attendant, Ambulance services supervisor, Critical care paramedic, Emergency medical technician (EMT), Emergency medical technologist – paramedic (EMT-P), Paramedic, Paramedic emergency medical technician, Primary care paramedic, Emergency medical assistant, Emergency medical attendant (EMA)

32201

 

(previously 3236)

Massage therapists

Massage therapist (MT), Registered massage practitioner, Registered massage therapist (RMT)

33109

 

(previously 3237)

Other assisting occupations in support of health services

Audiometric assistant, Audiometric technician, Autopsy assistant, Blood donor clinic assistant, Cast room technician, Chiropractic assistant, Clinical laboratory helper, Morgue attendant, Ophthalmic assistant, Ophthalmic laboratory technician – retail, Ophthalmic lens grinder, Ophthalmologist assistant, Optical laboratory assistant, Optometrist assistant, Orthopedic technologist, Sterile processing technician

33100

 

(previously 3411)

Dental assistants and dental laboratory assistants

Certified dental assistant, Certified intra-oral dental assistant, Dental assistant, Dental laboratory assistant, Dental technician assistant, Registered dental assistant

33102

 

(previously 3413)

Nurse aides, orderlies and patient service associates

Health care aide, Hospital attendant, Long term care aide, Nurse aide, Nursing attendant, Orderly, Patient care aide, Patient service associate, Personal care attendant – medical, Psychiatric aide, Resident care aide – medical, Emergency medical care attendant (non-paramedical), Emergency medical responder (non-paramedical), First aid attendant, Medical attendant – patient transfer

33103

 

(previously 3414)

Pharmacy technical assistants and pharmacy assistants

Pharmacy aide, Pharmacy assistant, Pharmacy technical assistant

31200

 

(previously 4151)

Psychologists

Clinical psychologist, Neuropsychologist, Psychological associate, Psychologist, Registered psychologist, Research psychologist, School psychologist

41404

 

(previously 4165)

Health policy researchers, consultants, and program officers

Child health care programs planning officer, Drug and alcohol abuse consultant, Health care consultant, Health care planner, Health policy research analyst, Health promotion program officer, Health services researcher, Mental health programs consultant, Policy development officer – nursing homes
Tip: For the purpose of analysis, you don't have to be restricted to one single code; you can look at multiple codes that require your skills and decide which one might be better suited to your situation.
Navigating the Canadian job market can be overwhelming. Arrive guides on Finding Your Career in Canada and the Canadian Job Market are a quick and concise overview that explains all the need-to-know information and action items you can take to prepare yourself for finding and landing a job opportunity in Canada.

What is the demand for healthcare roles in Canada?
Before you dive deeper, it's important to understand the big picture. Statistics Canada (StatCan) publishes monthly and annual employment trends for various industries. This is a good starting point to get an idea of the employment trends in healthcare; any increase or growth is a good sign. 
The monthly and annual employment trends data on Statistics Canada is grouped by industries. As per the North American Industry Classification System (NAICS), most healthcare roles are categorized under code 62 – Healthcare and Social Assistance. Therefore, when you look at employment trends in Statistics Canada, you will have to look up this specific category.    
Statistics Canada also allows you to filter the numbers by province. This is a good way to identify provinces that have the maximum demand for your skills and know the probability of finding a job in your field. For instance, in 2021, among all provinces, Ontario had maximum employment for NAICS code 62, followed by Quebec and British Columbia.

If you would like to gain a better understanding of the overall job market trends, you can look at the following two sites: 
Statistics Canada

publishes monthly reports which can be found by searching for the

Labour Force Survey. A general Google search with the keywords (Labour Force Survey + latest month and year) will take you directly to the relevant webpage. You can have a look at the reports of September 2022 and August 2022

to get an idea. Note that these are overall trends and not specific to the healthcare sector. However, they will have subsections for noteworthy NAICS categories for that month.

Explore the healthcare job market in various provinces by reading a

comprehensive report published by

Canada's Job Bank

. Once you're on the webpage, choose a province and then scroll down to sectoral profiles. Select

Healthcare and Social Assistance

for deeper insight into the healthcare sector. 
Tip: For a quick overview, type in your NOC code or job title on the Occupation Trends page and search. Here's a summary of the role of a Registered Nurse (NOC 31301) in Canada. The main summary page will provide various details such as educational and skill requirements for the role, average wages, and the number of jobs available. Clicking on the Prospects tab will show you a provincial breakdown of job prospects.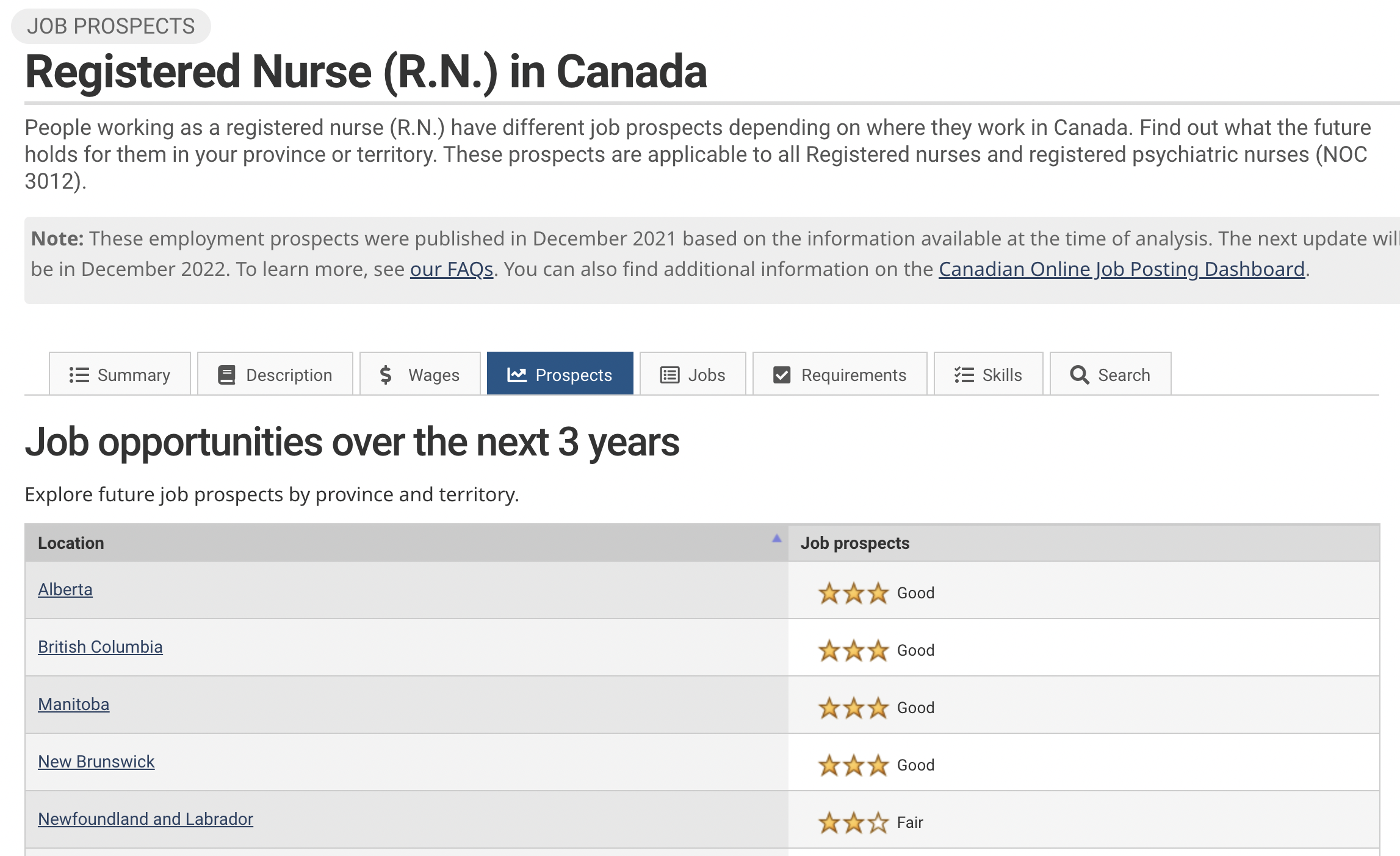 This exercise will help you set realistic expectations for being able to find a job in your field in a specific province or region. 
How to narrow your research and identify a city where healthcare skills are in-demand
Once you decide on a province where you would like to work, as a next step, you can start looking at specific cities that might offer more opportunities to find a job in your desired role. For this, Canada's Job Bank website is an excellent resource. 
On the Prospects page, when you click on a specific province, it will provide a further split by region. For instance, you can view the opportunities for a Registered Nurse in Alberta on the same site.  
After narrowing down the region, you can go back to the main Occupation Trends page, type in your NOC and region or city to get a similar detailed report.

How to identify relevant healthcare certifications or licenses that may be required for your role
Different provinces and territories may have different requirements for professional licenses and certifications. Identifying if you would need to obtain a license or certification can help you get a headstart in preparing for your employment in Canada.
Note:
All occupations in Canada are classified into regulated and non-regulated occupations. You can find out if your profession is regulated by typing in your NOC code and province/territory on the
Canadian Information Centre for International Credentials (CICIC)
website. Regulated occupations typically require you to have a license and/or a certification to be able to work in the field. 
Considering the instance of a Registered Nurse (as mentioned above), the same page on the Job Bank website will provide a list of skills and requirements (such as licenses and certifications) to be able to work in the field.

For a Registered Nurse to work in Calgary, it is essential to be certified by the College and Association of Registered Nurses of Alberta. Additionally, completion of a university, college or other approved registered nursing program along with additional academic training or experience is usually required.
Note:
Most healthcare occupations across Canada are regulated and you will be required to get a certification or license to be able to practice.
For internationally trained nurses: How to become a certified nurse in Canada
Here's an overview of the steps to be followed to be certified as a nurse in Canada:

Send in an application

to the National Nursing Assessment Service (NNAS) for creating an Advisory Report that includes an evaluation of your education based on Canadian standards and comparing it to current Canadian nursing requirements. You will have to choose one nursing group and one province for your application. 

Apply to the provincial or territorial nursing association for assessment. 

In Ontario, you can apply to the

College of Nurses of Ontario (CNO)

and in British Columbia, you can apply to the

College of Registered Nurses of British Columbia

. 

As part of the assessment process, you will be required to take one or more exams to demonstrate your nursing competency, evaluate your knowledge and understanding of the laws, regulations, and College by-laws, practice standards and guidelines that govern the nursing profession in that particular province or territory.

If you pass, you must meet four other requirements in order to be registered by a provincial or territorial nursing regulatory body in Canada.

Evidence of fluency in English or French language.

Registration or eligibility for registration in the jurisdiction where the nursing program was completed.

Proof of Canadian Citizenship, Permanent Residency, or authorization under the Immigration and Refugee Protection Act to engage in the practice of nursing. 

Good character and suitability to practise, as indicated by a Declaration of Registration Requirements and a Canadian Criminal Record Synopsis.

Get the certificate of registration from the provincial or territorial nursing College / Association. 
Tip: For more information on obtaining your nursing certification, head over to the Canadian Nurses Association (CNA) and the National Nursing Assessment Service (NNAS).
For internationally trained doctors: How to become a practicing physician in Canada
Here's an overview of the steps to be followed to be a practicing physician in Canada:  
Before moving to Canada
After moving to Canada
Tip: For detailed information, steps, and processes, have a look at physiciansapply.ca and The Royal College of Physicians and Surgeons of Canada.
Navigating salary expectations for healthcare roles in Canada
Setting salary expectations is another key area of importance for newcomers. There are many sites to conduct salary research: The Job Bank website, Glassdoor, and reports published by recruitment firms such as Hays and Randstad are some of them. Your salary would vary greatly depending on the city you're based in and your work experience.
Each of these sources will let you filter your profession by experience level and region and city so that you can get a very real sense of salary expectations. It is a good idea to compare numbers from different sites to get a good ballpark figure. 
For instance, a Registered Nurse working in Calgary can expect to earn approximately $74,000 to $120,000 on average, depending on their level of experience. 
How to find a healthcare job in Canada
Here are some of the ways you can prepare for the healthcare job market in Canada:
1. Online and offline methods
In addition to Canada's Job Bank website and other online job search portals such as LinkedIn Jobs, Indeed, Monster, Workopolis, CareerBuilder, SimplyHired, and many others, you can sign up for industry events and register with specialized recruitment or staffing agencies who can help market your resume to potential employers. Industry events in your city or neighbourhood can be found on sites like Eventbrite. 
2. Get relevant certifications or licenses
Depending on your role, a certification and/or a license might be mandatory for you to be able to work in your field. Getting certified in Canada will improve your employment prospects and strengthen your resume. 
3. Build a strong resume
The most important tool in your quest to find your dream job is your resume. Ensure that your resume is always up-to-date and aligned with the Canadian style of formatting. Be sure to customize it to the healthcare role you are applying for. 
4. Networking
Networking is crucial to finding employment in Canada. LinkedIn is a good starting point for you to build your network. See the top 10 tips to optimize your LinkedIn profile. Coffee chats can also help you learn about the local market and get accustomed to Canadian culture and workplace etiquette. 
You can use the following Arrive resources to help be better prepared for your job search:
Arrive is with you every step of the way.

What does the hiring process look like for healthcare roles in Canada?
The hiring process for healthcare roles is usually split into multiple rounds:
Screening:

This is usually a telephonic round where the interviewer will discuss basics such as role expectations, compensation, and chat about your experience. 

Skill and knowledge testing:

If the interviewer determines that you are a good fit for the role, the initial round is followed up with two or three more rounds of conversations primarily geared towards evaluating your skills and domain knowledge. These rounds may include behavioural or scenario-based questions. 

Final round:

The recruiter or hiring manager will usually meet with you before an offer letter is issued. The focus of this conversation is generally on soft skills and cultural fit. 
On average, the entire interview process can take between two to six weeks, depending on the urgency of the position to be filled and the availability and scheduling of everyone involved in the process. 
Re-starting your career in a new country, especially in a regulated profession like healthcare, may seem daunting. It helps to start researching on the certifications or licenses that you may require early on and prepare to obtain them. This will enable you to find opportunities faster and smoothly transition to the Canadian job market.