Technology is a growing sector in Canada, driving employment and innovation. With approximately 37,000 companies and $160 billion CAD in revenue, the Information Technology Association of Canada (ITAC) terms the IT industry as the engine of growth and people often refer to Toronto, one of the IT hubs of Canada, as the Silicon Valley of the North.
One of the key factors that contribute to the progress of the IT industry is talent. Immigration programs such as Express Entry and Provincial Nomination have a sweet spot for IT professionals, making it easier for them to move to Canada.
In this article, we will help you understand how to analyze the scope for your IT role in Canada and make a successful transition to the Canadian job market.
Note:
The
National Occupational Classification (NOC)
is Canada's national system for describing occupations. The NOC code is a five-digit number that plays an important part in your immigration application (Till November 16, 2022, NOC codes included four digits.) The NOC groups jobs based on the type of job duties and the skills, education, and experience required for the work a person does. You can
find your NOC code
on the Government of Canada website.
Here are some of the NOCs that broadly cover all the roles in the field of IT:
NOC Code
NOC Code Name
Example Titles

21211

(previously 2171)

Data Scientists

Data architect, Data scientist, Machine learning engineer, Machine learning specialist, Quantitative analyst, Artificial intelligence (AI) designer

21220

(previously 2171)

Cybersecurity specialists

Cybersecurity analyst, Informatics security analyst, Informatics security consultant, Information technology (IT) security specialist, Systems security analyst

21221

(previously 2171)

Business systems specialists

Business systems analyst, Business systems consultant, Information systems business analyst, Information technology (IT) business analyst

21222

(previously 2171)

Information systems specialists

Computer systems analyst, Informatics consultant, Information systems quality assurance (QA) analyst, Information technology (IT) consultant, Management information systems (MIS) analyst, Systems auditor, Systems consultant

21233

(previously 2171)

Web designers

Internet site designer, Intranet site designer, Web designer

21223

(previously 2172)

Database analysts and database administrators

Data administrator, Data custodian, Data dictionary administrator, Data warehouse analyst, Database administrator (DBA), Database analyst, Technical architect – database

21231

(previously 2173)

Software engineers and designers

Application architect, Cloud infrastructure engineer, Cloud operations engineer, Computer software engineer, Embedded software engineer, Mobile development lead, Site reliability engineer, Software and information technology project manager, Software architect, Software design engineer, Software design project manager, Software design verification engineer, Software designer, Software project manager, Software systems integration engineer, Software technical architect, Software testing engineer, Telecommunications software engineer, Systems architect

21230

(previously 2174)

Computer systems developers and programmers

Computer programmer, Operating systems programmer, Programmer analyst, Scientific programmer, Systems programmer

21232

(previously 2174)

Software developers and programmers

Application programmer, Computer game developer, Electronic business (e-business) software developer, Interactive media developer, Multimedia developer, Software developer, Software development project manager, Software programmer

21234

(previously 2174)

Web developers and programmers

Electronic business (e-business) Web site developer, Internet site developer, Web developer, Web manager, Web programmer, Web site developer, Webmaster

21233

(previously 2175)

Web designers 

Internet site designer, Intranet site designer, Web designer

22220

(previously 2281)

Computer network and web technicians

Computer network technician, Data centre operator, Internet Web site technician, Local area network (LAN) administrator, Local area network (LAN) technician, Network administrator, Network support technician, Network system administrator, Web technician

22221

(previously 2282)

User support technicians

Call centre agent – technical support, Client support representative – systems, Computer help desk representative – systems, Computer help desk supervisor, Hardware installation technician, Hardware technical support analyst, Help desk technician, Software installation technician, Software technical support analyst, Systems support representative, Systems technical support analyst, Technical support analyst, Technical support supervisor, User support technician

22222

(previously 2283)

Information systems testing technicians

Application tester, Application testing technician, Software test coordinator, Software tester, Software testing technician, Systems tester, Systems testing technician, User acceptance tester

20012

(previously 0213)

Computer and information systems managers

Business systems manager, Cloud architect manager, Cloud solutions architect manager, Computer systems manager, Data centre manager, Data processing and systems analysis manager, Data processing director, Electronic data processing (EDP) manager, Enterprise resource planning (ERP) manager, Information systems manager, Management information system (MIS) manager, Software development manager, Software engineering manager, Systems development manager, Technical delivery manager – information technology (IT), Technical program manager – information technology (IT)
Figuring out your NOC code makes the process of analyzing the job market easier.
Tip: For the purpose of analysis, you don't have to be restricted to one single code; you can look at multiple codes that require your skills and decide which one might be better suited to your situation. 
Navigating the Canadian job market can be overwhelming. Arrive guides on Finding Your Career in Canada and the Canadian Job Market are a quick and concise overview that explains all the need-to-know information and action items you can take to prepare yourself for finding and landing a job opportunity in Canada.

What is the demand for IT roles in Canada?
Before you dive deeper, it's important to understand the big picture. Statistics Canada (StatCan) publishes monthly and annual employment trends for various industries. This is a good starting point to get an idea of the employment trends in IT; any increase or growth is a good sign.
The monthly and annual employment trends data on Statistics Canada is grouped by industries. As per the North American Industry Classification System (NAICS), some IT roles are categorized under code 51 – Information and Cultural Industries, while others are categorized under code 54 – Professional, Scientific, and Technical Services. Therefore, when you look at employment trends on Statistics Canada, you will have to look up both of these categories.
Statistics Canada also allows you to filter the numbers by province – this is a good way to identify provinces that have the maximum demand for your skills and know the probability of finding a job in your field. For instance, in 2019, among all provinces, Ontario had maximum employment for NAICS codes 51 and 54, followed by Quebec and British Columbia.

If you would like to gain a better understanding of the overall job market trends, you can look at the following two sites: 
Statistics Canada

publishes monthly reports which can be found by searching for the

Labour Force Survey. A general Google search with the keywords (Labour Force Survey + latest month and year) will take you directly to the relevant webpage. You can have a look at the reports of September 2022 and August 2022 to get an idea. Note that these are overall trends and not specific to the IT sector. However, they will have subsections for noteworthy NAICS categories for that month.

Explore the IT job market in various provinces by reading a

comprehensive report published by

Canada's Job Bank

. Once you're on the webpage, choose a province and then scroll down to sectoral profiles. Select either

Information and Culture

, or

Professional, Technical, and Scientific Services

for deeper insight into the IT sector.
Tip: For a quick overview, type in your NOC code or job title on the Occupation Trends page and search. Here's a summary of the role of a Software Developer and Programmer (NOC 21232) in Canada. The main summary page will provide various details such as educational and skill requirements for the role, average wages, and the number of jobs available. Clicking on the Prospects tab will show you a provincial breakdown of job prospects.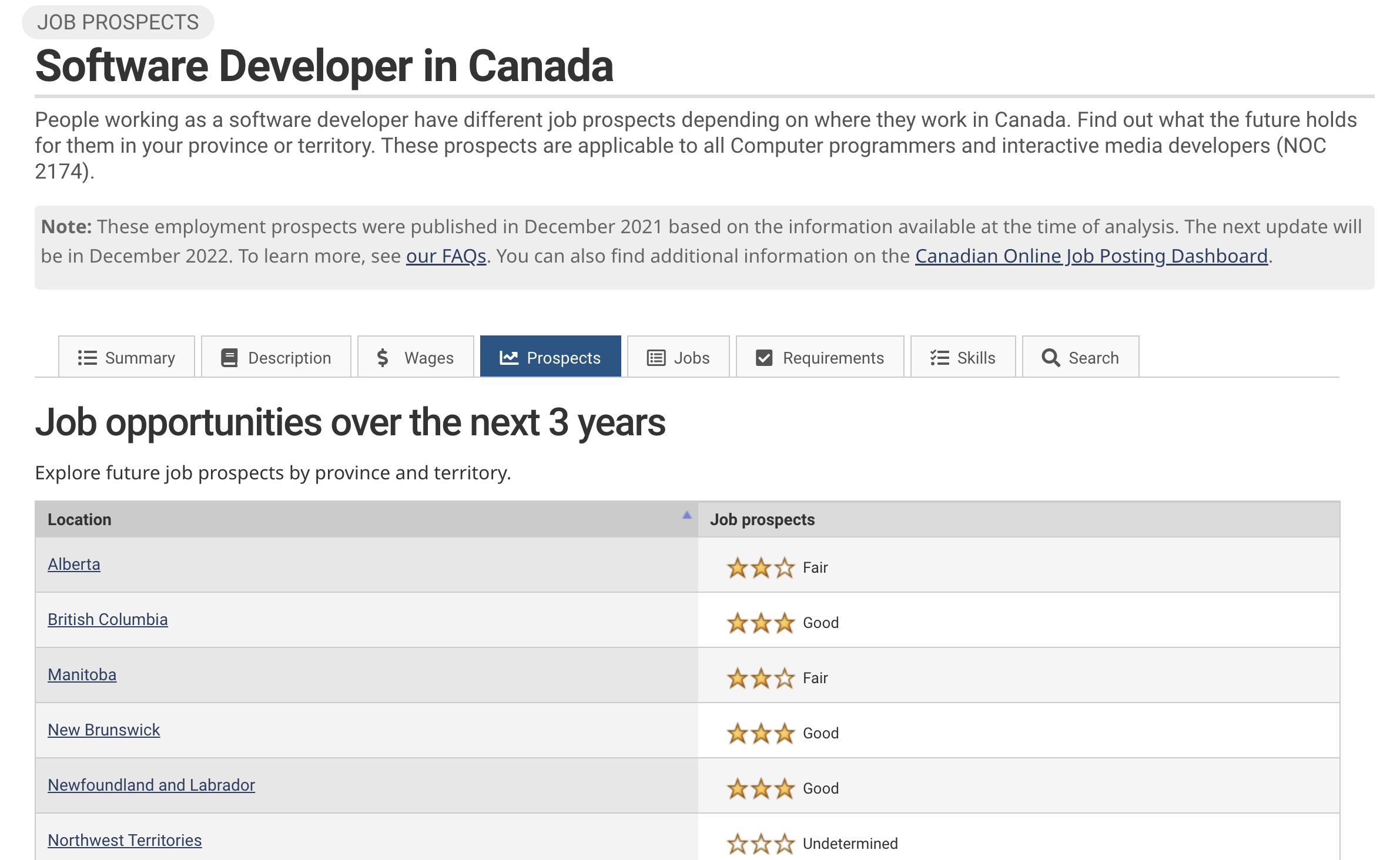 This exercise will help you set realistic expectations for being able to find a job in your field in a specific province or region. 
How to narrow your research and identify a city where IT skills are in-demand
Once you decide on a province where you would like to work, as a next step, you can start looking at specific cities that might offer more opportunities to find a job in your desired role. For this, Canada's Job Bank website is an excellent resource. 
In continuation to the steps outlined above for the Job Bank website, while on the Prospects page, when you click on a specific province, it will provide a further split by region. For instance, you can view the opportunities for a Software Developer in Ontario on the same site.  
After narrowing down the region, you can go back to the main Occupation Trends page, type in your NOC and region or city to get a similar detailed report. 

"Business intelligence, artificial intelligence, software development, and blockchain are some of the in-demand IT skills right now. Experienced JavaScript developers, dev-ops professionals with knowledge of cloud technologies and databases are much sought-after." 
– Margarita Kossinova, Senior Technical Recruiter, RBC
How to identify relevant IT certifications or licenses that may be required for your role
Different provinces and territories may have different requirements for professional licenses and certifications. Identifying if you would need to obtain a license or certification can help you get a headstart in preparing for your employment in Canada.
Note:
All occupations in Canada are classified into regulated and non-regulated occupations, which differ by province. You can find out if your profession is regulated by typing in your NOC code and province/territory on the
Canadian Information Centre for International Credentials (CICIC)
website. Regulated occupations typically require you to have a license and/or a certification to be able to work in the field.
Considering the instance of a software developer (as mentioned above), the same page on the Job Bank website will provide a list of skills and requirements (such as licenses and certifications) to be able to work in the field.

In the case of a software developer, there are no certification or license requirements to be able to work in Toronto. However, a bachelor's degree in computer science or in another discipline with a significant programming component or completion of a college program in computer science is usually required. 
"There are hiring managers who look at the candidate's educational credentials first and foremost, and then there are those who look at experience – I've worked with both. For roles in IT, university degrees in computer science or computer engineering are known to be highly valued, closely followed by technology engineering and mathematics. If it's a more senior or a researcher-type of a role, they look for Masters and/or a Ph. D. Coding bootcamps are very popular these days; they look great on a resume. For someone who already has a background in development and wants to upgrade their skills, or those who have switched careers, bootcamps are definitely a strong good-to-have. They're a good stepping stone." 
– Margarita Kossinova, Senior Technical Recruiter, RBC
Navigating salary expectations for IT roles in Canada
Setting salary expectations is another key area of importance for newcomers. There are many sites to conduct salary research: The Job Bank website, Glassdoor, and reports published by recruitment firms such as Hays and Randstad are some of them. Your salary would vary greatly depending on the city you're based in and your work experience.
Each of these sources will let you filter your profession by experience level and region and city so that you can get a very real sense of salary expectations. It is a good idea to compare numbers from different sites to get a good ballpark figure. 
For instance, a software developer working in Toronto can expect to earn approximately $60,000 to $130,000 on average, depending on their level of experience. 
How to find an IT job in Canada
IT roles are in-demand in Canada and it is comparatively easier to find employment in this field. 
1. Online and offline methods
In addition to Canada's Job Bank website and other online job search portals such as LinkedIn Jobs, Indeed, Monster, Workopolis, CareerBuilder, SimplyHired, and many others, you can sign up for industry events like the ones organized by TechTO and register with specialized recruitment or staffing agencies who can help market your resume to potential employers. 
"While recruiting, we use LinkedIn all the time. Candidates should ensure that their LinkedIn profiles are up-to-date and provide enough details for the recruiters to really understand the type of work they have been doing in their recent roles." 
– Kathryn Tooley, Talent Acquisition Lead, RBC Ventures
You can use the following Arrive resources to help be better prepared for your job search:
Arrive is with you every step of the way.

3. Build a strong resume
The most important tool in your quest to find your dream job is your resume. Ensure that your resume is always up-to-date and aligned with Canadian style of formatting. Moreover, it's important to customize your resume for each job, using relevant keywords from the job description.
What does the hiring process look like for IT roles in Canada?
The hiring process for IT roles is usually split into multiple rounds:
Screening:

This is usually a telephonic round where the interviewer will discuss basics such as role expectations, compensation, and chat about your experience. 

Skill testing:

If the interviewer determines that you are a good fit for the role, the initial round is followed up with two or three more rounds of conversations primarily geared towards evaluating your skills. These rounds may include a skill-based test. 

Final round:

The hiring manager will usually meet with you before an offer letter is issued. The focus of this conversation is generally on soft skills and cultural fit. 
On average, the entire interview process can take between two to six weeks, depending on the urgency of the position to be filled as well as the availability and scheduling of everyone involved in the process. 
The consistent growth of the technology sector will continue to create more opportunities for IT professionals in Canada. Conducting thorough research prior to your move will help you identify relevant job opportunities that are best suited to your unique position and ensure a smoother transition for you and your family to Canada.