First, know your NOC:
The
National Occupational Classification (NOC)
is Canada's national system for describing occupations. The NOC code is a five-digit number that plays an important part in your immigration application. (Till November 16, 2022, NOC codes included four digits.) The NOC groups jobs based on the type of job duties and the skills, education, and experience required for the work a person does. You can
find your NOC code
on the Government of Canada website.
Here is an NOC that broadly covers the role of a project manager:
NOC Code

NOC Code Name
Example Titles

13100

(previously 1221)

Administrative officers

Access to information and privacy officer, Administrative officer, Administrative services coordinator, Forms management officer, Office administrator, Office manager, Office services coordinator, Planning officer, Records analyst – access to information, Surplus assets officer, University admissions officer, Communications service coordinator, Exam invigilator – post-secondary institution, Exam supervisor – post-secondary institution, Implementation officer, Liaison officer, Public trustee, Regional services chief, Relocation commissioner
Figuring out your NOC code makes the process of analyzing the job market easier.
Tip: For the purpose of analysis, you don't have to be restricted to one single code; you can look at multiple codes that require your skills and decide which one might be better suited to your situation. 
Navigating the Canadian job market can be overwhelming. Arrive guides on Finding Your Career in Canada and the Canadian Job Market are a quick and concise overview that explains all the need-to-know information and action items you can take to prepare yourself for finding and landing a job opportunity in Canada.

What is the demand for project management roles in Canada?
Before you dive deeper, it's important to understand the big picture. Statistics Canada (StatCan) publishes monthly and annual employment trends for various industries. This is a good starting point to get an idea of the employment trends in project management; any increase or growth is a good sign. 
The monthly and annual employment trends data on Statistics Canada is grouped by industries. As per the North American Industry Classification System (NAICS), project management roles are categorized under code 54 – Professional, Scientific, and Technical Services. Therefore, when you look at employment trends on Statistics Canada, you will have to look up this specific category.    
Statistics Canada also allows you to filter the numbers by province – this is a good way to identify provinces that have the maximum demand for your skills and know the probability of finding a job in your field. For instance, in 2021, among all provinces, Ontario had maximum employment for NAICS code 54, followed by Quebec and British Columbia.  

If you would like to gain a better understanding of the overall job market trends, you can look at the following two sites: 
Statistics Canada

publishes monthly reports which can be found by searching for the

Labour Force Survey

. A general Google search with the keywords (Labour Force Survey + latest month and year) will take you directly to the relevant webpage. You can have a look at the reports of

September 2022 and August 2022

 to get an idea. Note that these are overall trends and not specific to project management. However, they will have subsections for noteworthy NAICS categories for that month.

Explore the job market for project management roles in various provinces by reading a

comprehensive report published by

Canada's Job Bank

. Once you're on the webpage, choose a province and then scroll down to sectoral profiles. Select

Professional, Technical, and Scientific Services

for deeper insight into project management. 
Tip: For a quick overview, type in your NOC code or job title on the Occupation Trends page and search. Here's a summary of the role of a (Non-technical) Project Manager (NOC 13100) in Canada. The main summary page will provide various details such as educational and skill requirements for the role, average wages, and the number of jobs available. Clicking on the Prospects tab will show you a provincial breakdown of job prospects.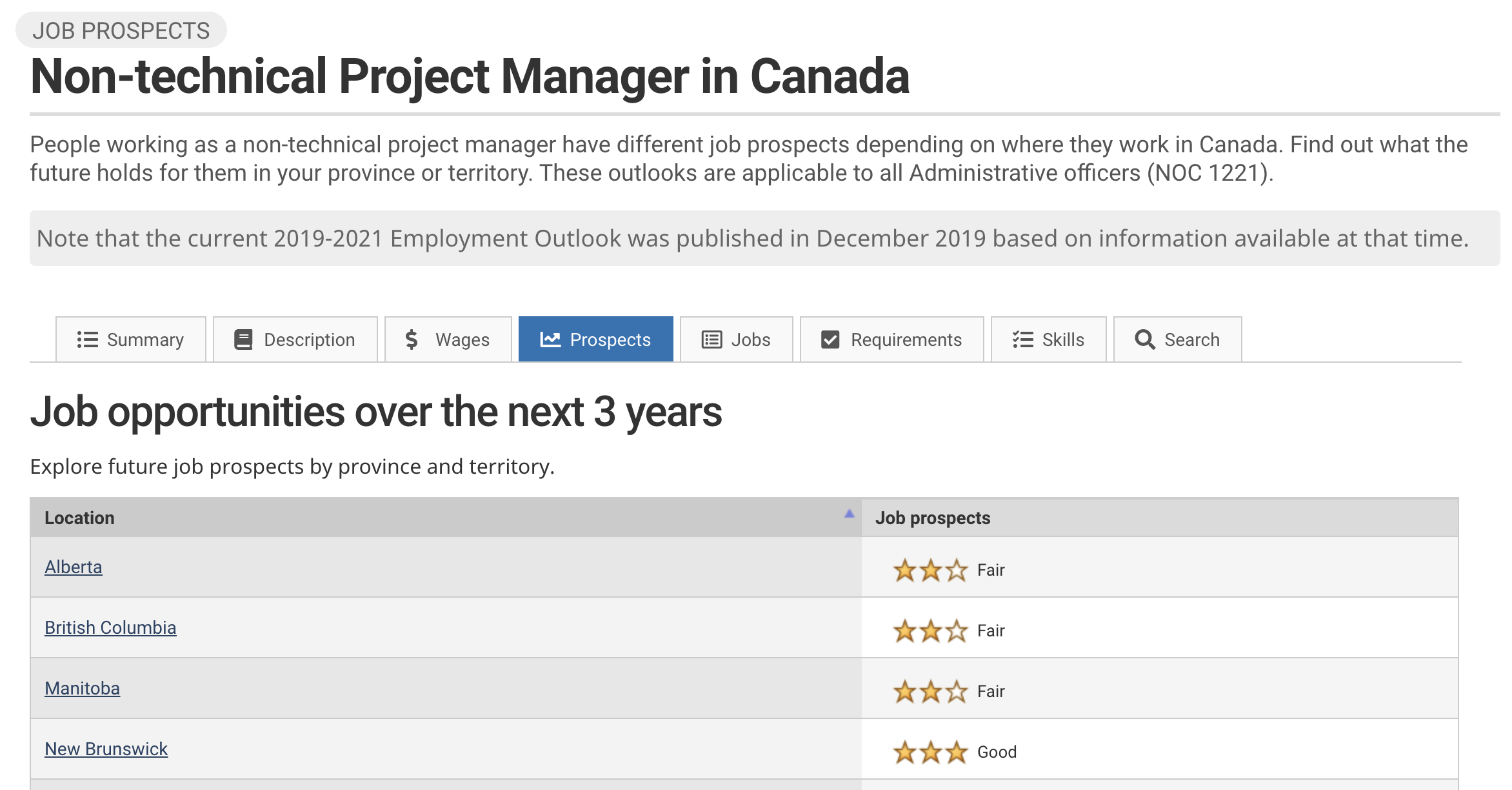 This exercise will help you set realistic expectations for being able to find a job in your field in a specific province or region. 
How to narrow your research and identify a city where project management skills are in-demand
Once you decide on a province where you would like to work, as a next step, you can start looking at specific cities that might offer more opportunities to find a job in your desired role. For this, Canada's Job Bank website is an excellent resource. 
On the Prospects page, when you click on a specific province, it will provide a further split by region. For instance, you can view the opportunities for a Project Manager in British Columbia on the same site.  
After narrowing down the region, you can go back to the main Occupation Trends page, type in your NOC and region or city to get a similar detailed report. 
How to identify relevant project management certifications that may be required for your role
Different provinces and territories may have different requirements for professional licenses and certifications. Identifying if you would need to obtain a license or certification can help you get a headstart in preparing for your employment in Canada.
Note:
All occupations in Canada are classified into regulated and non-regulated occupations. You can find out if your profession is regulated by typing in your NOC code and province/territory on the
Canadian Information Centre for International Credentials (CICIC)
website. Regulated occupations typically require you to have a license and/or a certification to be able to work in the field. 
The page on the Job Bank website will provide a list of skills and requirements (such as licenses and certifications) for a Project Manager to be able to work in the field. 

In the case of a Project Manager, there are no mandatory certification or license requirements to be able to work in Vancouver. However, a university degree or college diploma in business or public administration, experience in a senior clerical or executive secretarial position related to office administration, and a project management certification is usually required to be able to work in the field.
"For project manager roles, I would say typically, any Bachelor's degree is essential and/or a Master's degree is good-to-have. In terms of certifications, the most common ones are Project Management Professional (PMP) and Certified Scrum Master (CSM) – these are not mandatory when applying for roles, but in general, candidates have either one or both." 
— Nidhi Pilla, Lead Talent Advisor, RBC
Navigating salary expectations for project management roles in Canada
Setting salary expectations is another key area of importance for newcomers. There are many sites to conduct salary research: The Job Bank website, Glassdoor, and reports published by recruitment firms such as Hays and Randstad are some of them. Your salary would vary greatly depending on the city you're based in and your work experience.
Each of these sources will let you filter your profession by experience level and region and city so that you can get a very real sense of salary expectations. It is a good idea to compare numbers from different sites to get a good ballpark figure. 
For instance, a Project Manager working in Vancouver can expect to earn approximately $75,000 to $110,000 on average, depending on their level of experience. 
How to find a project management job in Canada
As a newcomer, if you're trying to switch careers and get into project management, there is no one path to get into project management. If you have the skills and the determination, no matter your background, you can successfully work towards getting into a project management role. 
How to transition to project management:
Experienced individual with any background:

You can start with a business analyst role, moving to business systems analysis, then slowly transitioning to be a project control officer, a program control officer, and then eventually a junior project manager. 

Experienced developers:

Developers with strong coding experience sometimes choose to move into project management in a similar way. 

Quality Assurance:

Individuals with a background in Quality Assurance (QA) or Quality Engineering (QE) also opt for project management. 
Here's how you can find relevant opportunities in project management:
1. Online and offline methods
In addition to Canada's Job Bank website and other online job search portals such as LinkedIn Jobs, Indeed, Monster, Workopolis, CareerBuilder, SimplyHired, and many others, you can sign up for industry events and register with specialized recruitment or staffing agencies who can help market your resume to potential employers. Industry events in your city or neighbourhood can be found on sites like Eventbrite. 
2. Get relevant certifications
Depending on your role, a certification might be mandatory for you to be able to work in your field. Getting certified in Canada will improve your employment prospects and strengthen your resume. 
"For project manager roles, Certified Scrum Master (CSM) is one of the more popular certifications. These days PMI ACP, which is Agile Certified Practitioner, is also popular. Additionally, there are lots of training and bootcamps for project management which can benefit those who are starting off in the field." 
— Nidhi Pilla, Lead Talent Advisor, RBC
3. Build a strong resume
The most important tool in your quest to find your dream job is your resume. Ensure that your resume is always up-to-date and aligned with Canadian style of formatting. Be sure to customize it to the role you are applying for. 
4. Networking
Networking is crucial to finding employment in Canada. LinkedIn is a good starting point for you to build your network. See the top 10 tips to optimize your LinkedIn profile.
You can use the following Arrive resources to help be better prepared for your job search:
Arrive is with you every step of the way.

What does the hiring process look like for project management roles in Canada?
The hiring process for project management roles is usually split into multiple rounds:
Screening:

This is usually a telephonic round where the interviewer will focus on the resume and ask about past experiences, expectations for the next role, understand your motivation for the position, and discuss compensation details. 

Knowledge and skill testing:

The initial round could be telephonic or in-person.

If the interviewer determines that you are a good fit for the role, the initial round is followed up with two or three more rounds of conversations primarily geared towards evaluating your domain knowledge and skills. These rounds may include white-boarding and behavioural questions.  

Final round:

The hiring manager will usually meet with you before an offer letter is issued. The focus of this conversation is generally on soft skills and cultural fit. 
"I think one of the challenges, what I've observed from talking to newcomers is, sometimes they lack confidence in the interview and appear nervous. For that, I would definitely recommend attending a lot of social or tech events and networking because that's where you get to meet a lot of hiring managers or even recruiters from different organizations. It opens up opportunities and provides a broader understanding of the market. This would make you feel more comfortable to talk in an open environment, even before you're exposed to any interviews. And after the interview, don't hesitate to follow up with the recruiter you are working with to get an update on the status." 
— Nidhi Pilla, Lead Talent Advisor, RBC
On average, the entire interview process can take between two to four weeks, depending on the urgency of the position to be filled as well as the availability and scheduling of everyone involved in the process. In rare cases, it can even take up to two months. 
As a newcomer, to be able to find meaningful employment in project management occupations, you will require relevant certifications and industry association memberships. You can get a headstart on your Canadian career path by gathering relevant information in advance and planning for your certifications before you move. This will help you successfully and confidently transition to the Canadian job market.