In my previous post, I provided tips and techniques on how to write a resume for the Canadian job market. Now, I am going to take us a step further and share my experiences in writing cover letters. In a majority of situations, while applying for a job, candidates are required to provide a cover letter supporting their resume. Most newcomers are not familiar with this concept as in countries like India, the use of cover letters for a job application is very rare.
Let's begin with understanding what exactly is a 'cover letter' and why you should have one while applying for a job in Canada.
What is a Cover Letter?
A cover letter is a formal one-page letter that accompanies a resume. It is NOT a rephrased or concise version of your resume but it is mainly supposed to be about how you fit the potential role on offer.
Navigating the Canadian job market can be overwhelming. Arrive guides on Finding Your Career in Canada and the Canadian Job Market are a quick and concise overview that explains all the need-to-know information and action items you can take to prepare yourself for finding and landing a job opportunity in Canada. Download your copies now and fast-track your professional success!
Why should you have a Cover Letter?
Through the cover letter, the expectation is for you to enable the hiring manager/recruiter to see the match between your skill set, qualifications, and the employer's needs. In Canada, employers expect to receive a resume supported by a cover letter that identifies yourself with the position you are applying for and also summarizes your relevant experience. One of the main objectives of the cover letter is to bridge the gap between the resume and the specific job along with highlighting your education, skills, experience, and demonstrating the value you bring to the position. Cover letters are usually not mandatory but good-to-have.
Anika Diachuk, Senior Digital Recruitment Lead at RBC says:
I feel incredibly fortunate as often times I receive fascinating data filled cover letters/profile presentations with some of my applications. Cover letters can come in all shapes and forms: a software engineering portfolio or creative presentation, product management map or smartly written letter showcasing a great deal of interest in the role, line of business, opportunity as a whole as well as determining one's eligibility for the position. Immediately, it creates a strong sense of integrity and targeted career effort professionalism. It is not all about a cover letter; I don't believe it is mandatory (particularly when candidates have one canned version that they never tailor to be job specific and just change company names in it). But it definitely is a nice touch, and a great way to diversify your application.
According to a Robert Half survey, cover letters are known to better your chances of being shortlisted; 90% of executives say writing a cover letter is valuable. Vivian Li, Senior Manager, Inclusive Recruitment at RBC says, "A cover letter is like a 'cherry on top'. It allows you the additional opportunity to express your strong interest in the role and highlight why you are the ideal candidate. Also, for roles that are looking for exceptional communication skills, your cover letter can be a great example of your written communication capability."
What are the key elements of a Cover Letter?
Generally speaking, a cover letter has the following sections: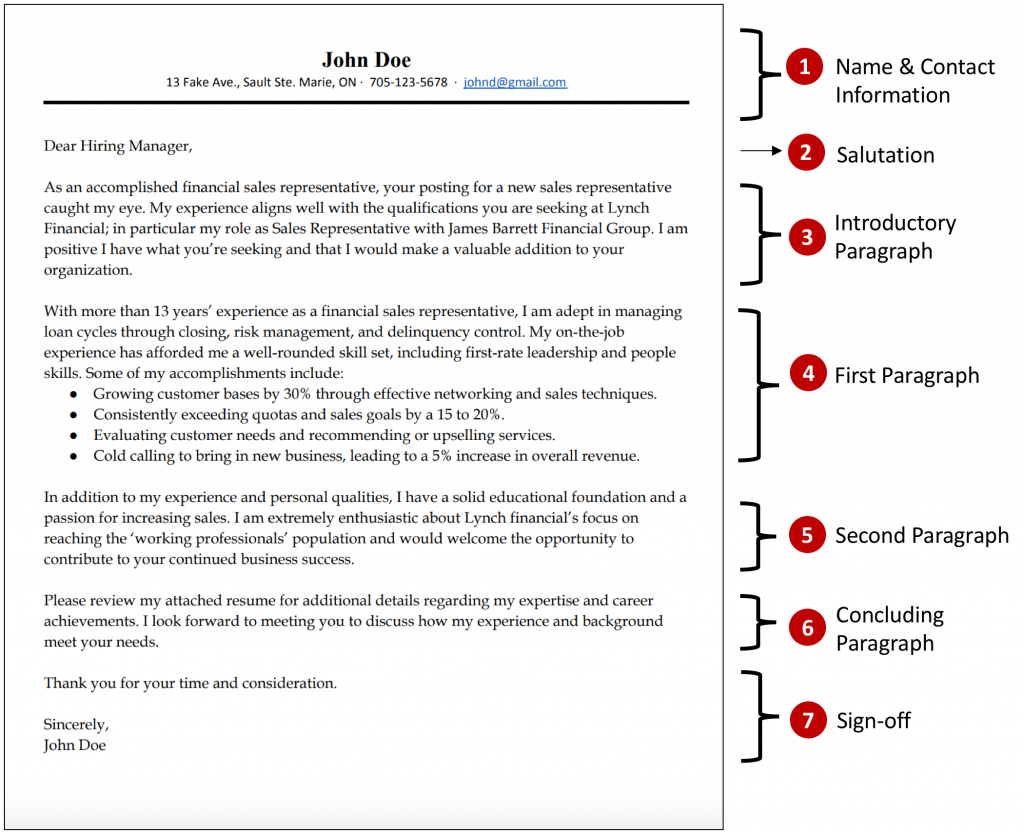 1. Name and Contact Information: As a best practice, it's good to match the details in this section with the content in the same section on your resume. Using a similar header for your cover letter and resume looks both, professional and consistent. Greeting or Salutation: It's always good to address the cover letter to a specific individual. If the name of the hiring manager is not mentioned in the job posting, it is okay to call the employer's main phone line and ask for the name. If you must keep the greeting/salutation generic, you can address it as "Sir/Madam" or "Human Resources Department" or "Hiring Committee." Introductory Paragraph: This opening paragraph largely talks about:
2. Greeting or Salutation: It's always good to address the cover letter to a specific individual. If the name of the hiring manager is not mentioned in the job posting, it is okay to call the employer's main phone line and ask for the name. If you must keep the greeting/salutation generic, you can address it as "Sir/Madam" or "Human Resources Department" or "Hiring Committee."
3. Introductory Paragraph: This opening paragraph largely talks about:
The name of the position you are applying for (better to include any identification/reference number/s for the job posting, if there was one)
How you learned about this position
Some insights into your motivation for applying for the position at that particular organization/company
4. The First Paragraph: The first paragraph typically provides insights into your professional background and education. It also highlights some of your accomplishments.
5. The Second Paragraph: In the following paragraph, it is ideal to do a deep dive and explain why you are a good fit with the help of specific examples from your professional experience. It is also an opportunity to summarize relevant skill sets that qualify you for the role. Best practice suggests using an active voice and taking ownership for your accomplishments; don't start every sentence with "I". Use facts to elaborate on your experience more than qualitative information. Visually, bullet points help to better emphasize your experience.
6. The Concluding Paragraph: The ending/concluding paragraph should be used to thank the employer for the opportunity, demonstrating enthusiasm to work for the organization, and thank them for their time in reviewing your application. It is recommended to end the letter by indicating that you've attached your resume and that you are interested in an interview to learn more about the position.
7. Signing off: Finally, sign off using the more professional sounding – "Sincerely", followed by your full name.
What are some additional tips for building a good Cover Letter?
Keep the cover letter concise and limited to one page.
Tailor your cover letter to suit each job application.
Proofread your cover letter multiple times; check for grammar, punctuation, and spelling, especially since it serves as a reflection of your written communication skills.
Use a standard font size (10 or 12 points, in a font style such as Times New Roman, Arial, or Calibri). Avoid the use of special effects (bold/underline/italics, different fonts, and colour).
The cover letter is also a good way to justify any gaps in your resume or provide any additional info that your resume can't.
Include keywords/action verbs from the job description.
As we end this blog, here's a downloadable template for a cover letter that you can use to customize and make it your own.
Get the most up-to-date and relevant information, resources, and tools, personalized to match your unique Canada journey – all in one place. 
The Arrive app features personalized programs, expert guidance, exclusive newcomer offers, and much more. Wherever you are in your journey, the Arrive App will help make it less stressful and more successful. Arrive is your single source for what you need to succeed in Canada.
---
About the Author:
Nerissa is a business research and management consulting professional with over a decade of experience working with clients in IT, Telecom, Retail, Banking/Finance, Retail, Pharmaceuticals, and Healthcare across global geographies. In her current role at Arrive, she works as a content specialist leveraging her first-hand experience as a newcomer in Canada to write relevant blogs and assist other immigrants to ease their transition into the Canadian life.
About Arrive
Arrive is powered by RBC Ventures Inc, a subsidiary of Royal Bank of Canada. In collaboration with RBC, Arrive is dedicated to helping newcomers achieve their life, career, and financial goals in Canada. An important part of establishing your financial life in Canada is finding the right partner to invest in your financial success. RBC is the largest bank in Canada* and here to be your partner in all of your financial needs. RBC supports Arrive, and with a 150-year commitment to newcomer success in Canada, RBC goes the extra mile in support and funding to ensure that the Arrive newcomer platform is FREE to all. Working with RBC, Arrive can help you get your financial life in Canada started – right now. Learn about your banking options in Canada and be prepared. Click here to book an appointment with an advisor.
* Based on market capitalization
Disclaimer:
This article offers general information only and is not intended as legal, financial or other professional advice. A professional advisor should be consulted regarding your specific situation. While information presented is believed to be factual and current, its accuracy is not guaranteed and it should not be regarded as a complete analysis of the subjects discussed. All expressions of opinion reflect the judgment of the author(s) as of the date of publication and are subject to change. No endorsement of any third parties or their advice, opinions, information, products or services is expressly given or implied by Royal Bank of Canada or its affiliates.