At Arrive, we stand with newcomers all over the world. Our mission has always been to support them in their journeys, whether they're planning to come, recently landed or already building their lives in Canada.
These past few months, we have been reflecting on racial justice, especially with members of the Black community, newcomers or not.
Sparked by the death of George Floyd in Minnesota, we have witnessed a movement unfold, with massive Black Lives Matter (BLM) protests across the world, including here in Canada, as people tackle the difficult problem of systemic racism and its effects. Although anti-Black racism has been around for centuries, as newcomers to Canada, you may have noticed a reinvigorated dialogue around race and racism.
The fight against systemic racism is one that we are deeply committed to. As we navigate the current social and racial climate in Canada, the US, and around the world, one thing has become abundantly clear: We all play a part. We must stand together for racial justice.
It starts with a conversation. These conversations can be difficult to initiate and to navigate. However, with a shared understanding, we can build a stronger, more positive narrative around race in Canada and work to put an end to racism everywhere.
On June 12, Arrive's product lead, Sonia Sidhu hosted Arrive Conversations: Racial Justice with Chidimma Eghagha (RBC), Kern Carter (RBC Ventures), and Nadine Spencer (President of the Black Business and Professional Association) who shared personal experiences of systemic racism, optimistic insight into what is changing, and their hopes for the future. Here are just a few highlights from this moving conversation: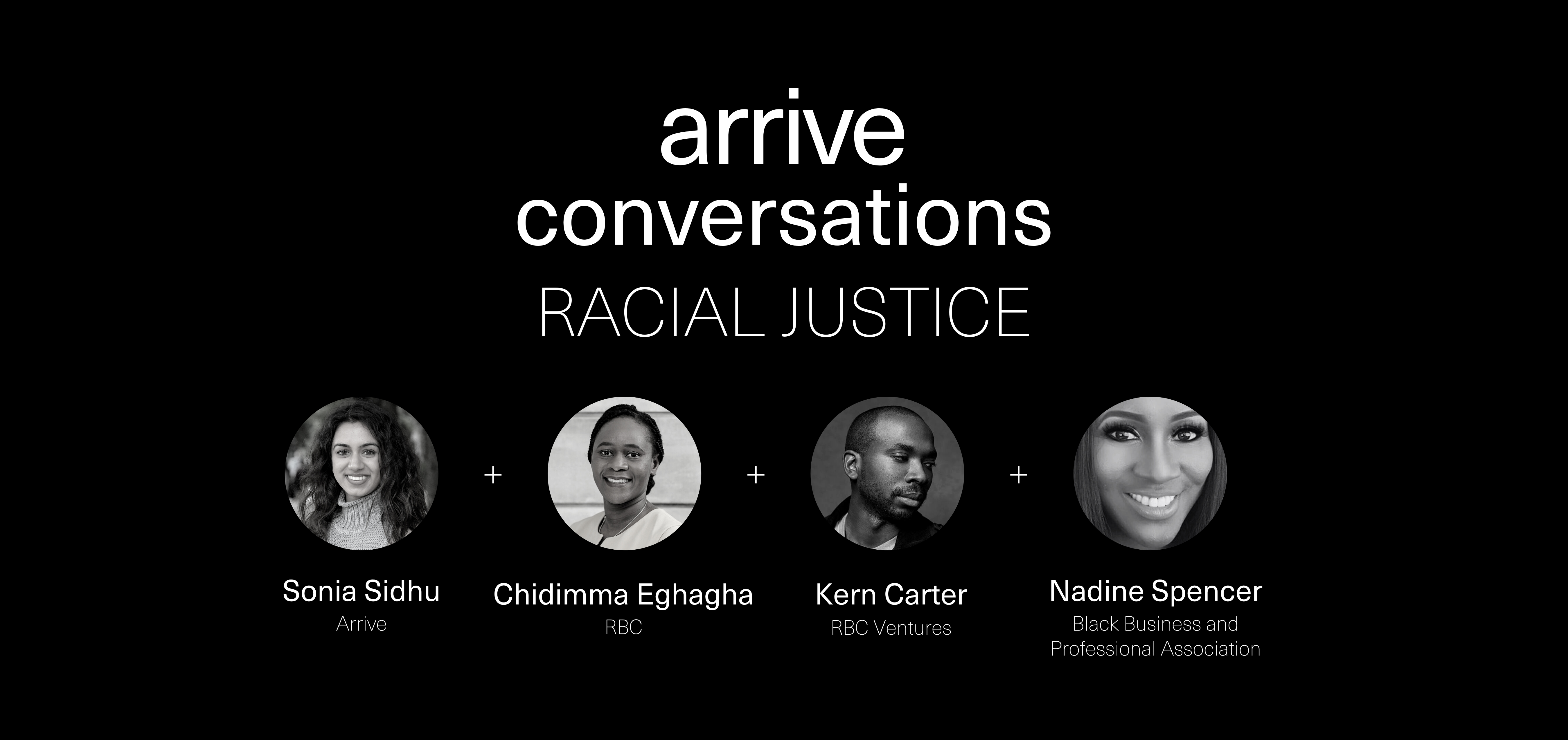 "Because they haven't experienced it first hand, it's sometimes easy for non-Black Canadians to believe that racism doesn't exist here."
Kern Carter
"Coming out of these hardships, there is a broader acknowledgement from the non-Black community. And now, we are starting to have honest conversations around race, equity, diversity and inclusion. This will lead to positive action."
Nadine Spencer
"It gives me hope to hear colleagues reaching out to say, "Help me understand what this feels like."
Chidimma Eghagha
We've put together a list of
resources that we found helpful here
along with a few key points to consider when entering the conversation.
1. Be informed
Systemic racism and bias have disproportionately set back Black and Indigenous people in our communities for far too long. Though we are looking at this primarily with a Canadian/North American lens, racism shows up differently in many parts of the world, including where you may be coming from to Canada. There is a legacy of anti-Blackness within non-Black communities, so understanding the ways racism shows up in all aspects of our lives (ranging from colourism to the language we use) helps create a baseline for a more informed conversation. 
It is important to note that though you may identify as a minority or a person of colour, it is possible to be the subject of prejudice while reinforcing and perpetuating racism against others. It has become evident that systemic racism has kept communities of colour divided by emphasizing the differences between us, including tactics such as the Model Minority Myth. Racism then becomes ingrained in our own day-to-day thinking, which in turn allows and enables these pernicious systems of power and oppression to live on. Being informed about racism is essential to understanding what makes us unique and everything we have in common. Amidst the challenges and adversity that come with being a newcomer, we know that as a community, we can work together to end racism.
2. Harness the power of story
It is not unusual to feel reluctant to share your own beliefs and perspectives about racism. As a newcomer to Canada, you may even find it challenging to dissect your own experiences through this lens. Reading books (fiction and nonfiction), watching television shows and films, and listening to podcasts can help expand your understanding of anti-Black racism and make it more comfortable to have honest conversations with others. Make sure the material is created and controlled by Black creators to ensure you are getting an authentic view on this important and sensitive topic.
He is a beginner's list of resources including books, films, television shows and podcasts: 
Watch:
The Hate U Give
The Black Power Mixtape: 1967–1975
Mudbound
Selma
The Get Down
13th
When They See Us
Just Mercy
Listen:
Code Switch by NPR
Show about Race
Read:
White Fragility by Robin Diangelo
So You Want To Talk About Race by Ijeoma Oluo
The Skin We're In by Desmond Cole
How To Be An Anti-Racist by Ibram X Kendi
1619 by New York Times
3. Ask the right questions
Discussing racial inequality can be difficult, but the discussions are critical and must continue. It may not always be easy to know how to start a conversation, or even what questions you can or should ask. We've curated a few questions that you can use to start the dialogue, ensuring you are mindful of the current landscape as we work toward healing.
What was your experience of Blackness in your home country? 

What were some of the perceptions you were exposed to in regards to the Black community in your home country?

If you've already landed, what ideas did you learn about Blackness when you came to Canada? How did you learn them? 

What personal experiences have you had that make you believe that those ideas were true or not true? 

What reaction do you have when you hear someone say "Black Lives Matter"? What about when you hear someone say "All Lives Matter"? 

Can you think of a time when you've had a thought or when you said or did something that was anti-Black?
4. Be open and understand each other's journeys
Each of us has a different level of understanding on the topic of racial justice, and you must not be too hard on yourself if you don't have all the answers just yet. By being open and trying to learn and have conversations about racism, you are actively becoming a positive voice – an ally. Reflect on your own involvement and participation in racism, consider if there was ever a time where you may have used words or believed harmful stereotypes to be true. Recognize that you can move forward by listening, learning and keeping informed on how you can do better when it comes to race and inequality. Meet people where they are – even if they don't have the same level of understanding as you, or don't share your point of view. 
Conversations about race can be difficult, but they are essential, and they are happening right now. We encourage you to reflect on your own experiences and to initiate or engage in these conversations around race. Awareness is the first step towards understanding and change. Like you, we are constantly learning and educating ourselves and hope these tips will help you in your conversations about race in Canada. Please let us know if you have other resources that could be helpful to the newcomer community; we'd love to hear from you. We are all on this journey together.
Remember, we're always here to help, and we're with you every step of the way.
Thank you,
Shikha & Tricia
Co-Founders of Arrive
References and additional resources:
Guide to Difficult Conversations: https://www.defineamerican.com/conversation
RBC's Actions Against Systemic Racism: https://www.linkedin.com/pulse/new-actions-were-taking-address-systemic-racism-dave-mckay/?trackingId=cIWMFbL8RgOXwEg2n%2BzWvA%3D%3D
10 Ways to Start a Conversation About Race: https://www.raceforward.org/practice/tools/10-ways-start-conversation-about-race