Language is a major hurdle for anyone starting a new life in a new country. Newcomers arrive in Canada with varying degrees of English proficiency. Some may have studied English back home, some may be fluent English-speakers, doing business internationally, while many more arrive with little or no English. In most of Canada, English is the language used for business, school and everyday life (French is Canada's other official language, but for the purposes of this article we will focus on English).
Bringing ESL to life in Canada: Lucas's Story
Lucas Mendonça and his wife Hannah came to Canada from Brazil in 2017. There were both lawyers back home and had studied English as part of their school curriculum and taken English as a Second Language (ESL) training at a renowned private school there. Lucas recounts how coming to Canada, they realized that they would need to improve their English to make a life here.
"I had a very basic level of conversational English. For example, I could express what I wanted – I could tell you I wanted a coffee, but I couldn't talk about the beans or why coffee is better in Brazil than in Canada. Each time I spoke in English I had to stop, think in Portugese, translate to English and then create my sentence. I said um, and mmmm a lot.
One of the worst feelings a newcomer can have is not being understood. You feel powerless. On our second day in Canada I set out to open a bank account. I thought with my basic knowledge and vocabulary I could do this. Even though I was trying hard, no one at the bank could understand me. Someone suggested I contact the call center – there might be someone who could speak Portugese. Eventually, they put on a guy who could speak a little Spanish. I couldn't understand him and he couldn't understand me. It was the worst experience! 
When I left the branch I was determined to learn English as quickly as possible. I could not live a life here without being able to communicate.
We went to a private school offering ESL for international students, but I understood that learning English this way alone, I would not be able to achieve the level of English that I sought. So, Hannah and I decided to only speak English. We even had a code word in case we absolutely had to speak Portugese. Every day we listened to the radio because radio is like a real conversation. It's a great way to improve your listening skills.
I was so nervous at my first job interview – my anxiety was 100 percent! I knew my English wasn't good, but I decided that I would go and speak the English I know, and do my best and try. I got the job because I tried, I wasn't shy or afraid to make a mistake. The secret is to speak English from day one! Don't leave ESL in the classroom.
I remember watching a hockey game when we first moved to Canada and only catching a word or two here and there. I told Hannah that my goal was to one day watch a game and understand what the commentators were saying. I no longer think in Portugese when I speak English, and I'm so happy to say I now enjoy hockey much more."
Having strong English language skills will help newcomers achieve their life, career and financial goals in Canada
The first step is to begin learning or improving English competency. There are many resources available for newcomers wanting to improve their language skills. The government of Canada provides free language classes for permanent residents and protected persons through Language Instruction for Newcomers to Canada (LINC). The classes range from basic and intermediate to advanced and even job specific at certain locations

Before you begin – in fact, before you leave home to come to Canada, you should take the Canadian Language Benchmarks online self-assessment language test (CLB-OSA). This will give you a sense of your English skill levels in four areas: speaking, listening, reading and writing, measured as basic, intermediate or advanced. It's not unusual for a person to shine in one area and struggle in another, and everyone learns differently. Completing an assessment before starting an ESL class will help you and the instructors know where to begin.
Most ESL classes are taught by qualified, experienced teachers whose goal is to help you improve your language skills as you make your journey to a new life. Many offer flexible locations, including online classes. Courses may be full-time or part-time, day or evening, even on weekends. Some will offer childcare, transportation, and/or accommodations for people with special needs. 
Read more about language skills assessments for newcomers
ESL for kids in Canada: Jacob's Story
In September of 2005, Jacob Ma came to Canada from China with his parents. He was eight years old and was immediately enrolled into Grade 4 of public elementary school. Jacob didn't speak any English.
"When I came to Canada, I had very little understanding of the English language. I really did have to start over. I remember just actually leaving everything I learned in Shanghai out of my head.
There was a dedicated ESL program at the school and the teacher would help me out with learning the basics of English: basic grammar, basic vocabulary, things like that. The ESL assignments were initially separate from the regular curriculum and would take up most of the day.
It definitely was a challenging experience at first because, as you can imagine, it's difficult to make friends when you don't speak the language and you can't communicate with anybody. For the first six months to a year I didn't have enough of a grasp on the language to even have basic conversations with my classmates, so I was mostly by myself. Sometimes I'd hang out with the other ESL students, but we all spoke different languages, so there was another language barrier.
At that age you really want to make friends, get along, and fit in. This helped motivate the speed at which I learned, and sparked my enthusiasm for learning the language. I remember spending extra time at home searching words in the dictionary and practicing speaking basic English structures to the mirror.
Then I started making some friends. I remember there was one kid in our ESL cohort who was from the Philippines, who had a much better grasp of the English language than I did. We became quick friends. I didn't speak Tagalog and he didn't speak Chinese, so we communicated in English! Practising English – using it in conversation – really helped me learn English a lot faster
I am very grateful to my grade 5 teacher. He saw that I was picking up the language pretty quickly and wanted me to better integrate into the regular class. I took up that opportunity with great enthusiasm.
Being in those regular classes sped up my learning even more, because now I was exposed to English being used in a more complicated structure, English being used colloquially, and that really helped me to develop my conversational English. By the end of grade 6, I was pretty much fully integrated and fluent. I also watched a lot of kids programs on television. It really helped me to understand colloquial English language systems, which are very different from the more formal English you learn in ESL classes. 
The best advice I can give to anyone who is new to Canada would be to just start speaking English. Don't be afraid of making mistakes when you first start – everybody learning a new language is going to make those mistakes. Just try your best to communicate your thoughts and gradually, over time, you'll find that the more you use the language, the faster you'll learn."
ESL support is offered in most public schools to children who need it, free of charge, by specialized instructors.
Here are a few quick links to ESL resources across Canada, organized by province and territory.
Alberta

British Columbia

Manitoba

New Brunswick

Newfoundland




and Labrador

Nova Scotia

Ontario

Prince Edward Island

Quebec

Saskatchewan

Northwest Territories

Nunavut

Yukon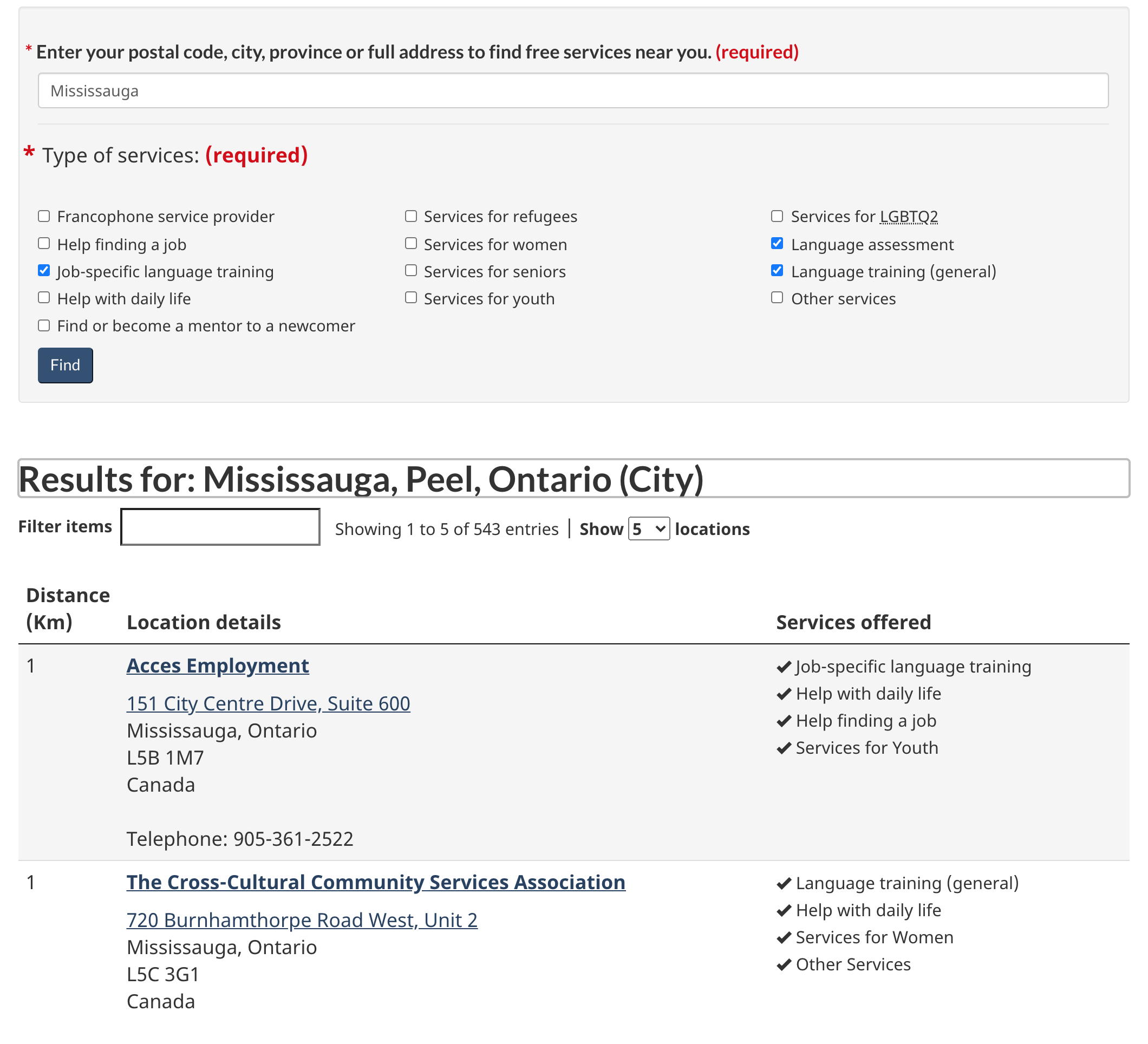 Non-government ESL resources
In addition to the province-wise list shared above, there are several free and paid non-government affiliated resources that you can leverage to learn or practice English. For instance, apps like Duolingo, Babel, and Mauril are excellent, handy tools to help strengthen your English language skills.
In the end, which resource you use to learn the language is less important than the level of discipline and regularity you can achieve when it comes to practicing and your willingness to publicly speak a new language that you aren't fully comfortable with yet.