The significance of Black History Month is not lost on Folake Okusanya. She views Black History Month as a time for reflection, a time to remember the sacrifices made in order for Black people to live the lives they do today. 
"It's also a time to help people realize that they belong. You may be different but that's OK. We'll celebrate our differences which is what makes us unique," she says.
Folake was born and raised in Lagos, Nigeria. She came to Canada in 2012 and started working with RBC right away as a client advisor. After completing her mutual funds licensing exams, Folake worked her way up to assistant branch manager in Edmonton, Alberta. 
 I asked Folake  what food best represents her birthplace, a big smile covered her face and she barely let me finish my question before she jumped in with her reply. 
"Jollof rice," she said. "That's it. The meal that is connected to every country in West Africa is jollof. It is the only meal that is served across all regions of Nigeria." 
Folake says her early childhood memories are filled with attending parties and looking forward to eating jollof. Actually, Folake says that if jollof rice wasn't served at a party, then it wasn't a real Nigerian party at all. 
"It doesn't matter how many other dishes you're serving at the party," she joked, "if there's no jollof, it's a disappointment." 
The jollof rice at parties also had its own unique twist. Because hosting a party meant cooking very large batches of Jollof, usually the host wouldn't use their kitchen––they would cook the jollof outside on firewood instead, which gave the Jollof a different kind of flavour. Folake says that wood flavour takes her back to her childhood and memories of being around family and friends. 
Even though food takes Folake down memory lane, she still makes sure to incorporate other Nigerian meals into her current diet. Other than jollof rice, Folake says amala is another staple that is specific to the western part of Nigeria. 
"It's made from yam," she says. "The yam is sundried and then blended into a powder. You mix it with hot water then it becomes solid and you dip it in soup. It's almost like nachos and dip and in this case, the amala is the nachos."  
Folake admits that it hasn't been easy replicating these dishes since she moved to Edmonton. Although there are more and more African grocery stores that offer  the ingredients she needs, she often has to use substitutes. Folake also says that in Nigeria, these foods would be made fresh nearly every day, but she cooks and batch freezes foods like jollof rice so she can throw it in the microwave whenever she wants a meal. 
Even though her kids would never turn down hamburgers or pizza, Folake says she will never stop cooking Nigerian food: "They're learning to eat traditionally so they don't lose touch with their culture." 
Folake's jollof rice recipe
This jollof rice recipe is split into two parts. The first is the stew and the second is the rice. This particular recipe serves four.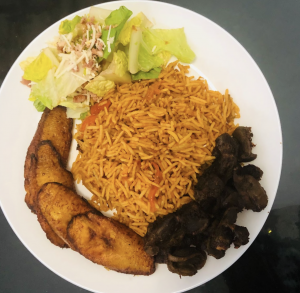 Ingredients for stew base: 

4 ripe tomatoes

2 red bell peppers / tatase

2 habanero pepper/ rodo (this makes it spicy and can be omitted)

1 bulb of purple onions

2 cloves of garlic (optional)

Small piece of ginger (optional)

¾ cup of vegetable oil/ groundnut oil

3 maggi star cubes / bouillon cubes

1 Teaspoon of salt to taste

1 Teaspoon of curry powder

1 teaspoon of dried thyme

1 teaspoon of dried rosemary leaves

2 bay leaves

Small tin of tomato paste (optional. Adds more colour to the jollof rice)

Ingredients for rice: 

Two cups of long grain rice (preferably). Many Nigerians use the famous aroso rice and these days, and variations using long grain basmati rice have surfaced.

Slices of tomatoes

Slices of purple onions

1 tablespoon butter/margarine if needed
Instructions for stew base:

Add the tomatoes, red bell pepper, habanero pepper, onions, garlic and ginger to a blender and blend to a fine texture. 

Pour this blend into a pot and boil without the lid. Wait until all the water has evaporated and you have a paste.

In a pot or saucepan, pour the vegetable oil/groundnut oil. Throw in a slice of onion.

Once the onion starts frying, the oil has warmed up (Nigerian kitchens do not rely on thermostats!).

Add the paste to the warm oil and season with Bouillon cubes, curry, thyme, rosemary, bay leaves and salt to taste. Some people like to achieve a very deep red-orange colour of jollof rice so they add tomato paste at this point. 

Fry the stew on low to medium heat and you know it is ready when the oil separates from the sauce and settles at the top of your stew.

Tip: The stew base can be made in bulk and stored ready for use in small batches. Since the stew base is fried and there's little or no water in it, it stays fresh. Simply store in the fridge or in a freezer for a longer shelf life.

Instructions for rice:

Add the stew base to a saucepan/pot. Add some water or chicken/beef stock just enough to cover the two cups of rice. Keep in mind the rice will be steamed, not boiled so the quantity of liquid should be estimated to just be a little above the rice when added to the pot.

Add your washed rice to the stew base and liquid mix. Taste for salt and bouillon cubes. Add some more if needed. In many cases, if chicken/beef stock is used, there would probably be no need for additional salt or bouillon cubes.

Add some slices of tomatoes, slices of purple onions, and a tablespoon of butter or margarine if it looks like there is not enough oil to your satisfaction.

Cover the pot with aluminum foil and add the pot cover for added seal to ensure no heat is lost. 

Cook on low to medium heat for about 20 to 25 minutes. (Remember, the goal is to steam and not boil. It is okay if your rice begins to burn or stick to the pot. It does add a smoky flavour, however, and it is a clue that you need to reduce the heat. So reduce the heat if your rice begins to burn before it is cooked).

Open the pot, give the rice a stir and taste to see if it is soft enough for your palate. If it is not soft enough, cover again with the tin foil and pot cover and allow to steam, checking and stirring the rice every five minutes until you are satisfied with the texture of the rice.

Serve with your choice of sides which could be a protein (Chicken, beef, fish, steak etc), salad, moi-moi (bean pudding), dodo (fried plantain). The options are endless! Enjoy!!!