Until 2013, Fanette and her husband were living in Paris, France. Everything was fine, they both had good, stable jobs – she had been working in banking for eight years, while he was at a large telecom company – but they saw little chance for meaningful growth within their respective companies. They felt they needed to expand their life. They were looking for a new experience. So they asked, "what is next for us; where are we interested in going?" They had two children, aged six and three – and a third on the way: when they began their journey to Canada. Here's Fanette's story.
We wanted an adventure, but without danger. Canada was a very interesting place for us and for our kids. We were looking for a place first where we could find jobs, not specifically the job we were doing in France but interesting jobs. We had a very stable life, with big technology, big companies and I think we were just trying to expand our life a little.
We read tons of articles saying that it's probably easier in Canada than in Europe to do something different and experience a new job. There was much more flexibility for you to prove yourself. So we thought that it would be interesting for our small family to move to Canada.
Also, we wanted our kids to be comfortable with this new culture. Although I wanted them to learn a different culture, as a mother, I didn't want them to be lost and scared. I wanted them to be happy. And we knew that Canada was a beautiful country and a very welcoming country. We thought it would be a great place for them to grow.

So we looked into the different work permits that were in place at this time, applied for our  International Experience Canada permits (IEC), and waited. We were so excited when a few months later, we heard that our permits were approved! With this permit, you can work and travel for a year in Canada. It's like an exchange program between France and Canada. We basically quit our jobs and decided to move the next month. 
Moving your family with a baby on the way
While we were planning our move, we got the good news that I was pregnant! It was a bit stressful because we knew we wouldn't have provincial health coverage (OHIP in Ontario), but we didn't want to delay the plan. We did some research online and learned it would be possible to have our baby in Canada. So we began our journey when I was four and a half months pregnant.
We wanted our small family to be on its own – our parents remaining on the other side of the ocean. They're very nice people – we have absolutely no conflict, but it's nice to be on your own, even if it's challenging sometimes. It was tough for our family in France to understand, but for the kids, it was just exciting to fly to a new country. It has been very positive for our small family to be together and we are closer now than ever.
What to bring for the kids
Before moving, we sold most of our stuff. We didn't want to move it to Canada – it's very costly. We only shipped five boxes, each filled with the kids' toys and things that they would be happy to have in Canada. We sat with them in their bedroom and asked what they would like to bring. Although they were small, they understood that they could only take a few things. So we packed toys, books, some stuffed animals, that sort of thing. We packed some winter clothes for the kids and a few items for the new baby on the way, but nothing else, just a few boxes. When we moved, it was like we were going on vacation – we had big suitcases, but that's it. It was very light. The kids were very happy when the boxes arrived in Canada. It was like Christmas Day.
Finding your new family home from afar
We got lucky. We searched on Kijiji and found a furnished place for rent in Toronto.  We viewed the house with Skype visits. The owners were a very nice couple who were moving to Ottawa for a year. We met them a few times on Skype, and they said, "Send us two months' rent now, and you can rent our place for a year." We trusted them and sent the funds. When we arrived in Toronto, we met them in person for the first time, and they handed us the key. That was it. It was a great first experience with Canadian people. 
Read more about how to find temporary accommodation in Canada
A new country and a new baby bring new challenges
I remember the stress when we arrived at Toronto Pearson Airport. We had to go through customs and wait for the work permit to be issued. We had heard stories online that you could be sent back at this stage. But in the end, it was fine, we waited probably for a couple of hours, and we were good to go. I remember how exciting it was.
The greatest challenge was the baby. We knew we wouldn't have OHIP for the first few months, and our travel insurance did not cover pregnancy, so we budgeted for what it could cost to have the baby if something went wrong. Some things didn't go well with the pregnancy; it was nothing serious, but we had to meet with the doctors a few times. There were expenses that we had to pay, and without OHIP, it can get expensive very quickly. Honestly, I think we were very confident and probably naive, but it worked out well. In the end everything was okay.

I then met with a midwife organization, and it was very supportive. Because I wasn't covered by OHIP, I went to a birth centre to give birth. It's not a hospital: no doctors, instead, midwives manage everything. When we decided to move here, we knew it was an option in Canada as part of the health process. It worked out very well! I also knew my baby would be Canadian, and he would be eligible for OHIP right away.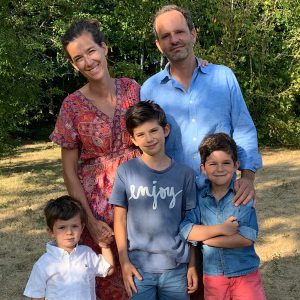 Toronto is a family-friendly city
In the first week, we spent a lot of time researching and getting the administrative stuff done, like applying for our Social Insurance numbers (SIN). It was early July, so a perfect time to register our eldest son at the local school; he would start grade 1 in September.

Also, it was very important to walk around the neighbourhood with the kids so they could get familiar with their new place in the city. My husband and I had been to Toronto once before, but it was in February. Toronto is a different city in the summer. 
"It was like we were on holiday,
only better, because we knew
we were going to stay."
We were amazed. Although Toronto is a very large city, compared to Paris there are a lot of parks. It seems like you're in a village sometimes. We spent a lot of time with the kids outside, visiting the city and the different parks and especially the wading pools in so many parks. My kids were so happy they could spend hours there! We were like tourists. We visited the aquarium, the CN Tower,  Toronto Island, and all these attractions with the kids.
No matter where we come from or where we land, we all want the best for our kids. In Canada, federal, provincial and municipal governments offer free or low-cost programs for families and kids. Here is a small sampling of activities available in Toronto:
How to in
tegrate kids into their new Canadian culture
Some French people who have come to Canada put their kids in private French schools, and they socialize with a lot of French people. So their kids have a life that is not a real Canadian life. For us, it was very important to have our kids in public schools, in English, so they could speak the language and have Canadian friends. 
It's not all a walk in the park
Coming to Canada is not an easy process; it's a new strange process. I don't think my husband and I realized that at first. You have to be ready to earn the right to stay, so look for a job and apply for your PR. All of these steps are important, but it takes a lot of effort.
You have to be flexible and be able to adapt at work. My first job in Canada was a role that I had near the beginning of my career in France. But it enabled me to get some experience – Canadian experience. It was completely worth it.
Professionally, there are many more opportunities for us. If we want to stay in the same industry, it's fine. But if we want to try something different, we can do that too.
We are so happy for our family because of the positive atmosphere in Canada. For example, education for kids is very different from France, and I think it's much more positive. The way people are, the way kids are – it's cool. It's very positive, and people are very supportive of their kids.
You can use the following Arrive resources to help be better prepared for your job search:
Arrive is with you every step of the way.