Canada has ten provinces and three territories – providing many options for newcomers to work, thrive, and find their own community. Just like each newcomer, each province and territory has its own unique identity and culture, and seeks out newcomers who will fulfill their individual needs. 
The provincial spotlight blog series will present each province and territory, highlighting their special histories and cultures, plus primary industries, job demand, newcomer communities and resources, and distinct immigration stream policies. 
In this article, we will be focusing on Alberta, the fourth-largest Canadian province. Discover what distinguishes this mountainous province from the rest, and use this information to determine if Alberta will complement your individual set of skills and desires in your journey as a newcomer.
Tip: You can refer to Provincial Nominee Programs (PNP): Moving to Canada as a permanent resident (PR) and Express Entry: Moving to Canada as a permanent resident (PR) for more information on how to become a permanent resident. 
Location, climate, and demographics: Alberta basics for newcomers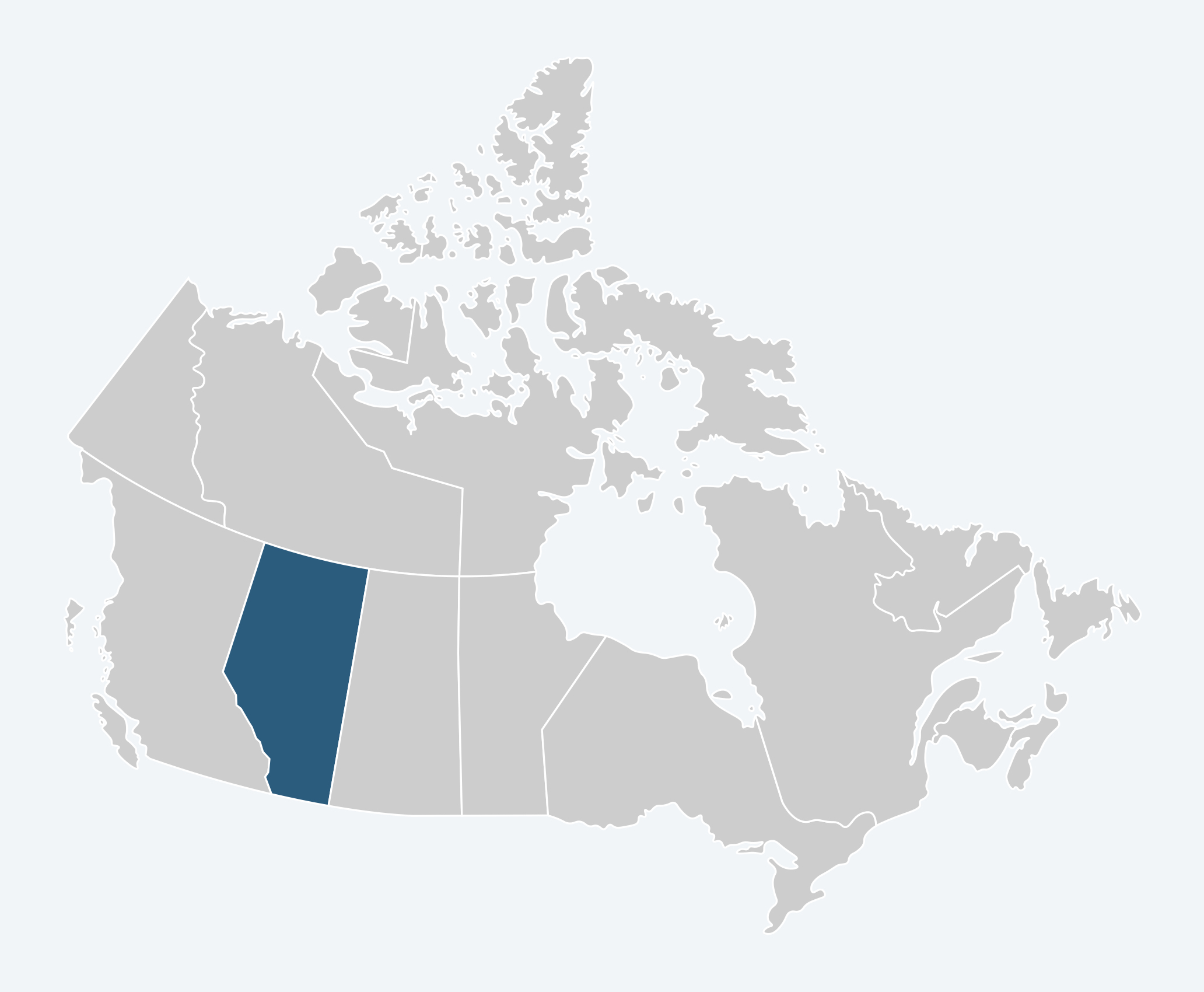 Alberta is the second westernmost province in Canada, sharing the Rocky Mountains with British Columbia to the West, Saskatchewan to the East, and the Northwest Territories to the north. 
Alberta's climate is typically varied, experiencing four distinct seasons. Albertans are used to cold winters, which hover around -5 to -15 degrees celsius (sometimes getting as cold as -30 to -40 C, in northern areas). However, Alberta also enjoys fairly warm summer months, with the temperature climbing up to 20 to 25 C.
Tip: Invest in snug winter clothing for the colder months, especially if you plan to walk or use transit often. Good quality winter clothing may be costly (a warm, sport-style adult winter jacket is typically $70-130 CAD, and formal-style coats are usually upwards of $200 CAD). However, sports equipment stores and department stores often put on major sales mid-winter. Here are some popular stores offering reasonably-priced adult and family winter gear:

Alberta has a population of about 4 million, with roughly 1.5 million people focussed in its capital city of Edmonton. The city of Calgary also rings in at about 1.5 million people, with the rest of Alberta's population dispersed in mid-size cities and smaller rural towns throughout the province.
English is the primary language of the majority of city and rural dwellers in Alberta. Urban centres like Edmonton and Calgary tend to have a higher volume of languages spoken due to their larger populations and newcomer communities. 
Tip: If you are interested in improving your English, adult English language programming is readily available to newcomers in Alberta. You can access some drop-in centres for English as a Second Language (ESL) programming in the province of Alberta, as recommended by the provincial government:


Calgary Immigrant Educational Society (Calgary, AB)

Cultural Connection Institute

(Edmonton, AB)

Taber & District Adult Learning Association

(Taber, AB)
Beyond oil and natural gas: Alberta's growing economic sectors
Alberta is home to the Athabasca oil sands and is well-known for its lucrative oil, mining, and natural gas industries. However, apart from this, there are many other burgeoning economic sectors in the province. Here are some of Alberta's fastest-growing industries, outside of oil and gas production:
Construction

Finance, insurance, and real estate

Business and commercial services

Agriculture 

Forestry
The cities of Calgary and Edmonton are deemed the economic centres of the province and may provide more options for immediate employment. However, mid-size Albertan cities, like Red Deer and Lethbridge, or smaller towns like Camrose, may present unique job opportunities that suit your lifestyle.
Tip: Consider the advantages and challenges of settling in a smaller Canadian city when exploring your career and lifestyle options as a newcomer.
The Alberta job market
Employment rate and in-demand professions
As of early 2020, Alberta has an employment rate of 91.3 percent. The province of Alberta actively welcomes professionally trained newcomers, and projects labour shortages in the following fields over the next ten years:

Administrative assistants, receptionists, and general office support

Accounting technicians and bookkeepers

Administrative officers

Early childhood educators and assistants

Transport truck drivers

Homebuilding and renovation managers
Alberta's Occupational Outlook (published every two years by the Government of Alberta), projects severe shortages in some health occupations in the near future:
Anesthesiologists

Rural and remote healthcare workers
Alberta Provincial Nominee Program (PNP) 
Alberta's provincial nomination program (PNP), called the Alberta Immigrant Nominee Program (AINP), is different from those of other provinces and territories as it does not reward individuals with specific talents or occupations. Rather, Alberta provides a list of occupations that are ineligible for the AINP.
Tip: If your occupation appears on the list of ineligible occupations, there is no cause for concern. There are other federal-level immigration programs that you may be eligible for without getting a provincial nomination, such as federal Express Entry.
The Alberta Opportunity Stream (AOS) and the Express Entry stream are intended for trained professionals in various fields, and the self-employed farmer stream specifically targets applicants with farm management skills who intend to invest in a sustainable farming business in Alberta.
Tip: Be sure to thoroughly research all of your Canadian immigration options on the Government of Canada website or speak with an authorized immigration consultant before applying.
Cultural snapshot: What makes Alberta special for newcomers?
Alberta's history is a rich intersection of various cultures and natural resources and is dominated by its natural surroundings (many of which are on display in Alberta's incredible national parks). As the ancestral home of many First Nations and Métis groups, indigenous presence is a mainstay of the land's history and culture. From the Rocky Mountains of Banff and Jasper to fossil discoveries in badlands of Drumheller, stunning natural wonders and bountiful resources attract newcomers with a sense of adventure from all over the world.
Alberta also has plenty of farmland and ranchland, and its residents have developed a strong western rodeo and ranching culture. The city of Calgary hosts the Calgary Stampede, the world's largest outdoor rodeo and western festival that attracts over a million visitors each summer – a fun and diverse introduction to western traditions for newcomers in the Calgary area!
Alberta is also home to multiple world-class universities with large international student populations. The University of Alberta (Edmonton, AB) and the University of Calgary (Calgary, AB) are some of the largest and most well-known in the province (Note: A list of post-secondary institutions designated to accept international students is available on the provincial government website).
To move to Canada as an international student, see our article on how to obtain a student permit.
Alberta: Tips and resources for newcomers
Newcomers play an important role in Alberta's cultural landscape, especially in the larger cities of Edmonton and Calgary. The province hosts large newcomer communities from the Philippines, India, the United Kingdom, China, and many more. 
If you plan on moving to Alberta, don't hesitate to reach out and make connections with newcomer communities to ease your transition to Canada. Here are some relevant resources for newcomers to help you get started:
Edmonton, AB
Calgary, AB

More newcomer resources across Alberta
Central Alberta Refugee Effort (C.A.R.E.)

(Red Deer, AB)

Lethbridge Services for Newcomers and Immigrants

(Lethbridge, AB)
Where to buy groceries in Alberta?
There are many options for affordable food shopping in the province of Alberta. Once you figure out which neighbourhood and city you plan to live in, take a quick look on Google Maps to find which grocery stores are closest to you that fit your price range and food preferences. Chain grocery stores usually offer a wide choice and consistent service for low prices. 
Many chains carry ethnic food items, but occasionally you may have to go to a specialty grocery shop to find your favourite ingredients from your home country. Edmonton and Calgary, as the biggest cities in Alberta, have many hidden-gem specialty grocery shops from all cuisines. To get you started, here are some well-known grocery retail chains that typically carry internationally-sourced products:
Safeway

Superstore

T&T Supermarket (Specializes in Asian foods)

H-Mart (Specializes in Asian foods)

Loblaws
Tip: Grocery store chains typically have loyalty-points systems to reward regular customers with free or discounted items. If you find yourself always shopping at the same grocery store, ask to be signed up for their loyalty program to start earning redeemable points.
Transportation options: How do you get around in Alberta?
Before you decide on where to call home in Alberta, consider your transportation options and include them in your budget. Edmonton and Calgary have advanced transit systems. If you live within the metropolitan areas of these cities and have access to public transit, you may not need a vehicle to get around. If you live in a midsize/small town, public transit may still be an option. However, prepare for less extensive transit service, as many individuals in smaller communities tend to drive personal vehicles due to distance, infrequent transit, and cold weather.
Tip: You can download the Rocketman app to get real-time transit alerts and arrival times for the Calgary Transit System (CTrain) and Edmonton Transit System (ETS).
When budgeting for your move to Alberta, prepare for the possibility of needing to rent, lease or buy a car for personal transportation. Car rental is ideal for extremely short periods (i.e. a few days as you move in or take a road trip) while car lease or ownership are significant investments, ideal for long-term vehicle use. Consider the pros and cons of purchasing or leasing a vehicle as a newcomer, as given by the Government of Canada.
Tip: When choosing a possible house or apartment as a newcomer, test out multiple travel routes on an online route calculator that displays public transit and driving options like, Google Maps (try to and from: your place of employment, homes of friends and family, and other significant locations like the grocery store or bank). Consider the length and congestion of your route at peak rush hour (7-9 a.m., 4-7 p.m.) to give you an idea of your future transportation needs.
Canada's various provinces and territories each hold unique potential for newcomers. For the right candidate, the province of Alberta provides great opportunities to engage with other newcomers, experience nature and culture, and achieve career success in Canada.