Canada has ten provinces and three territories – providing many options for newcomers to work, thrive, and find their own community. Just like each newcomer, each province and territory has its own unique identity and culture, and seeks out newcomers who will fulfill their individual needs. 
The provincial spotlight blog series will present each province and territory, highlighting their special histories and cultures, plus primary industries, job demand, newcomer communities and resources, and distinct immigration stream policies. 
In this article, we will be focusing on the coastal province of British Columbia (B.C.). Explore British Columbia's relaxed west coast atmosphere, expanding job opportunities, and many breathtaking landscapes to determine if the province suits your needs as a newcomer to Canada.
Tip: You can refer to Provincial Nominee Programs (PNP): Moving to Canada as a permanent resident (PR) and Express Entry: Moving to Canada as a permanent resident (PR) for more information on how to become a permanent resident. 
Location, climate, and demographics: British Columbia basics for newcomers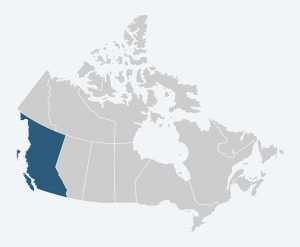 British Columbia's borders create its distinctive shape; its island coastline opens to the Pacific Ocean to the West, while also sharing the Rocky Mountains with Alberta to the East, and bordering the Yukon Territory to the North. 
The climate of British Columbia varies greatly from region to region. Coastal regions such as the Lower Mainland, Vancouver Island, and Haida Gwaii, have temperate, rainy climates that typically reach 20 degrees Celsius in the summer, but stay above zero degrees Celsius in the winter.
Interior regions, like the Thompson-Okanagan and Cariboo, are drier due to their distance from the ocean, and as a result, can reach extreme temperatures throughout the year. Some spots in Interior B.C. can heat up to 35 degrees Celsius in the summer when locals flock to pools and swimming lakes. In the winter, Interior B.C. receives large amounts of snow and can drop below 0 to -30 degrees Celsius. 
Northern British Columbia experiences very cold, snowy winters and short, sunny summers. If you go as far north as the town of Dawson Creek, you may even be able to see the Northern Lights (Aurora Borealis).
Tip: Be prepared for the weather in your region with appropriate gear. In coastal regions, get equipped for high precipitation levels by purchasing light and adaptable rain gear like rain jackets, umbrellas, and waterproof boots or shoes. If you plan to live in the interior or the North of British Columbia, consider investing in a quality winter coat (around $100 CAD) to stay warm in the colder months. Here are some outerwear retailers to help you get started:
Regional populations of British Columbia
British Columbia is the third most populated Canadian province (after Ontario and Quebec), with about 5 million inhabitants. Its capital city is Victoria, a smaller, laid-back city of almost 100,000, located at the southern tip of Vancouver Island. 
The city of Vancouver is the most populous and most famous city in British Columbia. The metropolitan area surrounding Vancouver is called the Lower Mainland, and the population of this region is approximately 2.5 million people. The Lower Mainland is home to ever-growing strong newcomer communities. Richmond, a city in the region known for its strong ties to Chinese culture and food, has a population that is over 60 percent newcomers. According to a Stats Canada report on ethnocultural diversity in Canada, other cities in the Lower Mainland that have close to 50 per cent newcomer populations are:
Burnaby

West Vancouver

Coquitlam

Surrey

Vancouver (Municipality)
The most common countries of origin of newcomers in British Columbia, according to the 2016 Census, are largely Asian countries: 
China

India

Philippines

Iran

South Korea
Languages spoken in British Columbia
English is the primary language in all regions of British Columbia. However, as the Lower Mainland is home to large newcomer populations, there is a great diversity of language in the cities around Vancouver. According to a Stats Canada report on ethnocultural diversity and inclusion in Canada, over 180 languages are spoken in Vancouver alone. The most common languages spoken in British Columbia (outside Canada's official languages of English and French) are Cantonese, Mandarin, Punjabi, Tagalog, Vietnamese, Korean, Hindi, German, and Farsi.
Tip: If you are interested in improving your English, adult English language programming is readily available to newcomers in British Columbia. The government of British Columbia recommends reviewing the list of public institutions that offer English Language Learning courses, as well as taking the online self-assessment language test before arriving in Canada. Newcomer resource centres like the MOSAIC Language Centre (Lower Mainland) also provide access to low-cost English classes.
British Columbia's economic regions and growing sectors
British Columbia's largest economic centre is in Vancouver and the surrounding Lower Mainland. WorkBC reports that all of British Columbia's economic regions expect positive economic growth and project over 860,000 new job openings across the province over the next ten years. 
Tip: All of B.C.'s economic regions provide unique career and life opportunities. Consider the advantages and challenges of settling in a smaller Canadian city when exploring your career and lifestyle options as a newcomer.
Like many other Canadian provinces, British Columbia finds economic prosperity in its abundant natural resources, but also keeps up with the newest innovations in trades and technology. These are fastest-growing industries in the province, according to WorkBC: 
Technology

Natural resources

Trades

Early childhood education

Healthcare
The British Columbia job market
Employment rate and in-demand professions
As of April 2020, the employment rate in British Columbia was 92 percent. The B.C. Labour Market Outlook recommends referring to these designated high opportunity occupations when first considering your career options as a newcomer in British Columbia. There are separate lists of high opportunity occupations depending on your educational background and skills. 
Here are some high opportunity occupations for you to consider:
For degree-holders
For diploma or certificate holders
For high-school diploma holders

Registered nurses

Elementary school & kindergarten teachers

Financial auditors & accountants

Secondary school teachers

Information systems analysts & consultants

Computer & digital media programmers and developers

Retail & wholesale trade managers

Nurse aides & orderlies

Administrative officers

Social & community service workers

Bookkeepers

Construction managers

Janitors and caretakers

Food and beverage servers

Restaurant and food service managers

Retail sales supervisors

Taxi drivers & chauffeurs
Refer to page 20-26 in WorkBC's B.C. Good Jobs Report for a full list of high opportunity occupations projected for the next ten years.
Tip: The B.C. Good Jobs Report outlines these five competencies as the most desirable in British Columbia's workforce over the next ten years. If you have demonstrated work or life experience in these competencies, be sure to include them in your resume:

Social perceptiveness

Judgement and decision making

Complex problem solving

Coordination with other people

Service orientation
The B.C. Provincial Nominee Program (PNP)
The B.C. Provincial Nominee Program supports newcomers with in-demand professional skills by accelerating the immigration process. There are three BC PNP pathways, depending on your National Occupational Classification:
Skills Immigration

Express Entry B.C.

Entrepreneur Immigration
Tip: If you do not qualify for any of the above B.C. PNPs, you may be able to come to B.C. through a federal immigration program instead. Refer to the list of other immigration options to find the best fit for your personal needs in your journey to Canada.
The Skills Immigration Stream is for skilled and semi-skilled workers in high demand occupations in B.C., while the Express Entry B.C. Stream is an even faster way for skilled newcomers to enter Canada. The Entrepreneur Immigration Stream is intended to support experienced entrepreneurs who want to actively manage a business in B.C., and have sufficient funds to do so.
Tip: Be sure to thoroughly research all of your Canadian immigration options on the Government of Canada website or speak with an authorized immigration consultant before applying. 
Cultural snapshot: What makes British Columbia special for newcomers?
Cultural identity in British Columbia
British Columbia is known for its unique blend of rugged Pacific coastline and snow-capped mountains; Vancouver is one of the only places in the world where you can ski at a world-class ski hill and catch a magnificent sunset on the beach, all in the same day. The indigenous peoples of British Columbia have thrived on the land for thousands of years through the abundance of fish, lumber, fertile lands, and an innate knowledge of sustainable practices. The First Nations, Métis, and Inuit populations of B.C. provide invaluable cultural richness to the province in the form of art, food, sustainable resource use, music, language, and more. Indigenous totem poles are a common sight in B.C., especially at Vancouver's Stanley Park.
As a province with a large newcomer community, British Columbia has been heavily influenced by the newcomers who have made it their home over the last century. The Chinese community in British Columbia has been especially influential right from the province's inception. Newcomers from China will find fascinating blends of Chinese and Canadian culture across the province, especially in the Lower Mainland, where many Chinese Canadians now live and work. Dr. Sun Yat-Sen Chinese Garden, in the middle of Vancouver's historic Chinatown, is one of many important Chinese cultural landmarks that represents the bond between the nations of China and Canada.
Exploring B.C.
The natural landscape of British Columbia is an ideal playground for anyone who likes a good adventure, big or small, and residents take pride in the province's well-preserved natural wonders. In the winter, alpine and cross country skiing, snowshoeing, ice hockey, and snowmobiling are just a few of the ways British Columbians like to explore the province in colder months. Whistler-Blackcomb Ski Resort (Whistler, BC) and Cypress Mountain Ski Resort (North Vancouver, BC) hosted the 2010 Vancouver Winter Olympics — these are just two of British Columbia's world-class ski areas. 
In the summer, locals hike, bike, camp, and swim at provincial parks across the province. Tourists make the journey from all over the world to quaint Tofino, BC, at the far Northern tip of Vancouver Island for incredible surfing and fishing.
North Vancouver local Christopher Small says, "British Columbia is particularly unique for its incredible amount of outdoor landscape that is easily accessible to anyone … majestic scenery is close by for anyone to leave civilization behind and make a strong connection with the nature around them, if only just for a few minutes."
How to study in British Columbia as an international student
British Columbia has a high population of international students at its universities and colleges: newcomers participate in thoughtful, diverse, and internationally-minded campuses. Larger universities like the University of British Columbia, Simon Fraser University, and the University of Victoria have the big-city feeling and top researchers from around the world. Smaller universities or colleges like Thompson Rivers University (Kamloops, BC), Camosun College (Victoria, BC), or the University of Northern British Columbia (Prince George, BC) offer smaller class sizes, to better get to know your professors and classmates. They also offer slightly lower tuition fees, and a close-knit community, while maintaining a large ratio of international students. 
Tip: Obtaining a student work permit as an international student to gain work experience in Canada while you study may improve your chances of becoming a Permanent Resident after you graduate. To move to Canada as an international student, see our article on how to obtain a student permit.
British Columbia: Tips and resources for newcomers
If you plan on moving to British Columbia, do not hesitate to reach out and make connections with newcomer communities to ease your transition to Canada. Here are some relevant resources for newcomers to help you get started:
Province-Wide Services
Lower Mainland
Vancouver Island
Where to buy groceries in British Columbia?
There are many options for affordable food shopping in the province of British Columbia. Once you figure out which neighbourhood and city you plan to live in, take a quick look on Google Maps to find grocery stores near you that fit your price range and food preferences. Chain grocery stores usually offer a wide choice and consistent service for low prices. To get you started, here are some well-known grocery retail chains that typically carry internationally-sourced products:
Save-on-Foods (Founded in British Columbia)

T&T Supermarket (Specializes in Asian foods)

Safeway

Superstore

H-Mart (Specializes in Asian foods)

No Frills
Many chains carry ethnic food items, but occasionally you may have to go to a specialty grocery shop to find your favourite ingredients from your home country. The Lower Mainland has many specialty shops and international food markets. Get to know your neighbourhood by attending Farmers' Markets, or make a night of it at the Richmond Night Market, a celebration of Asian cuisine that is also the largest night market in North America.
Tip: Grocery store chains typically have loyalty-points systems to reward regular customers with free or discounted items. If you find yourself always shopping at the same grocery store, ask to be signed up for their loyalty program to start earning redeemable points.
Transportation options: How do you get around in British Columbia?
Knowing your transportation options and including them in your budget will help you accurately plan for your life in British Columbia as a newcomer. The Lower Mainland has an extensive transit system, so many folks in the metropolitan area around Vancouver choose to ride the bus or Skytrain instead of owning a vehicle. The Compass Card is your Metro Vancouver monthly transit pass, which costs between $100-200 CAD per month, depending on your zones of travel. 
If you are interested in improving your fitness, cutting down on your morning commute, and keeping costs down, a bicycle is a great way to get around. Before you try out British Columbia's cycling routes, follow the province's cycling laws by brushing up on bike safety and use a biking helmet.

Tip: You can download the Rocketman app to get real-time transit alerts and arrival times for the Metro Vancouver Area (bus and Skytrain).
Prepare for the possibility of needing to rent, lease or buy a car for personal transportation. Individuals in mid-size or smaller cities and towns tend to use their own personal vehicles. However, public transit is still an ideal option to cut down on transportation costs and environmental footprint in smaller cities in British Columbia. The Government of Canada outlines the pros and cons of purchasing or leasing a vehicle as a newcomer.
Tip: When choosing a possible house or apartment as a newcomer, test out multiple travel routes on an online route calculator that displays public transit and driving options like Google Maps. Try calculating your routes in between your home, your place of employment, homes of friends and family, and other significant locations like the grocery store or bank. Consider the length and congestion of your route at peak rush hour (7-9 a.m., 4-7 p.m.) to give you an idea of your future transportation needs.
For weekend adventures to Vancouver Island or the Sunshine Coast, or for some, their daily commute across the Strait of Georgia, BC Ferries provides frequent ferry service up and down the coast of British Columbia. Ferry service can be drive-on or walk-on and requires significant planning ahead as the boats tend to fill up quickly. Make a ferry reservation to secure a spot on the sailing of your choice.
British Columbia provides a special experience for each newcomer by welcoming individuals who wish to participate in the unique blend of cultures, thrive in their career, and explore the province's natural wonders in their Canadian journey.