Canada has ten provinces and three territories – providing many options for newcomers to work, thrive, and find their own community. Just like each newcomer, each province and territory has its own unique identity and culture and seeks out newcomers who will fulfill their individual needs. 
The provincial spotlight blog series will present each province and territory, highlighting their special histories and cultures, plus primary industries, job demand, newcomer communities and resources, and distinct immigration stream policies. 
The maritime province of Nova Scotia was one of the first provinces to join the Confederation of Canada. Its name is Latin for "New Scotland," echoing the Scottish settlers who made this province and the surrounding area their home centuries ago. Nowadays, the Gaelic and Celtic culture that came from Scotland is just one of many cultures that makes up diverse Nova Scotia. The province is famous for its long history of welcoming newcomers at Pier 21, the Atlantic gateway for immigration to Canada throughout the twentieth century. Newcomers and locals alike now enjoy Nova Scotia for its high quality of life, family-friendly communities, incredible natural beauty, and affordable cost of living. Most of all, residents enjoy the friendly and welcoming people who make the cities and towns of Nova Scotia special through strong connections and celebrations of all cultures.
"The helpful and caring people of Nova Scotia make the province extra special for me. As a newcomer, I strongly believe that everyone will enjoy the warmth of the people here." 
– Ricky, Halifax resident.
Moved to Canada in 2014
Tip: You can refer to Provincial Nominee Programs (PNP): Moving to Canada as a permanent resident (PR) and Express Entry: Moving to Canada as a permanent resident (PR) for more information on how to become a permanent resident. 
Location, climate, and demographics: Nova Scotia basics for newcomers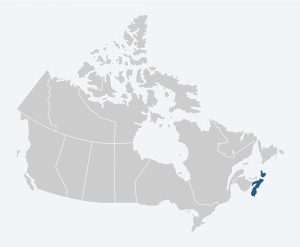 Nova Scotia (NS) is a small Atlantic province on the east coast of Canada. This seaside province lies to the southeast of Canada's other two maritime provinces, New Brunswick and Prince Edward Island. 
The NS climate is temperate marine with four distinct seasons, ideal for individuals who like to adventure in every kind of weather. Cool sea breezes keep the summers from getting too hot, with temperatures hovering around 20 to 25 degrees Celsius. Nova Scotia winters can be cold but rarely dip below -15 degrees Celsius. Springs and falls are pleasantly cool, experiencing alternations of plenty of coastal rain and bright sunshine.
Tip: Be prepared for the weather in your region with appropriate gear. If you want to live on the coast of Nova Scotia, get equipped for high precipitation levels by purchasing light and adaptable rain gear like rain jackets, umbrellas, and waterproof boots or shoes. To prepare for chilly Nova Scotia winters, look at purchasing a winter jacket (around $100 CAD) to stay warm in the colder months. Here are some outerwear retailers to help you get started:
Regional populations of Nova Scotia
Nova Scotia is relatively small compared to other Canadian provinces, yet it is one of the most densely populated. The population of Nova Scotia is approximately 950, 000 people, according to the 2016 Canadian census. Roughly 400,000 people – nearly half of the province's population – live in its capital, Halifax.
Tip:  Outside of Halifax and the surrounding area, the towns in Nova Scotia are relatively small, compared to other cities in Canada and around the world. Consider the advantages and challenges of settling in a smaller Canadian city when exploring your career and lifestyle options as a newcomer.
Nova Scotia welcomed more newcomers than any previous year in 2018. This trend is expected to continue in future years, as the province has an especially high newcomer retention rate (71 per cent). This means that once newcomers choose to settle in Nova Scotia, they usually opt to continue to live in the province permanently. Newcomers now make up over 6 per cent of the population in Nova Scotia. The majority of newcomers to NS tend to settle in its diverse provincial capital, Halifax.
Nova Scotia's multicultural makeup is influenced by newcomers from across the globe. The most common countries of origin for newcomers, according to the 2016 Canadian census:
United Kingdom

United States

China

Germany

Philippines

India

Netherlands

Lebanon

Syria

Iran
Languages spoken in Nova Scotia
English is the primary language of Nova Scotia. Few other languages are spoken widely in the province due to its smaller population size. Many of its newcomers tend to either come from English-speaking countries like the United Kingdom, have strong English skills already, or participate in English-language programming upon arrival to strengthen their proficiency.
Tip: If you are interested in improving your English writing and speaking skills, consider participating in adult English language programming in Nova Scotia. Be sure to take the Government of Canada's online self-assessment language test before arriving in Canada to determine your current level. Reach out to these newcomer-oriented English programs to get started:
The Nova Scotia job market
Employment rate and in-demand professions
Nova Scotia reported large increases in full-time and part-time employment in early 2020. Full-time employment was at an all-time high in the province in January 2020, with 381,600 individuals working full-time positions. Nova Scotia's service, communications, and information technology sectors are all growing rapidly.
Full-time employment growth is expected in different sectors across all five regions of Nova Scotia. Each region's fastest-growing sectors will offer high job opportunity for newcomers, based on job market scans done by Nova Scotia Immigration:
Halifax:

In the province's capital, the service sector accounts for roughly 85 per cent of jobs, which is much higher than the rest of the province. The healthcare industry is also on the rise.

Annapolis Valley:

The Annapolis Valley is typically driven by the agriculture and construction sectors. The region is experiencing a rise in full-time job opportunities.

Northern Nova Scotia:

The service industry and the goods industry are the largest growing industries in this region.

Southern Nova Scotia:

Resource-based industries such as forestry, fishing, mining, oil, and gas are traditional sectors that are experiencing growth in Southern Nova Scotia. The goods and construction sectors are also strong in this region.

Cape Breton Island:

The health care, social service, and public administration sectors are growing in both part-time and full-time employment.
Tip: The Government of Canada Job Bank offers an online job trend analysis with estimates of job availability, wage, and educational requirements based on position and region. Test out the tool by searching your current and/or ideal occupations and region of Canada to gain insight on current career prospects.
The Nova Scotia Provincial Nominee Program (NSNP)
The NSNP is a provincially-run nominee program for potential newcomers to Nova Scotia. The program is intended to accelerate the immigration process for skilled workers, students, and entrepreneurs who can fill important positions in Nova Scotia's economy that cannot be filled locally. Identify which of these NSNP streams is most advantageous to you, based on your personal skills and needs:
Labour Market Priorities:

For candidates with existing applications in the federal Express Entry System who meet provincial labour market needs. Only candidates who receive a Letter of Interest from the Nova Scotia Office of Immigration are requested to apply. There are two streams:

Skilled Workers:

For skilled individuals with a guaranteed offer of employment in a high-demand position, or experienced business people or NS post-secondary graduates who wish to start a business in Nova Scotia.

Express Entry: For candidates with existing applications in the federal Express Entry pool who wish to live in Nova Scotia permanently.
Tip: If you do not qualify for any of the above NSNPs, you may be able to come to Nova Scotia through a federal immigration program instead. Refer to the list of other immigration options to find the best fit for your personal needs in your journey to Canada.
The Atlantic Immigration Pilot
The Atlantic Immigration Pilot (AIP) is a partnership between the Government of Canada and the four Atlantic provinces (Nova Scotia, Newfoundland and Labrador, New Brunswick, and Prince Edward Island) to fill jobs that cannot be filled locally. You must have a job offer from the list of eligible employers to apply for the AIP.
Tips:
For further reference, consult the NS Guide for Immigration Candidates for a brief overview of the PNP and AIP application processes.

Be sure to thoroughly research all of your Canadian immigration options on the Government of Canada website or speak with an authorized immigration consultant before applying.
Cultural snapshot: What makes Nova Scotia special for newcomers?
Cultural identity in Nova Scotia
Nova Scotia's diversity has been a part of its cultural character since European explorers first set foot in the province centuries ago. They were met by the first residents of the land, the indigenous Mi'kmaq people, who still live predominantly in the Atlantic region to this day. Their language, art, and music communicate the value of the land and the Mi'kmaq peoples' millennia-long legacy in Nova Scotia.
Nova Scotia is famous for being the first entry point to Canada throughout the twentieth century at Pier 21 in Halifax. Pier 21 was the Atlantic seaport gateway to Canada for over one million newcomers between 1928 and 1971. The site of the old Pier 21 is now home to the Canadian Museum of Immigration, a series of exhibits dedicated to telling the stories of newcomers throughout the years and celebrating Canada's fundamental diversity. Explore the Pier 21 museum from home to read stories of brave newcomers from the last century and stories of modern newcomers across the country today.
Diversity is still a key tenet of the Nova Scotia cultural experience. The French-speaking Acadians and Gaelic-speaking Irish and Scottish settlers both made a lasting cultural impact through sustained language, music, art, dance, and celebrations. A favourite Gaelic tradition in Nova Scotia is the céilidh, also known as a "kitchen party," an opportunity to have friends and family over to casually eat, sing, dance, and have conversation. There is also a distinct African cultural presence, born from black English and French settlers, and later, refugees from the American War of Independence who settled in the province. They once settled in Africville, an African community in Halifax which no longer stands, along with many Maroons, a group of freed Jamaican slaves. The traditions of these cultures, and many more, are continually recognized and celebrated to this day in the province of Nova Scotia.
Nova Scotia's proximity to the ocean gives the province access to some of the best fishing in the world. Fishing has been important to every culture that has made this land home, from the indigenous Mi'kmaq to the settlers of the seventeenth century, to today. Now, Nova Scotia's fishing industry is famous for its lobster, scallops, snow crabs, shrimp, halibut, and much more. Seafood lovers will enjoy Nova Scotia's celebration of fresh catches, and can even embark upon the Nova Scotia Lobster Trail to sample Nova Scotia's favourite dish, lobster dinner. 
Exploring Nova Scotia
Nova Scotia locals make the most of their free time by exploring the rocky shores, famous beaches, and splendid views the province has to offer. Nova Scotia's two famous national parks, Cape Breton Highlands and Kejimkujik National Park, in addition to its many provincial parks, make for stunning adventures in any weather. 
Nova Scotia is located on the Bay of Fundy, where the highest tides in the world occur. While the tide is in, whale-watching is possible over the sweeping cliffs of the bay. The tide can then drop up to four stories in just over six hours. After exploring the bay, visitors can enjoy the amazing wineries of the surrounding Annapolis Valley region.
"Nova Scotia is also called "Canada's Ocean Playground". We have so much to explore here, from beaches, trails, towns, and counties, to food, culture, and much more. I like to drive around to explore different places and spend up to a few days there, depending on the location."
– Ricky, Halifax resident.
Moved to Canada in 2014
For those interested in delving into Canadian history, Nova Scotia also has five UNESCO world heritage sites and twenty-six Canadian National Historic sites, such as the Joggins Fossil Cliffs on the Bay of Fundy, or the Halifax Citadel. Road-tripping is one of the easiest, most Canadian ways to go on a weekend adventure to any of these sites.
How to study in Nova Scotia as an international student
Nova Scotia has many high-level post-secondary institutions for students interested in broadening their intellectual and cultural horizons in the province. Dalhousie University in Halifax is the largest institution and research facility in the province. Smaller institutions like the highly ranked liberal arts college Acadia University, St. Francis Xavier University, and Cape Breton University all provide smaller class sizes and a close-knit community for international students.
Tip: Obtaining a student work permit as an international student to gain work experience in Canada while you study may improve your chances of becoming a Permanent Resident after you graduate. To move to Canada as an international student, see our article on how to obtain a student permit.
Nova Scotia: Tips and resources for newcomers
Nova Scotia's many newcomer resources will help you transition to your new home through personal and community connections and an understanding of the newcomer experience. Here are some great newcomer resources to help you get started:
Tip: Calling or texting the phone number 211 in Nova Scotia will immediately connect you to Nova Scotia's free and confidential service for referrals to thousands of social programs in your local community. The service is available in over 100 languages to reduce language barriers and ease access to available programming in Nova Scotia. The online 211 directory can also be used to find information quickly and clearly.
Where to buy groceries in Nova Scotia?
There are many options for affordable food shopping in the province of Nova Scotia. Once you figure out which neighbourhood and city you plan to live in, take a quick look on Google Maps to find grocery stores near you that fit your price range and food preferences. Ask neighbours and new connections where they like to grocery shop to find hidden gems in your city.
"With my experience as a newcomer to Canada, I realized that our grocery habits could be slightly different because we come from different areas of the world. What's great is that Nova Scotia is a multicultural province, and we can find almost all kinds of groceries here to meet the needs of newcomers. My recommendation would be to explore some different grocery stores and see what works for you, then plan your grocery shopping accordingly, as different stores offer different products."
 – Ricky, Halifax resident.
Moved to Canada in 2014
Chain grocery stores usually offer a wide choice and consistent service for low prices. To get you started, here are some well-known grocery retail chains that typically carry internationally-sourced products:
Atlantic Superstore

Sobeys

Walmart

Costco (specializes in bulk items)
Tip: Grocery store chains typically have loyalty-points systems to reward regular customers with free or discounted items. If you find yourself always shopping at the same grocery store, ask to be signed up for their loyalty program to start earning redeemable points.
Fresh, seasonal farmer's markets are one of the best ways to get to know your community, and a fun Saturday morning activity with family while picking up some produce. See the list of regional farmer's markets in Nova Scotia to find a market in your area.
Transportation options: How do you get around in Nova Scotia?
When considering your budget as a newcomer, transportation can be one of the most significant costs to prepare for. Halifax has an extensive public transit system, with monthly passes costing between $60 to $85 CAD. Children under 12 can ride public transportation for free. There is little public transit in smaller communities in Nova Scotia, but there are many organizations which are currently working to provide public transportation to rural areas.
If you plan to live in a smaller community, prepare for the possibility of needing to rent, lease or buy a car for personal transportation. The Government of Canada outlines the pros and cons of purchasing or leasing a vehicle as a newcomer in any region. If you want to cut down on long-term transportation costs, as well as boost your fitness and get to know your community, try cycling as your main form of transportation. Know the rules of the road for cyclists before pedalling out on your first adventure.
Nova Scotia also offers ferry transport to islands within the province, as well as to other provinces in the area. Ferries are a great way to explore the province, and are inexpensive for walk-on riders.
Tip: When choosing a possible house or apartment as a newcomer, test out multiple travel routes on an online route calculator that displays public transit and driving options like Google Maps. Try calculating your routes in between your home, your place of employment, homes of friends and family, and other significant locations like the grocery store or bank. Consider the length and congestion of your route at peak rush hour (7-9 a.m., 4-7 p.m.) to give you an idea of your future transportation needs.
"As a newcomer to Nova Scotia, my advice is: Stay strong, be positive, embrace change, be humble, find a mentor, and volunteer and network as much as you can." 
– Ricky, Halifax resident.
Moved to Canada in 2014
The welcoming Canadian province of Nova Scotia has much to offer to newcomers from across the world. Wherever you are in your newcomer journey, take the time to consider whether Nova Scotia is the right fit for your lifestyle, career, and family needs. Vibrant Halifax can provide a diverse big-city experience without the crowding of other large urban centres, or an oceanside town in Cape Breton can provide a stunning natural environment and friendly community feeling that may be just right for you. Nova Scotia has unlimited options for individuals who are willing to work hard, make connections, and pursue a new adventure in Canada.