Each province and territory in Canada offers unique employment opportunities, lifestyles, cultures, communities, and access to the stunning and varied natural landscapes. Canada is a large country with many communities, both big and small; if you are only familiar with Toronto, Vancouver, or Montreal, you might be interested in seeing some of the many other beautiful and livable options for settling here.
This provincial spotlight series places emphasis on what makes each province and territory stand out from the rest, and what a newcomer can expect should they choose to settle there. A province or territory's culture, climate, job opportunities, provincial immigration policy, and transportation are important factors for any newcomer planning their journey to Canada. This article series contains highlights for each region that will equip you with all the information you should know before you move.
The province of Prince Edward Island (PEI) is the smallest province in Canada with the largest potential for growth. This maritime province is known for its beautiful scenery, red sand beaches, low cost of living, and high quality of life. Compared to other provinces, Prince Edward Island's population is quite small, leaving room and opportunity for newcomers to have a successful and fulfilling life and career while embracing a small-town lifestyle. The friendly and welcoming nature of residents, the historical significance of the land, and plentiful fresh produce and seafood are just a few aspects of Prince Edward Island that enhance any newcomer's journey to becoming a permanent resident in Canada.
Tip: For more information on becoming a permanent resident, see Provincial Nominee Programs (PNP): Moving to Canada as a permanent resident (PR) and Express Entry: Moving to Canada as a permanent resident (PR).
Why Prince Edward Island?: Culture, history, and nature in PEI
The Island way of life: Culture in PEI
The residents of PEI, similar to the other Atlantic provinces, have a reputation for being extremely welcoming and friendly to folks from across the world. The province's unofficial mascot is a potato – one of PEI's most lucrative crops – named Friendly the Spud.
"
When you walk down the street in Prince Edward Island, it is likely that people you don't know will smile and say "Hi!" to you. Don't be scared, it is a part of the local culture to be nice and welcoming.
" 
– Li Yuan, Charlottetown resident.
Moved to Canada in 2006
The province of Prince Edward Island describes its cultural identity as a rope of intertwined strands: Each strand is a cultural group that has made the Island their home and developed together with other groups over the years into an accepting and diverse community. The Mi'kmaq people are an aboriginal group who has occupied the areas now known as Canada's Atlantic provinces (PEI, New Brunswick, Nova Scotia, and Newfoundland and Labrador) for thousands of years. The Lennox Island Mi'kmaq Cultural Centre is a great place to begin learning about PEI's aboriginal heritage and its current aboriginal residents.
European explorers first arrived in PEI, which the Mi'kmaq called Epekwitk ("land resting on the waves"), in the sixteenth century. The Acadians, French settlers on the northern Atlantic coast, began to make PEI their home shortly after. Their influence can be seen in the many speakers of French on the Island, as well as in music, food, and culture. Acadian culture can be explored at the Acadian Museum in Miscouche.
English, Scottish, and Irish groups settled PEI in the 17th, 18th and 19th centuries, and their descendants now make up the majority of the population. Charlottetown holds an important place in Canadian history, as the location of the creation of the Confederation of Canada in 1867—though PEI did not actually become a Canadian province until 1873. The Province House National Historic Site recreates the feeling and culture of this historically significant time in Canada.
PEI is also home to one of the most beloved literary characters in Canada, Anne of Green Gables. Green Gables Heritage Place is a provincial treasure dedicated to the legacy of author L.M. Montgomery and the history of Prince Edward Island, which are so beautifully described in the Anne of Green Gables novels. Intelligent and spunky, red-haired Anne is beloved in Prince Edward Island because she embodies the adventure, curiosity, and open-hearted nature of Islanders.
Explore Prince Edward Island: What is PEI best known for?
Prince Edward Island is famous for its beautiful pastoral countryside and red sand beaches. Charming farmhouses stand out over rolling green hills and farmland, and no matter where you are in PEI, you are never more than 30 kilometres from the seaside. Most of PEI's 13 provincial parks include long stretches of sandy beaches, where the seawater is warm enough to swim in the summer months. The Greenwich area of Prince Edward Island National Park is a must-see for its picturesque red sand dunes, while Brackley Beach attracts many tourists for its idyllic beaches and great swimming. Many iconic red-and-white lighthouses can also be found along the shores of PEI – many of which have now been converted into museums or historical landmarks for the public to visit.
Staying active in PEI is a no-brainer; there are so many ways to get outside and enjoy the Island through activities and sports. Golf is one of the most popular draws for visitors to PEI, due to its world-class courses, good weather, and stunning views. Swimming, biking, hiking, kayaking, and much more are all accessible to individuals of any level of activity. 
Prince Edward Island is quite small, so it is possible to drive across the length of the entire island in a few hours. All of PEI's beaches, natural wonders, pretty towns, and historic sites can be reached in only a short drive, making the island the perfect spot for individuals and families who like to take weekend trips. See the province's driving distance tool to calculate the length of routes between communities in PEI. 
PEI basics: Population, location, and language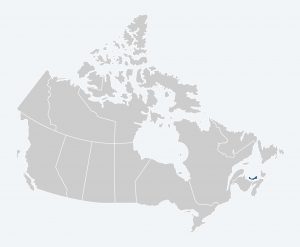 Prince Edward Island (PEI) is a small island province on the Atlantic coast of Canada. This maritime province is tucked between the provinces of New Brunswick, Nova Scotia, Quebec, and Newfoundland and Labrador in the Gulf of St. Lawrence. 
Prince Edward Island's climate experiences four distinct seasons. Summers are typically very warm and sunny, with temperatures ranging between 20 and 35 degrees Celsius. The province experiences milder winters than the rest of the country, rarely dropping below -10 degrees Celsius. However, due to the island's high precipitation levels, snowfall can often come anytime between November and April. Autumn and spring are cooler than summers, yet are typically still mild.
Tip: As an island on the Atlantic coast, PEI can get high levels of rain and snow. Equip yourself for the weather by purchasing light and adaptable rain gear like rain jackets, umbrellas, and waterproof boots or shoes. To prepare for chilly PEI winters, you will need a quality winter jacket (around $150-$200 CAD). Here are some outerwear retailers to help you get started:
Do you need a car to get around in PEI?
Driving is the most common form of transportation in PEI, especially in small communities where public transit doesn't operate. If you believe you will need a car to get around, you have the option to rent, lease or buy a car for personal transportation. The Government of Canada outlines the pros and cons of purchasing or leasing a vehicle as a newcomer in any region. 
The T3 transit system operates in Charlottetown and goes out to the communities of Cornwall, Stratford, and Summerside on weekdays. Monthly transit passes cost $60 CAD per month, with discounts for seniors, students, and children.
Cycling is another great way to travel in PEI, and the province's many bike routes allow for plenty of cyclists to commute and get exercise. The Confederation Trail, built on the site of an old railway, is a 445-kilometre scenic trail across the island that avid cyclists can undertake. See PEI's bike safety rules before getting on the road. Simply walking to your destination is also a great way to experience the island.
Newcomer and local populations in PEI
According to the provincial government of PEI, the province has a population of about 160,000 people. This population spread out across the island, is smaller than many Canadian cities. Prince Edward Island notes their small population as an advantage that contributes to a high quality of life in the province.
The capital city of PEI is Charlottetown, a city of over 44,000 people on the southern coast of the province. The city of Summerside is the second-largest centre in the province, located on the west side of the island with a population of almost 15,000. Other recognized Prince Edward Island towns include:
Tip: The communities of Prince Edward Island have relatively small populations compared to other areas in Canada. Consider the advantages and challenges of settling in a smaller Canadian city when exploring your career and lifestyle options as a newcomer.
Prince Edward Island values its newcomer populations. Roughly 6.4 per cent of the province's population are newcomers. This amount goes up to nearly 10 per cent in PEI's two cities, Charlottetown and Summerside, as the majority of newcomers tend to settle in these communities.
PEI's multicultural makeup is influenced by newcomers from across the globe. The most common countries of origin for newcomers, according to the 2016 Canadian census:
China

United Kingdom

United States

Philippines

Netherlands

Germany

Iran

India

Syria

Nepal
Languages spoken in PEI
In PEI, English is the primary language. However, many individuals also speak Canada's other official language, French. PEI has the third-highest rate of bilingualism in English and French in the country, at 12.7 per cent. These are the most common non-official languages spoken by residents:
Mandarin

Tagalog

Arabic

Nepali

Farsi

Cantonese
Tip: All newcomers who achieve permanent resident status can have their language level assessed by the PEI Association for Newcomers to Canada (PEIANC) to receive free English language training. Wait times can be long for this free program due to high demand. Reach out to these newcomer-oriented English programs to get extra training:
Prince Edward Island's economy and industries
Prince Edward Island's economy embraces the province's traditional natural resources in tandem with modern technology, including bioscience and advanced manufacturing. According to the province, PEI's strongest industries include:
Agriculture:

Grains, potatoes, and fruits are the most common crops.
Fisheries:

PEI exports seafood to other provinces in Canada and beyond. Seafood exports (especially lobster) are a key area of the province's income.
Tourism:

As a beautiful province and home of famed fictional character Anne of Green Gables, PEI welcomes over 1.5 million visitors each year to the small island.
Aerospace:

One of the province's fastest-growing sectors, due to advanced technology developed on the Island.
Bioscience:

Over 50 bioscience companies operate out of PEI.
Information Technology:

A skilled workforce and low operation costs draw IT companies to the Island.
Renewable Energy:

25 per cent of PEI's energy is wind-powered.
The PEI job market and career support
The PEI employment rate was approximately 90 per cent in April 2020. As a smaller province, PEI does not release job outlooks, but you can use Canada's online job trend analysis, which provides estimates of job availability, wage, and educational requirements based on position and region. Test out the tool by searching your current and/or ideal occupations and province or city in Canada to gain insight on current career prospects.
The PEI Association for Newcomers offers career counselling services to newcomers, as well a variety of programs and services to support you in finding a career in PEI: 
The PEI Provincial Nominee Program (PNP)
The PEI PNP is a provincially-run nominee program for potential newcomers to PEI. The program is intended to accelerate the immigration process for skilled workers, students, and entrepreneurs who can fill important positions in PEI's economy that cannot be filled locally. Identify which of these NSNP streams is most advantageous to you, based on your personal skills and needs:
1. Immigrate to PEI as a worker: 
2. Immigrate to PEI as an entrepreneur: 
Work permit stream

: For candidates with business experience who intend to start or buy a business in PEI.
The Atlantic Immigration Program
The Atlantic Immigration Program (AIP) is a partnership between the Government of Canada and the four Atlantic provinces (PEI, Newfoundland and Labrador, New Brunswick, and Prince Edward Island) to fill jobs that cannot be filled locally. You must have a job offer from the list of eligible employers to apply for the AIP.
Tips: If you do not qualify for any of the above provincial immigration programs, you may be able to come to PEI through a federal immigration program instead. Refer to our Guide on Immigrating to Canada to find the best fit for your personal needs in your journey to Canada. 

Be sure to thoroughly research all of your Canadian immigration options on the Government of Canada website or speak with an authorized immigration consultant before applying.

PEI: Additional resources for newcomers
As a smaller province, PEI's newcomer resources aim to help you transition to life on the Island with an emphasis on community and an understanding of the newcomer experience. Here are some great newcomer resources to help you get started:
Studying in PEI as an international student
PEI has two main post-secondary institutions. The University of Prince Edward Island in Charlottetown is the largest, and also has a very large population of international students relative to its size; over one-quarter of the university's student body is international students. Holland College is another post-secondary institution that has five main campuses located across PEI.
Tip: Obtaining a student work permit as an international student to gain work experience in Canada while you study may improve your chances of becoming a Permanent Resident after you graduate. To move to Canada as an international student, see our article on how to obtain a student permit.
Grocery and food options in PEI
Food and groceries in PEI are freshly-grown and inexpensive. Once you figure out which neighbourhood and city you plan to live in, take a quick look on Google Maps to find grocery stores near you that fit your price range and food preferences. Chain grocery stores usually offer a wide choice and consistent service for low prices. To get you started, here are some well-known grocery retail chains that typically carry internationally-sourced products:
Atlantic Superstore

Sobeys

Walmart

No Frills
Tip: Grocery store chains typically have loyalty-points systems to reward regular customers with free or discounted items. If you find yourself always shopping at the same grocery store, ask to be signed up for their loyalty program to start earning redeemable points.
To find specific ingredients from your home country, try local specialty grocery stores. You may want to ask other newcomers or locals in PEI where they like to buy produce, meat, bread, and spices to get a better idea of what is available. Here is a brief list of some local shops in PEI's capital, Charlottetown, that sell certain cultural foods:
The Spice Store (Indian)

The Asian Food Store (Asian)

Global Grocery Store (Asian)

Pin Yuan Asian Market (Asian)

Brighton Clover Farm Grocery (Middle Eastern)
Fresh, seasonal farmer's markets are one of the best ways to get to know your community, and PEI's long growing season and fertile farmland grows some of the best produce in the country. See the list of regional farmer's markets in PEI to find a market in your area.
"
You will enjoy every minute that you spend in Prince Edward Island.
" 
– Li Yuan, Charlottetown resident.
Moved to Canada in 2006
The Island life may not be for everyone, but residents of Prince Edward Island love their small-town lifestyle, culture, and beautiful scenery. Newcomers will enjoy the special and relaxed way of life here, as well as the opportunity to grow their career in urban or rural areas of PEI. Most of all, newcomers to PEI can expect to feel welcomed and appreciated by the multicultural residents, newcomer assistance groups, and other newcomers from all over the world who make this province an accepting and delightful place to live.