Getting around Montreal is inexpensive and easily accessible, thanks to the city's efficient public transit system. Transportation is one of the first things you will have to figure out when you arrive in Canada. Whether you plan to commute to work, travel to school, or simply sightsee in a new neighbourhood, this article will walk you through everything you need to know to start riding public transit in the Canadian city of Montreal. 
Tip: For an introduction to the city of Montreal in the Canadian province of Quebec, see the provincial spotlight on Quebec.
The public transit authority in the city of Montreal is called la Société de transport de Montreal (STM). STM operates various transit services across the island city of Montreal in tandem with Exo, Société de transport de Laval (STL), and Réseau de transport de Longueuil (RTL).
Why take public transit in Montreal?
Montreal has one of the most celebrated metro systems in Canada for its cleanliness, rapidity, and ease of use. You can go all over Montreal using one of the coloured metro lines, or ride the bus for more remote destinations or travelling late at night. 
Public transit versus driving a car in Montreal
If you plan to be driving in Canada, you will need to get your driver's license and buy a car, both of which take time and quite a bit of money. While you wait to get your car, you may have to take public transit during this time to get to work or school. You may quickly find that public transit is a far more economical option than paying for your car, parking, fuel, and regular auto maintenance. Not to mention, you also get to skip the rush hour car traffic.
 Tip: For more information on driving, see our articles on getting your driver's license in Canada and buying or leasing a car in Canada.
Environmental benefits
By taking public transit, riders can also feel good about contributing to the reduction of Montreal's greenhouse gas emissions. Combating climate change isn't easy, but taking public transit instead of driving a personal vehicle is one of the most effective choices an individual can make to create a greener lifestyle. Investments will continue to be made in public transit as a part of the clean transportation solution for climate change by the federal, provincial, and municipal governments of Canada. This means that you can expect constant improvement in the transit networks of Montreal in the future.
Ways to ride: What types of public transit are there in Montreal?
Montreal's integrated public transportation system includes a metro high-speed train network, an extensive bus network, as well as a shared taxibus service for more remote areas. Each service has its benefits, depending on your travel needs:
1. Metro: The Metro system is fast, clean, and reliable in Montreal, and covers most of the area in the city. There are four Metro lines in Montreal, named by colour:
The Orange Line: This line runs east to north between Ville St-Laurent and Laval in an L-shape.
The Green Line:

This line extends from Angrignon metro in the Sud-Ouest all the way to the Honoré-Beaugrand metro.

The Blue Line:

The Blue line, which runs north of downtown Montreal from Snowdon metro in Côte-des-Neiges–Notre-Dame-de-Grâce to Saint Michel, connecting to the Orange line at Snowdon metro.

The Yellow Line:

This line runs across the water from Berri-UQAM metro in Quartier Latin to Longueuil, connecting to both the Orange and Green lines.
2. Bus: The STM bus will take you beyond the city centre to various suburbs and the airport. Buses run 24 hours a day, so they are a great choice when the Metro closes at midnight. Express buses are clearly marked for quick transport. You can use an OPUS card or exact change on the bus.
3. Exo Train: The Exo transit network consists of six commuter train lines throughout Greater Montreal, going to Vaudreuil-Hudson, Deux-Montagnes, Saint-Jerome, Mascouche, Mont-Saint-Hilaire, and Candiac. You can purchase TRAIN fares if you only use the Exo train, or a TRAM fare if you use multiple forms of transport. Either can be loaded onto your OPUS Card or a Solo card with one to six uses.
4. Taxibus: The Taxibus is a special bus service for routes not regularly serviced by public transit. You must book your Taxibus 40-60 minutes ahead of time, and normally you may share this ride with others. You can load your OPUS card with the proper Taxibus fares, as the Taxibus does not accept cash payment. 
Planning your route: Maps and tools for public transit in Montreal
Get oriented with Montreal transit using maps
You can view maps for various transit systems in Montreal to familiarize yourself with the quickest routes:
Calculate your route with trip planning tools
The STM trip planning tool and the Exo trip planning tool are online resources that can calculate your optimal transit routes.
Montreal transit fares: Best ways to pay
How much is transit in Montreal?
As of July 2023, a single trip fare costs $3.75 CAD. You can buy passes for shorter durations such as a single trip or a three-day trip, or save money by purchasing longer durations. Monthly passes currently cost about $97 CAD per month. See full, current fare information on the STM site. 
Where can I buy a Montreal transit pass?
Passes can be purchased at kiosks in metro stations or from a fare collector. Bus fare can also be paid in cash and can be paid upon entering the bus at the driver's door. 
TRAM fares can be purchased to cover Exo train, Metro, and bus travel in one combined pass, which can be loaded onto an OPUS card. TRAIN fares only cover travel on the Exo commuter train network.
How to use an OPUS card
The most common way to pay on Montreal transit is with an OPUS card, which can be purchased at fare collectors or vending machines in any metro station. You can load your OPUS card with any of the above fare options. OPUS cards can be purchased for $6.00 CAD, and are valid for one rider each. OPUS cards can be reloaded online or at kiosks throughout metro stations. It is advisable to register your OPUS card to protect the balance against theft or loss.
OPUS cards are used by tapping the card on card reader machines upon entering and exiting metro stations, which will show validation with a green or yellow light and an audible beep.
Tip: Your fares are calculated based on how far you travel, so be sure to always tap in and out at the appropriate times to avoid being overcharged.
Getting a transfer
With any type of fare, you can transfer between metro and bus lines without paying for a second ticket. You have 120 minutes to use this transfer. If you pay in change on the bus, you can get a paper transfer from the driver. If you have an OPUS card, it will be immediately calculated on your card. 
Reduced fare: Students and seniors
Students of all ages (elementary to post-secondary) that study in a registered school can receive reduced fares on transit with a photo-identified OPUS card. Seniors over the age of 65 are also eligible for a reduced fare with a photo-identified OPUS card.
Tip: You can get your photo-identified OPUS card at an STM Customer service centre or the STM photo studio. Bring your filled out Photo OPUS card application form, $15 CAD cash for the photo card fee, and a valid photo identification such as a passport or driver's license.
Car sharing in Montreal with your OPUS card
The province of Quebec is one of the oldest users of car-sharing services. OPUS card packages can be purchased from Communauto, the carsharing company in Montreal, to integrate your metro, bus, and carshare use into one card. Your OPUS card can then be used to unlock a Communauto vehicle, whenever you need it. You can use the Communauto app to find nearby vehicles and Communauto parking spaces. 
Tip: Communauto cars can be reserved for the time and date that you need them, and picked up at your local Communauto station. Montreal also has a one-way FLEX option, where you reserve your car on the Communauto app up to 30 minutes ahead of time to ensure you have time to get to it.
Cycling and transit: Can you bring your bike on the metro or bus?
Combining cycling and public transit is a great way to cut down on your energy emissions, get exercise, and travel far distances, all while saving money that you might have spent on vehicle costs. You can bring your bicycle on the metro at non-peak times in the front car of the metro. See the metro bicycle safety rules for more information. Some metro stations are even equipped with bicycle slides to easily bring your bike down to the metro. Bike parking is also available at most stations to safely store your bike while you ride.
Bike racks can be found on the front of buses used in Montreal so that you can bring your bike along to ride to your next destination. Instruction for loading your bicycle onto the front rack of the bus can be found on the STM site.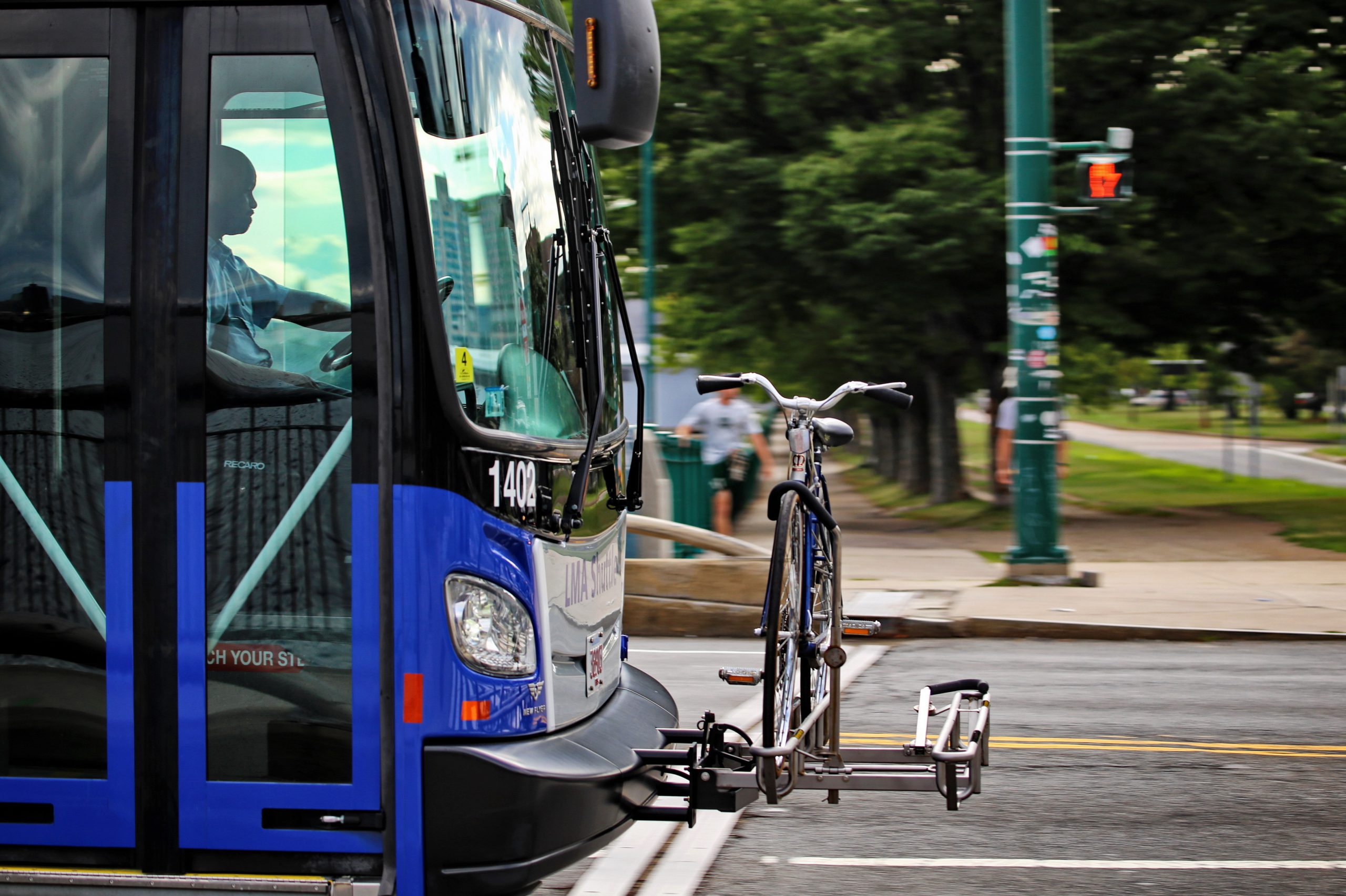 Bike share
Montreal is a cycling-friendly city for commuters and explorers alike. If you don't own your own bike, you can use Bixi Bike Share to rent bikes by single ride ($1.25 CAD+ per minute fee), a monthly pass ($20 CAD), or a full year pass ($99 CAD). Bike Share stations are located across the city and close to metro stations for your riding convenience. 
Using public transportation in Montreal is a common way to travel around the city due to its convenience and simplicity. The integration of the metro, buses, trains and more, plus car share and bike share services, make using transit a flexible option that fits newcomers' needs. By taking transit in Montreal instead of driving, riders can also feel good about reducing their vehicle emissions and saving a large amount of money on vehicle costs.