The province of Quebec is culturally distinct as the only Canadian province that is primarily French-speaking. Its unique blend of European and Canadian influence has developed along the prosperous St. Lawrence river basin, making Quebec an economically and culturally rich province. Quebecers are intensely proud of their beautiful province and French Canadian culture, and it is easy to see why.
With Canada's ten provinces and three territories available to choose from, newcomers have many options when searching for a new home in Canada. Within each province and territory, there are unique opportunities for career, lifestyle, and family life to satisfy your needs as a newcomer.
This spotlight on Quebec is a part of our provincial spotlight blog series, which explores each of Canada's provinces and territories' special cultures, economies and job markets, newcomer communities and resources, and distinct natural landscapes of each region.
Tip: For more information on becoming a permanent resident, refer to Provincial Nominee Programs (PNP): Moving to Canada as a permanent resident (PR) and Express Entry: Moving to Canada as a permanent resident (PR).
Quebec: Geography for newcomers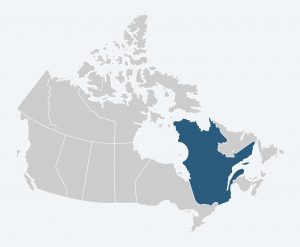 The province of Quebec is located in northeastern Canada. The majority of the population of Quebec inhabits the southern regions of the province where temperatures are warmer, the St. Lawrence River provides water and rich land, and residents are in close proximity to other populated areas in Ontario, the Atlantic provinces of Newfoundland and Labrador, Prince Edward Island, New Brunswick, and Nova Scotia, and the United States.
Quebec's climate can be extreme; summers are often hot and humid, with temperatures moving over 30 degrees Celsius. Between November and March, winters can be very cold and snowy all over Quebec, but especially so in northern regions. Quebec receives precipitation in the form of rain or snow all year round.
Tip: Newcomers should invest in weather-appropriate clothing and gear for rain, snow, and cold weather. A good quality winter jacket can be more costly ($150-200 CAD), but staying warm and dry on your morning commute or ski trip is worth the cost. Winter coats and gear often go on sale in the summer offseason. Start with these outerwear retailers to find outdoor gear for all seasons:
Major centres and smaller communities in Quebec
Quebec's capital city has the same name, Quebec. It is differentiated from the province by the denomination Quebec City, or in French, Ville de Quebec. Quebec City is home to over 700,000, mostly French-speaking residents in both the historic Old Quebec and modern neighbourhoods and suburbs of the city. Old Quebec is a UNESCO heritage site, with charming cobbled streets, fortified walls, and the iconic Chateau Frontenac towering above the city. As one of the birthplaces of francophone culture in North America, there is much to experience in Quebec city that cannot be found anywhere else in Canada.
The province's largest city is Montreal, located downstream of Quebec City on the St. Lawrence River and nearby to many other major Canadian and American cities. Montreal and the surrounding area is home to over 4 million residents, many of whom speak both French and English. Montreal's strategic location on the St. Lawrence produced significant economic and political power in the city, which historically drew settlers from all over the world. Today, vibrant Montreal is one of the most charismatic and culturally rich cities in Canada and attracts a large portion of the 50,000 newcomers that arrive in Quebec each year.
"Montreal has great parks and cycling lanes within the city. Mount Royal and the Lachine Canal are my favourite spots. Montreal is also very affordable compared to other big cities. "
– Chantal, Montreal resident
Quebec is the largest province in Canada by area, so there are many communities that newcomers may choose to settle in. Quebec's 17 regions vary in landscape, climate, and population, and provide very different opportunities for newcomers. French-speaking individuals who desire an urban setting outside of Quebec City and Montreal may be interested in exploring the city of Laval in the Laval region, or Trois-Rivieres in the Mauricie region. Areas in the Laurentides, the Estrie region, or the Gaspésie-Îles-de-la-Madeleine region have more opportunity for resource-based work like farming, fishing, or mining. Research these areas to find the community with the right balance for your lifestyle and career needs.
Tip: Rural areas or smaller communities have more space and sometimes a more relaxed pace of life, but they also have a different set of challenges compared to settling in a large city. Learn about the advantages and challenges of settling in a smaller Canadian city when deciding where to settle in Quebec.
Quebecois culture: History, language, and celebration
History of Quebec: Aboriginals, European settlers, and the fur trade
The area of Quebec was first inhabited by aboriginal groups, including the Algonquin, the Eskimo-Aleut, and the Iroquoian for thousands of years. Today, the eleven indigenous groups of Quebec have an enduring community and presence through art, food, music, language, and more. Attending a Pow-Wow is an interesting way to experience aboriginal culture through music and dance.
Samuel de Champlain and other French explorers then settled in this land and claimed it for France, kickstarting the highly influential North American fur trade across Canada. The province's strategic and central location along the St. Lawrence River allowed it to become a political and economic stronghold that was highly contested between British and French settler groups. Eventually, the British took the land over from the French, designating it Upper Canada, and allotted it to the French-speaking population. The province joined the Canadian Confederation as Quebec in 1867. This history influenced the distinct French Canadian culture the province enjoys today.
French language in Quebec
Quebec is the only province in Canada where the primary language is French, rather than English. Almost half the province's population is bilingual, speaking both of Canada's official languages of French and English. French language and culture is protected in Quebec, as it is a source of identity and pride for Quebecers whose French ancestors settled this land centuries ago. The province's flag features four fleur-de-lis on a deep royal blue background — symbolic of ties to old French royalty and showcasing the province's attachment to the French culture. 
"Many folks enjoy Quebec for the French language, European flair, and more liberal views."
– Chantal, Montreal resident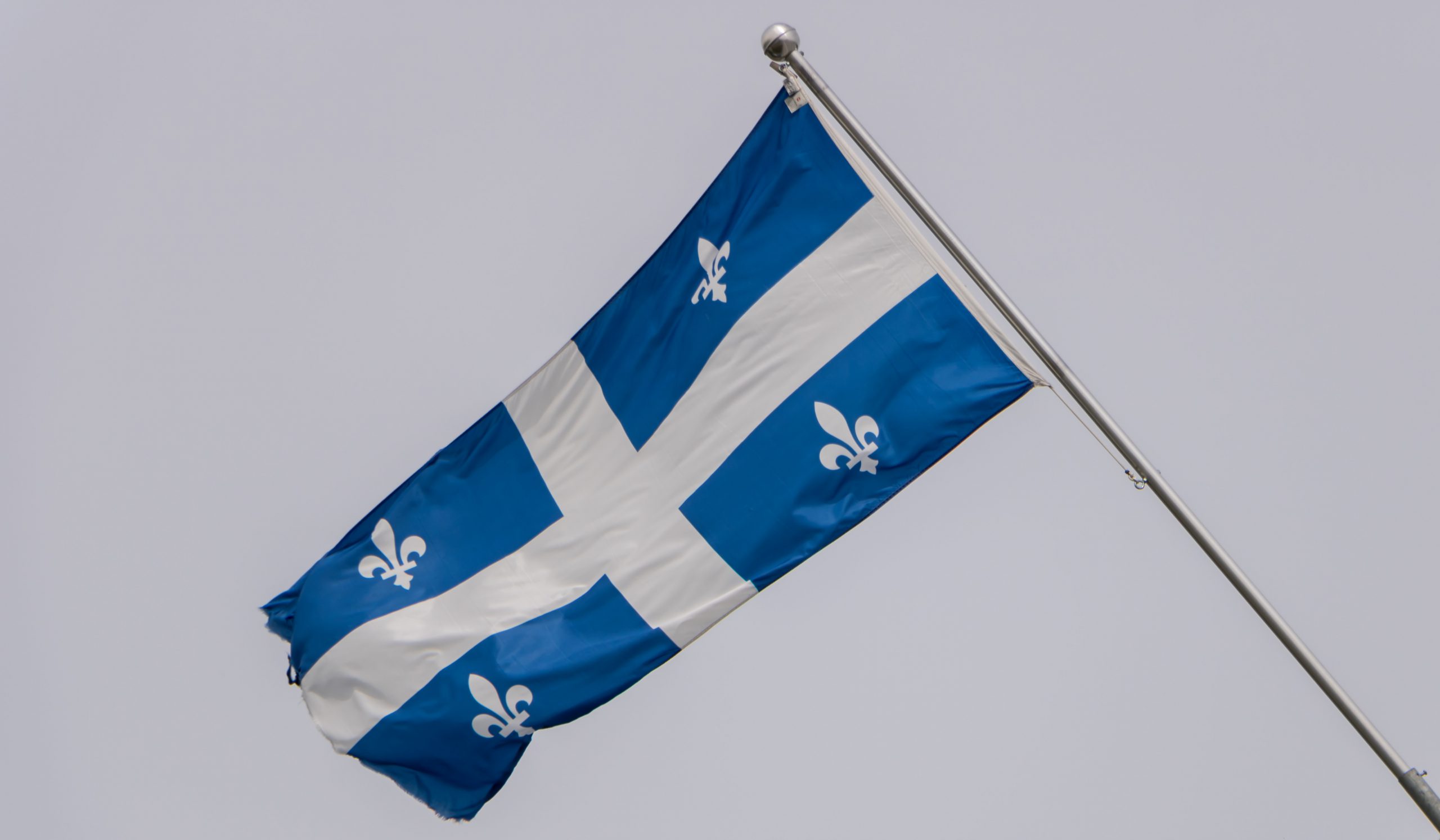 Tip: It is not uncommon to speak English in Quebec, but it is both respectful to the culture and valuable for communication if you do attempt to learn some French. French language learning programs are available for newcomers free of charge. Classes are available for all levels in part-time, full-time, and online options. Take the online self-assessment language test before arriving in Canada to determine your current level of French.
Festivities in Quebec: Celebrating Quebecois culture
Festivals and parties are an important part of experiencing the joie de vivre of Quebec. Winters get cold in Quebec, so Quebecers put on the winter festival Carnaval du Quebec, a week of snowy fun in Quebec City each February, to stay warm and joyful. The festival's mascot, the snowman Bonhomme, is a beloved Quebecois figure that leads the daily Carnaval Parades through the city.
Quebec is also home to high-profile international events, like the largest international comedy festival, Just for Laughs, as well as the largest jazz festival in the world, Jazz Fest. Cirque du Soleil, the world-touring gymnastics and circus spectacle, is another Quebec creation. Many more music, food, and art festivals hit cities throughout Quebec during the year, so there is always a celebration.
Exploring nature in Quebec
Quebec is quite a large province, so there is plenty of room to explore through any season. Quebec has some of the best skiing in Eastern Canada, as the province receives ample snow. Most ski hills in Quebec are just a short drive or shuttle ride from the major cities of southern Quebec. Other winter activities include snowboarding, snowshoeing, and skating or playing hockey on a neighbourhood rink.
Summers in Quebec can be spent searching for some of its one million lakes to swim, canoe, and kayak in, or set up a campsite beside. Lake Memphremagog is a large and popular choice for boaters and swimmers. Quebec's provincial and national parks provide an opportunity to get close to nature, whether that be a waterfall in the Parc de la Chute-Montmorency by Old Quebec, or a bird sanctuary and scuba diving at Île-Bonaventure-et-du-Rocher-Percé. 
Working in Quebec: Industries and tips for finding employment
Biggest industries in Quebec
Since the time of the fur trade, Quebec's economy has been resourced-based. The fertile land around the St. Lawrence river produces a large portion of Canada's agriculture, and fisheries, forestry and pulp production, and hydroelectricity are all significant contributors to Quebec's economy. Freshwater is abundant in this area for drinking, electricity, and types of mining and manufacturing. 
Beyond resource-based industries, Quebec has other strong prospects. As a part of the manufacturing heart of North America, Quebec performs one-quarter of all manufacturing in Canada. As Montreal is a financial hub of the province and of Canada, many businesses, finance, and transportation companies have headquarters in Montreal, providing plenty of job opportunities in these fields. 
5 tips for finding employment in Quebec
Work on your French:

Individuals seeking work in Quebec will gain a large advantage in their job search by speaking French either partially or fluently. 

Use the Quebec labour market search tool:

 To find labour market information relevant to jobs in your field in Quebec, the province provides a

labour market search tool

. This tool includes explanations of job duties, salaries, qualifications, and regional demand for over 500 professions in the province. 

Explore student resources

: Post-secondary institutions often have programs designed to match their students with a job in Quebec. Ask your school's advising department for more information. The province also provides a

student job search tool

.

Read Quebec's job search guide:

Quebec's

job search guide

provides many more basic and advanced job search tips specific to the province.

Build a professional network in Quebec:

Many job offers are never posted on the visible job market, with employers instead filling the spot through personal connections. Reaching out to friends and family in Quebec, or digitally connecting with Quebec professionals through LinkedIn or Arrive is a good way to get your foot in the door.
Tip: The Government of Canada Job Bank also offers an online job trend analysis with estimates of job availability, wage, and educational requirements based on position and region. Test out these tools by searching your current and/or ideal occupations and location of Canada to gain insight on current career prospects.
How to immigrate to Quebec
Quebec's provincial immigration process is slightly different from other provinces. Quebec has an agreement with the Canadian government that the province can specifically choose newcomers who they believe will adapt well to living there. The province will offer you a Quebec Selection Certificate (Certificat de sélection du Québec) if they find you to be the right fit. Then, you will be able to apply for permanent residency with the Canadian government.
Provincial immigration programs in Quebec
Quebec's multiple immigration programs are designed to accelerate the immigration process for newcomers that fit the employment needs of the province:
1. Permanent workers
The Regular Skilled Worker Program is intended for individuals who intend to work permanently in Quebec. Workers can submit an expression of interest and the province of Quebec will invite those they feel are most qualified to fill employment gaps.
2. Businesspeople 
Individuals who wish to immigrate to Quebec to start or purchase a business can apply through Quebec's business immigration programs:
3. Temporary workers
Individuals pursuing temporary work in Quebec must obtain authorization from the provincial government under the Temporary Foreign Worker Program. It is recommended by the province to have confirmation of employment and authorization before making travel plans to come to Quebec.
4. Foreign students
Individuals wishing to study in Quebec must be enrolled in a designated post-secondary institution. Quebec has a strong population of international students, especially at larger research institutions like McGill, Laval, and Concordia. 
Tip: To move to Canada as an international student, see our article on how to obtain a student permit.
5. Family reunification
The Quebec Immigration department regularly updates wait time information on family reunification immigration.
Tips:
If you do not qualify for any of the above programs, you may be able to come to Quebec through a federal immigration program instead. Refer to the list of other immigration options to find the best fit for your personal needs in your journey to Canada.

Be sure to thoroughly research all of your Canadian immigration options on the Government of Canada website or speak with an authorized immigration consultant before applying.
Resources for newcomers in Quebec
There are many groups dedicated to the support and understanding of the newcomer journey in Quebec. Here are some great newcomer resources to help you get started:
Tip: Calling the phone number 211 or visiting Quebec's 211 website can give you immediate newcomer resources in over 200 languages.
Grocery shopping in Quebec
There are many options for affordable food shopping in the province of Quebec. Once you figure out which neighbourhood and city you plan to live in, take a quick look on Google Maps to find grocery stores near you that fit your price range and food preferences. Ask neighbours and new connections where they like to grocery shop to find hidden gems in your city.
Chain grocery stores usually offer a wide choice and consistent service for low prices. To get you started, here are some well-known grocery retail chains that typically carry internationally-sourced products:
IGA

Provigo

Metro

PA

Super C

Marché Adonis (specializes in Mediterranean cuisine)

Oriental Market St. Denis (Montreal, specializes in Asian cuisine)

Costco (specializes in bulk items)
Tip: Grocery store chains typically have loyalty-points systems to reward regular customers with free or discounted items. If you find yourself always shopping at the same grocery store, ask to be signed up for their loyalty program to start earning redeemable points.
Specialty and ethnic foods can be easy to find in Quebec if you know where to look. Bigger cities with large newcomer populations typically have the most selection of international foods and goods, in the neighbourhoods where newcomers tend to settle. In Montreal, there are large Italian and Algerian populations in the district of Saint-Leonard, many people of Lebanese, Moroccan, and Chinese descent in the Saint-Laurent District, and many individuals of Haitian descent in Montreal-Nord.
"Supermarkets in Montreal like PA and Super C are great for variety and low-cost foods. I also enjoy heading out to local markets often. Jean-Talon is my favourite market spot to find local farmers and producers."
– Chantal, Montreal resident
Public markets are one of the best places to look for fresh ingredients grown locally or specially imported foods. Public markets can be a fun way to get to know your community and taste great food. See these famous local markets in Quebec and Montreal:
Montreal
Jean-Talon market

Atwater market

Maisonneuve market
Quebec City
Public Market Sainte-Foy

The New Grand Market
Transportation options: How do you get around in Quebec?
Quebec's public transportation is an efficient way to move around your city. Most communities have some form of bus or subway transportation. Monthly passes in large cities with extensive transport systems like Quebec City and Montreal can be over $90 CAD per month, but usually cost less in smaller communities as well as being discounted for children, students, and seniors.
Cycling is very popular in Quebec, adding to the European feeling and charm of some cities. Consider cycling to commute – instead of driving or taking transit – to add some exercise and get to know your city well. Knowing Quebec's bicycle safety code is vital before getting on the road.
If you plan to live in northern or rural Quebec, or you do not plan to ride public transportation, consider renting, leasing, or purchasing a motor vehicle. The Government of Canada outlines the pros and cons of purchasing or leasing a vehicle as a newcomer in any region. Vehicle costs add up quickly, so it is important to include this plan in your budget for your first few months in Canada.
Tip: Try calculating your planned routes in between your home, your place of employment, homes of friends and family, and other significant locations like the grocery store or bank on Google Maps. You will be able to judge the length and congestion of your route at peak rush hour (7-9 a.m., 4-7 p.m.) to give you an idea of your future transportation needs.
Quebec's unique French-Canadian character and pride make it a very special place for newcomers to make a home in. Beautiful European-inspired cities lay close by to rivers and lakes for newcomers to easily take in everything Quebec has to offer. For French-speaking newcomers, Quebec may be a natural choice. However, the province has much to offer newcomers who don't speak French with the curiosity to learn about Quebecois culture and the work ethic to succeed in a new job and lifestyle in Canada.