Canada has ten provinces and three territories – providing many options for newcomers to work, thrive, and find their own community. Just like each newcomer, each province and territory has its own unique identity and culture and seeks out newcomers who will fulfill their individual needs. 
The provincial spotlight blog series will present each province and territory, highlighting their special histories and cultures, plus primary industries, job demand, newcomer communities and resources, and distinct immigration stream policies. 
The Canadian province of Newfoundland and Labrador (NL) is the largest of the Atlantic provinces. As the first landing point for Vikings and European explorers, the history of this province is significant to the world as a place of economic development and cultural meeting. The name Newfoundland can be split into "New-found-land," a moniker for the newly discovered land, also known as Terra Nova, given by explorers who uncovered plentiful resources in the province. Discover how you fit into this province's story; a story started thousands of years ago with its indigenous peoples, that continues to be written by its friendly, hardworking locals and adventurous newcomers today.
Tip: You can refer to Provincial Nominee Programs (PNP): Moving to Canada as a permanent resident (PR) and Express Entry: Moving to Canada as a permanent resident (PR) for more information on how to become a permanent resident. 
Location, climate, and demographics: Newfoundland and Labrador basics for newcomers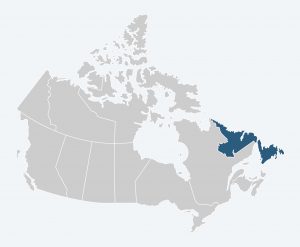 Newfoundland and Labrador is the easternmost province in Canada. It is made up of two areas: the larger mainland region of Labrador and the island region of Newfoundland. The province of Newfoundland and Labrador has 29, 000 kilometres of coastline on the Atlantic Ocean.
NL has a temperate, marine climate. As an island, Newfoundland's temperatures stay mild year-round. The average summer temperature is around 16 degrees Celsius, and hovers around zero degrees Celsius in the winters. Mainland Labrador is northern, and can get much colder in the winter, but receives warm temperatures up to 25 degrees Celsius in summer. Check the weather in NL at any time through Environment Canada.
Tip: Be prepared for the weather in your region with appropriate gear. If you want to live on the coast of Newfoundland and Labrador, get equipped for high precipitation levels by purchasing light and adaptable rain gear like rain jackets, umbrellas, and waterproof boots or shoes. To prepare for chilly Newfoundland and Labrador winters, look at purchasing a winter jacket (around $100 CAD) to stay warm in the colder months. Here are some outerwear retailers to help you get started:
Regional populations of Newfoundland and Labrador
The province of Newfoundland and Labrador has a population of over 520, 000, with most residents living in the capital, historic St. John's (spelt differently than the city of Saint John, New Brunswick). The city of St. John's is on the island of Newfoundland, and hosts a population of over 200, 000 in the city and its surrounding area. 
Other urban centres in Newfoundland and Labrador are smaller than St. John's, but provide welcoming communities for newcomers with friendly locals and unique small-town character. Consider these centres if you crave a relaxed, small-town lifestyle in Newfoundland and Labrador:
| Municipality | Population |
| --- | --- |
| Corner Brook | 19,806 |
| Gander | 11,688 |
| Grand Falls-Windsor | 14,171 |
| Happy Valley-Goose Bay | 8,109 |
| Labrador City | 7,220 |

Source: Newfoundland and Labrador Provincial Government
Tip:  The cities and towns in Newfoundland and Labrador are relatively small, compared to other cities in Canada and around the world. Consider the advantages and challenges of settling in a smaller Canadian city when exploring your career and lifestyle options as a newcomer.
Around 70 per cent of all newcomers to Newfoundland and Labrador choose to settle in the capital of St. John's. The top countries of origin for immigrants to Newfoundland, according to the province's immigration plan in 2015, were:
The Philippines

Syria

China

India

Eritrea

Sudan

UK

Iraq

US

Nigeria
Languages spoken in Newfoundland and Labrador
The primary language of Newfoundland and Labrador is English. Few other languages are spoken widely in the province due to its smaller population size. Newfoundland and Labrador is known for having a wide variety of English dialects – more than anywhere else in the world. Newfoundlander- and Labradorian-speak can be difficult to understand at first as a newcomer but the unique sayings, traditions, and accents are what make this corner of the world special to all who visit and live here.
Tip: If you are interested in improving your English, consider a course through a post-secondary institution to receive high-quality instruction in English as a Second Language. Take the Government of Canada's online self-assessment language test before arriving in Canada. Get started with these English courses:
Economic strengths and growing sectors in Newfoundland and Labrador
The economy of Newfoundland and Labrador is deeply tied to its colonial and indigenous histories. Europeans first came to the land looking for economic expansion, and found a land rich in natural resources, especially the exceptional fishing off the province's Atlantic coast. The fisheries of Newfoundland and Labrador became the area's most important source of income throughout the nineteenth century. The province's economic and cultural identity is still rooted in fisheries and fishing practices to this day.
In modern times, the oil and natural gas industry is the largest contributor to the Gross Domestic Product (GDP) of Newfoundland and Labrador. The largest industries are based in the extraction and processing of natural resources, but business and construction are steadily growing:
Mining

Manufacturing

Fisheries and aquaculture

Forestry (and subsequent creation of newsprint)

Agrifoods

Construction

Real estate

Tourism
The Newfoundland and Labrador job market
Employment rate and in-demand professions
The employment rate in Newfoundland and Labrador in early 2020 was 92.2 per cent. Many resource-based positions are seasonal, which means that this number can fluctuate throughout the year. However, the average number of weeks worked per year in Newfoundland and Labrador is increasing. Occupations within these growing sectors will make up 91.1 per cent of new job openings up to the end of 2020:
Processing, manufacturing, and utilities

Sales and service occupations

Management
Typically, around 50 per cent of newcomers to Newfoundland and Labrador take jobs in highly skilled occupations in the areas of social science, education, and government service; healthcare; natural and applied sciences; and management.
Tip: The Government of Canada Job Bank offers an online job trend analysis with estimates of job availability, wage, and educational requirements based on position and region. Test out the tool by searching your current and/or ideal occupations and region of Canada to gain insight on current career prospects.
The Newfoundland and Labrador Provincial Nominee Program (NLPNP)
The NLPNP supports skilled newcomers to Canada by nominating up to 1050 individuals to gain permanent residency in Newfoundland and Labrador. There are five streams of the NLPNP to suit your individual skills, education, and occupation:
For further reference, consult the Newfoundland and Labrador Immigration FAQ for answers to commonly asked NLPNP questions. 
Tip:
If you do not qualify for any of the above NLPNPs, you may be able to come to Newfoundland and Labrador through a federal immigration program instead. Refer to the list of other immigration options to find the best fit for your personal needs in your journey to Canada.
The Atlantic Immigration Pilot
The Atlantic Immigration Pilot (AIP) is a partnership between the Government of Canada and the four Atlantic provinces (Newfoundland and Labrador, Nova Scotia, New Brunswick, and Prince Edward Island) to fill jobs that cannot be filled locally. You must have a job offer from the list of eligible employers to apply for the AIP.
Tips:
See Newfoundland and Labrador's immigration guides, Immigration 101 and Working and Staying in Atlantic Canada: An International Student's Guide, for extra immigration program information. 

Be sure to thoroughly research all of your Canadian immigration options on the Government of Canada website or speak with an authorized immigration consultant before applying.
Cultural snapshot: What makes Newfoundland and Labrador special for newcomers?
Cultural identity in Newfoundland and Labrador
Newfoundland and Labrador is known for its uniquely Canadian blend of English, Irish, French, and Indigenous heritage. Indigenous groups lived on this fruitful but challenging landscape for thousands of years before the first European contact, and their presence is an important part of Newfoundland and Labrador culture to this day. The region is also famous for being an exploration site of the Vikings at the beginning of the last millennium, hundreds of years before the famous explorer, John Cabot, docked here in 1497. Newfoundland and Labrador has been a welcoming area to newcomers from the 1500s and onwards. First, as a settling place for French and English colonies, and now for individuals and families from all over the world.
The residents of Newfoundland and Labrador have a reputation for being some of the friendliest and most hospitable folks in the country, as well as having a unique and charming sense of humour. Whether you are just visiting, or a newcomer making the province your permanent home, you will feel welcomed by Newfoundlanders and Labradorians alike. This friendliness is illustrated in the musical "Come From Away," based on the real-life story of Newfoundland's incredible hospitality to international travellers during 9/11. As international planes were diverted from the United States to the airport of the small town of Gander, residents of Gander and other nearby towns welcomed travellers into their homes, displaying an important act of kindness when it was needed most. To this day, residents of the province continue to welcome newcomers, who are also sometimes called "Come From Aways"; just one of many funny turn-of-phrase used by locals of Newfoundland and Labrador. 
Festivals are prevalent in Newfoundland and Labrador, as the friendly residents enjoy celebrating everything from blueberries, to folk music, to Shakespeare. In the summer, St. John's hosts an eleven-day stretch of festivals including the Royal St. John's Regatta. These events are welcoming to everyone and can be a fun way for newcomers to get acquainted with the community.
St. John's is one of the oldest cities in North America, established in the early sixteenth century, and its incredible historical sites give the city a distinct character. There are many natural and manmade sites in Newfoundland and Labrador worth visiting, for newcomers interested in the rich history of this province:
Red Bay

: Whaling town where the Basques first produced whale oil
Signal Hill

: Sweeping view and location of WW2 harbour defences
Exploring Newfoundland and Labrador
Newfoundland and Labrador's northern coastal position has special natural features that can be found in few other livable places in the world. Exploring the natural wonders of the province can be as easy as taking a hike by the sea, or as sublime as watching giant icebergs and whales from the shore. 
Iceberg viewing and whale watching are spectacular ways to view nature in action, onshore or by boat, in Newfoundland and Labrador. Iceberg viewing is possible from April to August, as temperatures rise and large pieces of glaciers break off and begin to travel past the shores of Newfoundland and Labrador. Just 300 kilometres off the coast, one of these icebergs caused the sinking of the famous Titanic ship in 1912. As many as 22 different species of whales can also be seen during this time, as they migrate to feed along the kelp-rich coastline.
Camping, hiking, and wildlife viewing are ideal in the province's seaside and inland provincial parks. For camping in Newfoundland and Labrador, be sure to book your spot ahead of time, as it is a popular pastime among locals and visitors alike. Keep an eye on the sky for rare bird species – Newfoundland and Labrador is one of the top bird-watching areas of the world.
Due to its rich fishing history, fishing is still one of the most popular ways to explore the province, spend time near the sea, and catch dinner! Individuals of any fishing level, novice to pro, can find enjoyment in a relaxing day of fishing out on the ocean, or one of Newfoundland and Labrador's great fishing lakes and rivers.
How to study in Newfoundland and Labrador as an international student
Newfoundland and Labrador has two universities: the Memorial University of Newfoundland in St. John's and the College of the North Atlantic based in Stephenville, which has 17 campuses in towns across the province. Both institutions strongly value international students for the fresh perspectives and diverse culture they bring to campus; in fact, Memorial University of Newfoundland's student body is made up of one-third international students.
Tip: Obtaining a student work permit as an international student to gain work experience in Canada while you study may improve your chances of becoming a Permanent Resident after you graduate. To move to Canada as an international student, see our article on how to obtain a student permit.
Newfoundland and Labrador: Tips and resources for newcomers
Making connections with resources and organizations meant for newcomers can shape your experience in a positive way, by providing guidance and connection with your community. Here are some relevant resources for newcomers to help you get started:
Province-Wide Resources
Cultural Associations
Where to buy groceries in Newfoundland and Labrador?
There are many options for affordable food shopping in the province of Newfoundland and Labrador. Once you figure out which neighbourhood and city you plan to live in, take a quick look on Google Maps to find grocery stores near you that fit your price range and food preferences. Ask neighbours and new connections where they like to grocery shop to find hidden gems in your city.
Chain grocery stores usually offer a wide choice and consistent service for low prices. To get you started, here are some well-known grocery retail chains that typically carry internationally-sourced products:
Sobeys

Coleman's

Dominion Stores

Costco (specializes in bulk items)
Tip: Grocery store chains typically have loyalty-points systems to reward regular customers with free or discounted items. If you find yourself always shopping at the same grocery store, ask to be signed up for their loyalty program to start earning redeemable points.
Fresh, seasonal farmer's markets are one of the best ways to get to know your community, and a fun Saturday morning activity with family while picking up some produce. The St. John's farmer's market is the largest in the province, but many communities host weekly markets throughout the summer and fall months.
Transportation options: How do you get around in Newfoundland and Labrador?
When considering your budget as a newcomer, transportation can be one of the most significant costs to prepare for. The Metrobus is the public transit system that services the city of St. John's and the surrounding area. Passes, known as M-cards, can be purchased monthly or by semester for students. The Metrobus system has free wifi for transit riders. 
Smaller communities outside of St. John's do not have official public transit systems, so most locals use personal vehicles. Prepare for the possibility of needing to rent, lease or buy a car for personal transportation. The Government of Canada outlines the pros and cons of purchasing or leasing a vehicle as a newcomer in any region. Cycling is encouraged by the province to increase physical activity and cut down on pollution. See Bike St. John's to learn the province's cycling regulations and discover the best routes for commuting and exploring on your bike.
Tip: When choosing a possible house or apartment as a newcomer, test out multiple travel routes on an online route calculator that displays public transit and driving options like Google Maps. Try calculating your routes in between your home, your place of employment, homes of friends and family, and other significant locations like the grocery store or bank. Consider the length and congestion of your route at peak rush hour (7-9 a.m., 4-7 p.m.) to give you an idea of your future transportation needs.
The province of Newfoundland and Labrador has welcomed newcomers for centuries from across the world. Everyone can enjoy the festivals, nature, and history that can be found in every corner of the province. The contributions of newcomers will continue to shape the culture and economy of Newfoundland and Labrador, and the province holds incredible opportunities for those who are willing to work hard and bring something new to its multicultural fabric.