Canada has ten provinces and three territories – providing many options for newcomers to work, thrive, and find their own community. Just like each newcomer, each province and territory has its own unique identity and culture and seeks out newcomers who will fulfill their individual needs. 
The provincial spotlight blog series will present each province and territory, highlighting their special histories and cultures, plus primary industries, job demand, newcomer communities and resources, and distinct immigration stream policies. 
The maritime province of New Brunswick has historical and cultural roots in every corner of the world. As one of the first homes of European settlers in North America, and far before that, the home of many indigenous groups, the multicultural makeup of New Brunswick is constantly changing and growing. Discover the close-knit communities, cultural groups, employment opportunities, and ocean-side natural spaces that New Brunswickers call home, and pick up some tips for newcomers along the way to assist you in your journey to living in Canada.
Tip: You can refer to Provincial Nominee Programs (PNP): Moving to Canada as a permanent resident (PR) and Express Entry: Moving to Canada as a permanent resident (PR) for more information on how to become a permanent resident.
Location, climate, and demographics: New Brunswick basics for newcomers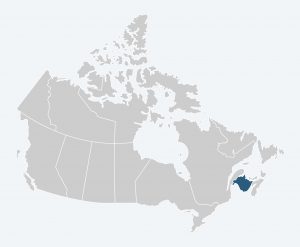 New Brunswick is one of Canada's three maritime provinces, a group of three smaller coastal provinces in Atlantic Canada. New Brunswick is the largest maritime province; it is connected with the province of Prince Edward Island by bridge, and neighbours the province of Nova Scotia by sea. New Brunswick also sits just south of Quebec's Gaspé Peninsula and borders the U.S. state of Maine to the West. 
New Brunswick's climate offers cold winters from continental winds blowing from inland Canada, and warm, pleasant summers reaching 20-30 degrees Celsius. Coastal areas of New Brunswick tend to receive higher levels of precipitation and more temperate weather, while the interior of the province is dry and experiences more extreme temperatures. 
Tip: Be prepared for the weather in your region with appropriate gear. If you want to live on the coast of New Brunswick, get equipped for high precipitation levels by purchasing light and adaptable rain gear like rain jackets, umbrellas, and waterproof boots or shoes. To prepare for chilly New Brunswick winters, look at purchasing a winter jacket (around $100 CAD) to stay warm in the colder months. Here are some outerwear retailers to help you get started:
Regional populations of New Brunswick
The province of New Brunswick has a small land area compared to large provinces like Ontario or Quebec, but is home to a population of almost 800,000 people according to the Canadian 2016 Census. New Brunswick has many charming villages and towns in addition to these eight major municipalities:
Fredericton is the capital city of New Brunswick, with a population of about 60,000. The southern city of Saint John also has a population of about 60,000, and the largest city is Moncton, in the southwest of New Brunswick, with over 110,000 residents (not including the nearby City of Dieppe). 
According to the Canadian 2016 Census, newcomers make up approximately 5% of New Brunswick's population. The province of New Brunswick credits its appeal to newcomers to its relaxed and affordable lifestyle, healthcare and education systems, and close proximity to the ocean and nature spaces. 
The most common countries of origin for newcomers in New Brunswick are the United States and the United Kingdom. However, in recent years, more individuals and families have made the choice to immigrate to New Brunswick from countries such as China, Germany, South Korea, the Philippines, and Syria.
Languages spoken in New Brunswick
New Brunswick is the only officially bilingual province in Canada, with many residents and newcomers speaking both English and French. Though Canada declares both, English and French, to be official languages across the country, and requires all federal communication to be provided in both languages, provinces have the ability to choose their own official functioning language(s). 
The province of Quebec is the only other province that recognizes French as an official language. However, Quebec does not recognize English as an official language, as New Brunswick does.
In a report from the Office of the Commissioner of Official Languages, it was found that French-speaking newcomers to New Brunswick come from all different parts of the world: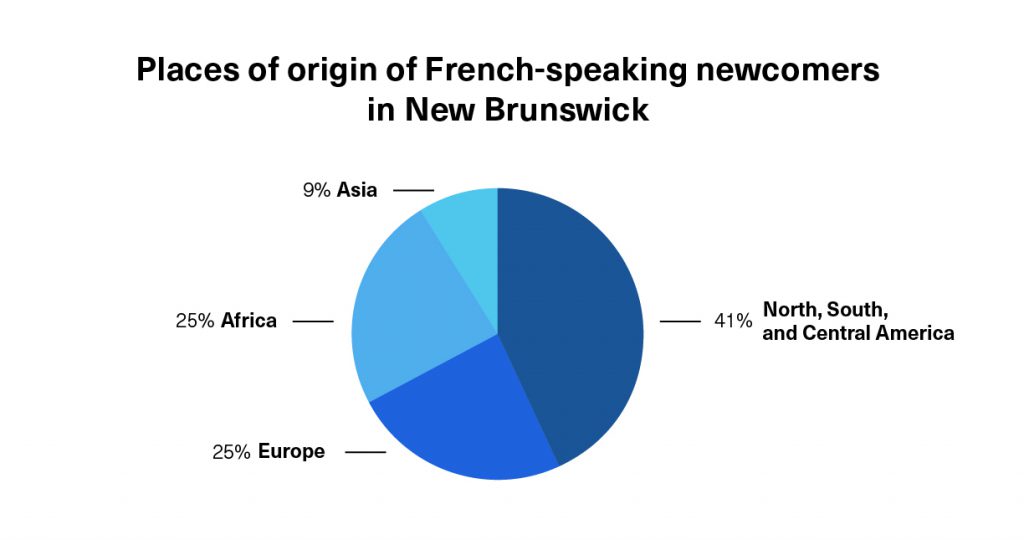 Tip: If you are interested in improving your English or French, reach out to adult language programming run by organizations in your region. Take the Government of Canada's online self-assessment language test in either English or French before arriving in Canada. Get started with these English and French language resources:

YWCA English Conversation Circles for women
New Brunswick's economic strengths and growing sectors
New Brunswick has a diverse economy that strikes a balance between the resource-based industries like forestry, mining, fishing, and agriculture, and the service-based industries of tourism, manufacturing, and information technology. OpportunitiesNB, a business agency of the New Brunswick government, recognizes these sectors with high potential to grow in New Brunswick's economic environment:
Cybersecurity

Financial services & fintech

Cannabis research

Manufacturing

Information technology

Business service centres

Food & beverage
The city of Moncton, and its surrounding area, is the biggest economic centre of the province and may provide more immediate job opportunities. However, other cities and villages in the province, like the capital of Fredericton, have strong work and life prospects for all newcomers with all different kinds of goals. 
Tip: The urban centres in New Brunswick have relatively small populations compared to other cities in Canada and around the world, which can present both unique opportunities and unexpected obstacles. Consider the advantages and challenges of settling in a smaller Canadian city when exploring your career and lifestyle options as a newcomer.
The New Brunswick job market
Employment rate and in-demand professions
In early 2020, according to Statistics Canada, the employment rate in New Brunswick was 91.2 per cent. New Brunswick's Employment Outlook Agency, NBJobs, projects over 120,000 job openings to be created between 2018 and 2027. Potential opportunities are expected to be available at every level of education and skill:
27.3 per cent of positions are expected to require a university degree or significant professional experience

32.0 per cent of positions are expected to require a form of college or apprenticeship training

40.7 per cent of positions will not require any post-secondary education
All sectors are expected to experience growth, with these four sectors accounting for nearly half of the 120,000 projected job openings in the next ten years:
Healthcare and social assistance

Retail and wholesale trade

Manufacturing

Construction 
The above information is based on the New Brunswick Labour Market Outlook 2018-2027. While these sectors do have positive outlooks, and therefore more potential job opportunities, NBJobs emphasizes that an individual's ability to find employment depends on location, education, skills, and specific job requirements. NBJobs also provides a free job search website for positions within New Brunswick based on the field of work and region.
Tip: The Government of Canada Job Bank offers an online job trend analysis with estimates of job availability, wage, and educational requirements based on position and region. Test out the tool by searching your current and/or ideal occupations and region of Canada to gain insight on current career prospects.
The New Brunswick Provincial Nominee Program (NBPNP) 
The NBPNP is a way to support and expedite the immigration process to New Brunswick, by nominating newcomers with a demonstrated interest, and the necessary skills, to fill the needs of the employers in the province. There are three immigration programs specific to New Brunswick:
NBPNP Skilled Worker Stream

:

This is available to newcomers who meet the following requirements:
You intend to reside in New Brunswick

You have a demonstrated attachment or means to support yourself in New Brunswick

You have received an offer of full-time, long term employment

You are qualified for said employment

You are offered a competitive wage

Your employer is willing to support the PNP application

You are willing to update equivalent Canadian certifications for regulated occupations
Please refer to NBPNP Skilled Worker Guide for more information.
NB Express Entry

:

This program is intended for individuals who have already submitted a Federal Express Entry profile and have a demonstrated connection to New Brunswick. 

Atlantic Immigration Pilot Project (AIPP)

:

This program is currently only accepting applications for Transport Truck Drivers in New Brunswick that have participated in a recruitment mission from a designated employer in the past 18 months. Any applications for other occupations should go through the

NBPNP Skilled Worker Stream

.
Tips:
If you do not qualify for any of the above NBPNPs, you may be able to come to New Brunswick through a federal immigration program instead. Refer to the list of other immigration options to find the best fit for your personal needs in your journey to Canada. 

Be sure to thoroughly research all of your Canadian immigration options on the Government of Canada website or speak with an authorized immigration consultant before applying.
Cultural snapshot: Living in New Brunswick
Cultural identity in New Brunswick
New Brunswick is an important touchstone in North American history, as one of the first contact points of European explorers with the continent. Before this, the land of New Brunswick was home to thousands of Indigenous peoples. Today, almost 17,000 Indigenous people from over 15 distinct communities still call the territory of New Brunswick their home.
French settlers first came to New Brunswick in the early 1600s, led by the famous explorer, Samuel de Champlain. The descendants of these settlers became the Acadians, a French-speaking group that has developed its own distinct culture between their French heritage and the new land of the Maritimes. 
Since the French explorers first arrived and settled, New Brunswick has also become a home for a large population of British, Irish, and Scottish peoples from across the Atlantic ocean. About one in six New Brunswickers claim direct Scottish ancestry. New Brunswick holds cultural events such as Canada's Irish Festival in Miramichi, and the Highland Games in Fredericton, celebrating long-standing traditions of newcomers to New Brunswick who have called the province their home for decades or generations.
New Brunswick's tight community structure supports live performance of all kinds, especially live theatre and music in both English and French. The province's theatre and music festivals are great summer fun that can be enjoyed by newcomers and locals alike.
Exploring New Brunswick
New Brunswick's prime location on the famous Bay of Fundy makes it one of the best spots in Canada to embark on an adventure, whether that be a week-long road trip or a couple of hours on the beach on a Saturday afternoon. The Bay of Fundy has some of the highest tides in the world, and luckily no shortage of parks and trails surrounding the bay to experience them. 
Taking a road trip is one of the most popular ways to explore the province and the surrounding area; this can be a cost-effective way to travel that keeps you flexible and close to nature. Don't forget to make a pit-stop at New Brunswick's amazing beaches, which have the warmest ocean swimming in Canada due to shallow water and warm gulf winds blowing up from the South. 
New Brunswick is also famous for its incredible fishing and seafood, due to its proximity to the Atlantic Ocean. Try your hand at lake or ocean fishing in the province for a new experience, or to catch your dinner. Don't miss the town of Shediac – also known as the lobster capital of the world.
How to study in New Brunswick as an international student
Studying in New Brunswick as an international student provides a hands-on experience, different from anywhere else in Canada. The province's smaller class sizes and ability to study in both English and French make it a great place for a newcomer to study. 
The University of New Brunswick (UNB) has a historical presence as the first English-language university in Canada. UNB's main campus is in Fredericton, with a satellite branch in the city of Saint John. The Université de Moncton is the largest francophone learning institution in Canada, outside of the french-speaking province of Quebec.
Tip: Obtaining a student work permit as an international student to gain work experience in Canada while you study may improve your chances of becoming a Permanent Resident after you graduate. To move to Canada as an international student, see our article on how to obtain a student permit.
New Brunswick: Tips and resources for newcomers
Making connections with resources and organizations meant for newcomers can shape your experience in a positive way, by providing guidance and connection with your community. Here are some relevant resources for newcomers to help you get started:
Where to buy groceries in New Brunswick?
There are many options for affordable food shopping in the province of New Brunswick. Once you figure out which neighbourhood and city you plan to live in, take a quick look on Google Maps to find grocery stores near you that fit your price range and food preferences. Ask neighbours and new connections where they like to grocery shop to find hidden gems in your city.
Chain grocery stores usually offer a wide choice and consistent service for low prices. To get you started, here are some well-known grocery retail chains that typically carry internationally-sourced products:
Atlantic Superstore

Sobeys

Walmart

Costco
Tip: Grocery store chains typically have loyalty-points systems to reward regular customers with free or discounted items. If you find yourself always shopping at the same grocery store, ask to be signed up for their loyalty program to start earning redeemable points.
Try getting to know your neighbourhood in New Brunswick by attending a Farmer's Market for fresh, locally sourced produce and artisanal products. New Brunswick is home to the oldest farmer's market in Canada, the Saint John city market.
Transportation options: How do you get around in New Brunswick?
An important piece to consider when creating your budget as a newcomer is the cost of transportation. Public transit is available in Fredericton, Moncton, and Saint John, with each city varying on the amount and frequency of transit routes. A monthly bus pass in Moncton or Fredericton will cost you between $50 and $80 CAD per month to ride public transit.
Prepare for the possibility of needing to rent, lease or buy a car for personal transportation. Roads are well-developed in New Brunswick; therefore, many individuals in mid-size or smaller cities and towns tend to use personal vehicles. The Government of Canada outlines the pros and cons of purchasing or leasing a vehicle as a newcomer in any region. However, riding public transit or your bicycle are great options to cut down on your transportation costs and environmental footprint. Read The New Brunswick Bicycle Safety Handbook before cycling across the beautiful New Brunswick landscape.
Tip: When choosing a possible house or apartment as a newcomer, test out multiple travel routes on an online route calculator that displays public transit and driving options like Google Maps. Try calculating your routes in between your home, your place of employment, homes of friends and family, and other significant locations like the grocery store or bank. Consider the length and congestion of your route at peak rush hour (7-9 a.m., 4-7 p.m.) to give you an idea of your future transportation needs.
New Brunswick is a point of convergence of various cultures and history in one of the most beautiful areas of Canada, and welcomes newcomers to continue to enrich the province. The economic stability and high job opportunity in New Brunswick may bring you to this Atlantic province, but it is the friendly and community-driven smaller cities and towns that will make you feel right at home as a newcomer in Canada.