Canada has ten provinces and three territories – providing many options for newcomers to work, thrive, and find their own community. Just like each newcomer, each province and territory has its own unique identity and culture and seeks out newcomers who will fulfill their individual needs. 
The provincial spotlight blog series will present each province and territory, highlighting their special histories and cultures, plus primary industries, job demand, newcomer communities and resources, and distinct immigration stream policies. 
The province of Ontario is the political and economic centre of Canada, in addition to being the most populous province in the country. Ontario's many metropolitan centres, such as Toronto or Ottawa, provide world-class levels of job opportunity, innovation, diversity, dining, entertainment, and more. Access to natural spaces makes Ontario's cities and towns stand out as residents are never more than a short drive away from immersion in nature, whether that be a beautiful lakeshore or forested provincial park. There is something happening in Ontario for everyone, which is why almost 140,000 newcomers made Ontario their home between 2018 and 2019. Use this spotlight on Ontario to determine if your new home lies in bustling and multicultural Toronto, on northern lakefront Thunder Bay, or in any of the pleasantly livable cities and towns in between.
Tip: You can refer to Provincial Nominee Programs (PNP): Moving to Canada as a permanent resident (PR) and Express Entry: Moving to Canada as a permanent resident (PR) for more information on how to become a permanent resident. 
Location, climate, and demographics: Ontario basics for newcomers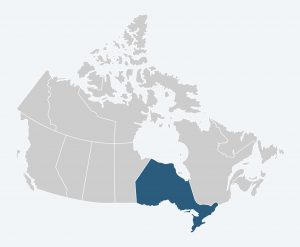 Ontario is Canada's second-largest province by area, covering more than one million square kilometres. The province is located in central Canada; it is bordered by Quebec to the east, Manitoba to the west, and the Great Lakes making up a part of its southern border with the United States. Ontario covers all types of landscapes, from the forested Canadian Shield, southern fertile farmland, and over 250,000 lakes. 
Ontario experiences hot, humid summers, with temperatures often rising over 30 degrees Celsius. Spring and autumn can be cool and rainy, which contributes to productivity in Ontario's strong agricultural regions. Winters are typically quite cold and snowy, sometimes dropping below 30 degrees Celsius. In northern Ontario, winters are typically colder and slightly longer than in southern Ontario. See Environment Canada for up-to-date weather predictions in Ontario.
Tip: Ontario can reach extremely cold temperatures in the winter, which can take some getting used to. To prepare for chilly Ontario winters, look at purchasing a winter jacket (around $100 CAD), hats, and gloves to stay warm in the colder months. Here are some outerwear retailers to help you get started:
Regional populations of Ontario
Ontario is the most populated province in Canada at almost 15 million residents. Southern Ontario is home to the majority of the province's population. Ontario's provincial capital is Canada's largest metropolitan centre, Toronto. The city itself is home to nearly three million people, while the surrounding region, known as the Greater Toronto Area (GTA), is home to over six million residents.
The capital of Canada, Ottawa, is located in the province of Ontario. Almost one million residents call Ottawa their home. 
The urban centres of Ontario are some of the most popular spots in Canada for newcomers to settle. In the GTA, newcomers make up nearly 50 per cent of the region's population. 
These communities in the GTA have the highest newcomer populations of at least 50 per cent or more:
Newcomers can also choose to settle in one of Ontario's smaller communities based on their lifestyle and career opportunities. In the South, Niagara on the Lake, Paris, or Collingwood are within quick driving distance of the GTA while providing a close community feeling. In the north, Thunder Bay and Sault Ste. Marie are just two of the friendliest small cities for newcomers that are also in close proximity to nature.
Tip: Consider the advantages and challenges of settling in a smaller Canadian city when exploring your career and lifestyle options as a newcomer.
Newcomers come to Ontario from every corner of the world. The most common countries of origin for newcomers in Ontario, according to the 2016 Canadian Census are: 
India

China

Philippines

Pakistan

Italy

Iran
Languages spoken in Ontario
English is the primary official language of Ontario. However, there are several communities that predominantly speak Canada's other official language, French. The federal capital of Ottawa is directly on the border of the French-speaking province of Quebec. It has a large population of francophones due to its proximity to Gatineau, the French-speaking city just across the river from Canada's parliament, within the province of Quebec.
 The GTA has an especially large linguistic diversity. Due to the large population of newcomers, there are over 160 distinct languages spoken in Toronto, including Cantonese, Mandarin, Tagalog, Italian, German, Polish, Spanish, and Farsi. 
See neighbourhoods in the GTA where you would be likely to hear your mother tongue, based on the 2011 Canadian Census:
Tip: If you are interested in improving your English writing and speaking skills, consider participating in adult English language programming in Ontario. Be sure to take the Government of Canada's online self-assessment language test before arriving in Canada to determine your current level. Reach out to these free newcomer-oriented English programs run by the government through local community hubs to get started:
Ontario's economy and growing sectors
Ontario is a central economic provider for the entire country, generating 37 per cent of the National GDP. Its prime location in the centre of the North American Free Trade Area has allowed it to become a large manufacturer and exporter of goods. The province's contrasting and productive landscapes offer many natural resources, from agriculture and forestry to mining. Beyond this, Ontario is home to one of the largest economic centres on the continent, Toronto, where many individuals work in services like finance. 
Here are Ontario's biggest industries which make up their extremely diverse economy:
Manufacturing:

Ontario has a long history in manufacturing, and the industry now accounts for

18 per cent

of the province's GDP, employing over

12 per cent

of Ontario's workforce.
Business and Finance:

The city of Toronto is the

largest financial hub

in North America after New York City and the home of the Toronto Stock Exchange (TSX). The four largest Canadian banks, along with the Canadian branches of many global banks, insurance companies, asset managers, and more, are all headquartered in this financial capital. Learn more about the

finance industry in Canada

.
Technology and Innovation:

Information technology companies are thriving in Ontario, and not just in the capital of Toronto.

Ottawa, Waterloo, and Toronto

are all key centres of technological innovation in IT, manufacturing, life sciences and medicine, artificial intelligence, and more due to strong research university ties to the industry. Learn more about the

IT industry in Canada

.
Agriculture:

Ontario has more than half of the highest quality (

Class 1

) farmland in Canada and accounts for

almost one quarter

of all of the country's revenue from farms. The province grows fruit, vegetables, soybeans, corn, and grains, plus commercial poultry, hogs, dairy and beef, and flowers. The Niagara Peninsula is known as

Ontario's "wine country,"

with over 180 wineries operating out the area.
Forestry:

Over 66 per cent

of Ontario's land is forested. The forestry industry creates over 200,00 direct and indirect forestry jobs throughout communities of all sizes across the province.
Mining:

Ontario is a global leader in productivity and environmental standards of

mining

. Precious metals and minerals are plentiful in the province, with nickel, platinum, gold, and copper being the most common. Oil and gas mining also occurs in Southwestern Ontario, near

London

and

Sarnia

, where the province also does major petroleum refining.
Arts, culture, and entertainment:

43 percent

of Canada's artists live in Ontario. Toronto is a world-class centre of food, theatre, music, dance, and art with strong multicultural influences.
The Ontario job market
Employment rate and in-demand professions
Ontario's rate of employment is very high, with only 5.5 per cent of the population unemployed at the beginning of 2020. 
These are the fields of employment expecting the most employment increase in Ontario, as of February 2020:
Education, law, commerce, and government services

Sales and service

Natural and applied science

Business, finance, and administration

Trades, transportation, and equipment operation

Management

Health 
"

I currently live in Toronto for work. There are a great number of employment opportunities in Toronto because of the larger size of the city and its position as the economic capital of Canada. Because of this, it is comparatively easier to find employment in Toronto than in other places in Canada."

– Jacob, Toronto resident
Arrived in Canada 09/2005, China
Tips:
The province of Ontario provides an interactive job profile search with over 500 job profiles. The site has up-to-date information on job openings, growth rates, and salary projections. 

The Government of Canada Job Bank also offers an online job trend analysis with estimates of job availability, wage, and educational requirements based on position and region. Test out these tools by searching your current and/or ideal occupations and region of Canada to gain insight on current career prospects.
The Ontario Provincial Nominee Program (OINP)
The OINP is an immigration program that promotes the province's economy through nominating skilled international workers. Successful nominated workers receive accelerated immigration to Canada to work in the province of Ontario. There are various OINP streams to fit the skills and needs of many potential newcomers:
Employer job offer category:

For candidates with a permanent Ontario job offer. 

Human capital category:

The human capital category has two sub-categories, international graduates and Ontario's Express Entry:
International graduates:

Candidates must have a graduate degree from an Ontario university and apply within two years of achieving it.

Ontario Express Entry:

Candidates must receive a notification of interest from the province of Ontario.

Business category:

For entrepreneurs from outside of Canada interested in starting or buying a business in Ontario.
Tips:
If you do not qualify for any of the above OINPs, you may be able to come to Ontario through a federal immigration program instead. Refer to the list of other immigration options to find the best fit for your personal needs in your journey to Canada.

Be sure to thoroughly research all of your Canadian immigration options on the Government of Canada website or speak with an authorized immigration consultant before applying.
Cultural snapshot: What makes Ontario special for newcomers?
Cultural identity in Ontario
Indigenous groups, such as the Algonquin and the Iroquois, have lived in the Ontario region for over 12,000 years. Ontario now has the largest population of Indigenous people in Canada. Ontario's TransCanada Trail is one way for newcomers to explore the legacy of Indigenous people by following the trail of historical sites that honours the culture and history of Indigenous peoples in the land.
French and British settlers moved into the region beginning in the seventeenth century, and the land became politically important to both parties. Eventually, the region was split into Upper Canada (the land upstream of the St. Lawrence River, present-day Ontario), and Lower Canada (the land downstream of the St. Lawrence River, present day Quebec). Many groups of newcomers chose Upper Canada as their home, including Germans, Scots, and Mennonites, and Toronto was established as the first city in Ontario, with a strong multicultural foundation, in 1834. 
Toronto is now one of the most multicultural urban areas in the world, according to its own municipal government, and the province of Ontario reflects this acknowledgement and celebration of its multicultural history in every community. You can find multiculturalism in practice in the cultural neighbourhoods of the GTA. Each area has a rich history, residents from all over the world, and some of the best food and entertainment the city has to offer. 
Here are some of the largest ethnic neighbourhoods in the GTA, though there are many more:
The food scene in Toronto is famous for its multicultural influences and attracts many high-level culinary experts. Trying out new restaurants with friends is one way residents like to explore these neighbourhoods and taste delicious and authentic foods from different cultures.
"

I think the Chinese food is really authentic in Toronto. My two favourites are "Yummy Zone" and "Winner BBQ Chinese Cuisine."

– Jacob, Toronto resident, moved to Canada in September 2005
Exploring Ontario: The most beautiful places to see
The name Ontario is thought to have come from an Iroquois word meaning "sparkling water," probably in reference to the 250,000 lakes in the region. Water and lakes are integral to Ontario's provincial identity, historically as an important source of transportation and food for indigenous peoples and settlers. The Great Lakes, located along the southern border of Ontario, are one of the largest fresh water systems on earth. The Great Lakes contain one-fifth of the world's fresh water, and more than 98 per cent of Ontario residents live within the Great Lakes and St. Lawrence River Basin. Today, the lakes are still important for transport and food, while also providing fresh drinking water, energy, recreation, and sustaining manufacturing, mining, and agriculture. The famous tourist destination and natural wonder Niagara Falls connects two of the Great Lakes, Lake Erie and Lake Ontario, in a magnificent horseshoe shaped cascade on the border of Canada and the United States. Boating, hiking, swimming, and fishing are just some of the ways newcomers can experience all of Ontario's incredible water bodies.
Ontario is heavily forested, with plenty of plant and animal biodiversity. One can experience nature in a city park, or venture outside the urban centres to one of the province's amazing provincial parks. These nature protected areas cover over 9 million hectares and all types of landscapes. Hiking, camping, canoeing, and fishing are all great ways to explore this large and beautiful province. Algonquin Park is just three hours north of Toronto and provides the perfect escape to nature Still, one can travel even farther towards Hudson Bay, to parks like Quetico National Park, for a unique wilderness experience in the vast northern regions of Ontario.
How to study in Ontario as an international student
There are 20 universities and 24 colleges of applied arts and technology in Ontario. The University of Toronto is a world-renowned research institution and the largest university in Canada, where over 15,000 international students currently live and study. Depending on your lifestyle, you may prefer an institution in a bigger city like Toronto or Ottawa, where you can experience diverse cultures, busy nightlife and entertainment, and a large network of international students. Or, you may like the small class sizes, community feel, and relaxed attitude in some smaller institutions like the University of Guelph (Guelph) or Brock University (St. Catharines). See the list of designated post-secondary institutions accepting international students.
Tip: Obtaining a student work permit as an international student to gain work experience in Canada while you study may improve your chances of becoming a Permanent Resident after you graduate. To move to Canada as an international student, see our article on how to obtain a student permit.
Ontario: Tips and resources for newcomers
There are many groups dedicated to the support and understanding of the newcomer journey in Ontario. Here are some great newcomer resources to help you get started:
Province-wide
GTA
Ottawa
Moving to Ontario with a family
Newcomer families will find the support they need to thrive in Ontario. Reach out to any of the above newcomer services in your neighbourhood to gain information on registering children for school in your region of Ontario. The province offers EarlyON, a free drop-in program led by professional child educators for children aged 0-6. The program includes group reading and activities with other children and can be a great way for families to get to know each other and learn about their community. Find your nearest