When newcomers first move to Canada, transportation is one of the first aspects of their new life that they need to figure out. In Vancouver, you can get to work, school, community centres, or the beautiful parks and beaches by using public transportation. This article will cover Vancouver's easy-to-use public transit options and describe how to start riding public transportation throughout the city and the surrounding area of Metro Vancouver. 
Metro Vancouver is a broad term that describes the city of Vancouver and many of its surrounding municipalities including Burnaby, Langley, Surrey, Coquitlam, North Vancouver, and more. Translink is the transit authority that services Metro Vancouver, in conjunction with smaller partners in the outer communities of the area. 
Tip: To learn more about the city of Vancouver in the province of British Columbia, see the British Columbia provincial spotlight article.
What options for public transportation exist in Vancouver?
There are a few different modes of public transportation you can use in Vancouver, depending on where you want to go:
1. Buses: Buses connect all neighbourhoods of Vancouver and run frequently. All buses are equipped with accessibility measures for wheelchairs and strollers. Bus payment is collected at the front of the bus on regular vehicles, and at every entrance on double length vehicles. You can tap your Compass Card, credit card, or use exact change. 
2. Skytrain: Skytrain is the name of Vancouver's rapid transit system. Compass Cards or credit cards can be used to tap in and out of the Skytrain stations. There are three Skytrain lines:
The

Expo Line

connects downtown Vancouver with Burnaby, New Westminster, and Surrey.

The

Millennium Line

connects midtown Vancouver with Burnaby, Port Moody, and Coquitlam.

The

Canada Line

connects downtown Vancouver to Vancouver International Airport and Richmond.
3. SeaBus: The SeaBus is a pedestrian ferry for travellers to North Vancouver and West Vancouver that is integrated into Waterfront Station, a main transit hub for all forms of Vancouver public transit. Compass Cards or credit cards can be used to tap in and out of the SeaBus terminal.
4. West Coast Express: The West Coast Express is a high-speed commuter train running Monday to Friday at rush hour times. Compass Cards can be used to ride the West Coast Express, which services smaller communities between Mission and downtown Vancouver.
Sailing to Vancouver Island and beyond
The entire coastline of British Columbia is accessible from the city of Vancouver by way of ferries. BC Ferries provide sailings to Victoria and Nanaimo on Vancouver Island, the Sunshine Coast, and various other islands and remote areas for commuters and vacationers. Reserve a ferry sailing on the BC Ferries website. Compass Cards are not valid for BC Ferries travel, and fares must be bought separately either online or at the ferry terminal. 
Tap-to-pay: The most convenient ways to pay your transit fare
The most common form of fare payment for regular public transportation users is the Compass Card. 
Where can I get a compass card in Vancouver?
Compass Cards (also available in a wearable bracelet form) can be purchased and loaded at many different spots across the city, including Compass machines at Skytrain, SeaBus, and West Coast Express Stations, London Drugs locations, and BC Ferries terminals located on the mainland. They can also be loaded with value online on the Compass Card site once you register your card number. You can put a DayPass, Monthly Pass, or stored value of any cash amount. 
How much does public transportation cost in Vancouver?
Your fare on transit is calculated by where you tap in and out using your Compass Card. Buses are always a one-zone fare, but Skytrain fares go up based on how many zones you travel in. Be sure to always tap in and out so that you don't get overcharged. You can continuously ride, without being charged extra fare, Seabus, bus, and Skytrain. 
If you forget your Compass Card, you can pay with exact change on the bus, or simply tap your tap-enabled credit card anywhere that you would normally tap your Compass Card. 
Fare prices are updated annually. You can find up-to-date fare prices on the Translink website.
Tip: If you pay with change, you will receive a paper transfer to use on any transit ride within 90 minutes without being charged again. On the Skytrain, your credit card or Compass Card will have a hold placed on it for the maximum trip fare, but you will only be charged for how far you travelled after you tap back out of the station at your destination.
Planning your trip: Vancouver transit maps and trip-planning tools
Before setting out on Vancouver's buses, Skytrains, and more, you can orient yourself by looking at these transit maps:
Maps of various transportation systems can be found at most Skytrain stations and on the inside of most buses and Skytrains. You can use the Translink Trip Planner tool to plan out your route beforehand. Once you arrive at a bus stop, you can also text the stop number and route number to 33-333 for the next arrivals at that stop. 
Tip: Rocketman is a Canadian-built transit app that you can use to find out when the next bus or train is arriving, track your bus along its route, save your favourite stops, and get transit delay alerts in real-time. You can download the Rocketman app today for free.

Rocketman is easy to use, showing you only the info you need to get you to your destination on time and with minimal waiting. Riders using the app can even see how full each transit vehicle is before boarding with the Crowdedness feature: by asking commuters to help other riders by reporting how crowded their transit vehicle is, and the app can display these crowdedness levels so all Rocketman users can be better prepared for their commute.
Cycling and riding: Bike-friendly transit in Vancouver
Combining cycling with riding public transit can help you travel almost anywhere in the city in a cost-effective and environmentally-friendly fashion. You can take your bike on almost all forms of public transit including buses, Skytrain, Seabus, and the West Coast Express. You can see the bike guidelines for each form of transportation on the Translink site:
During peak riding times, you may not be permitted to bring your bike on the Skytrain. There are bike parkades, bike lockers, and bike racks available at most Skytrain stations to park your bike at these times.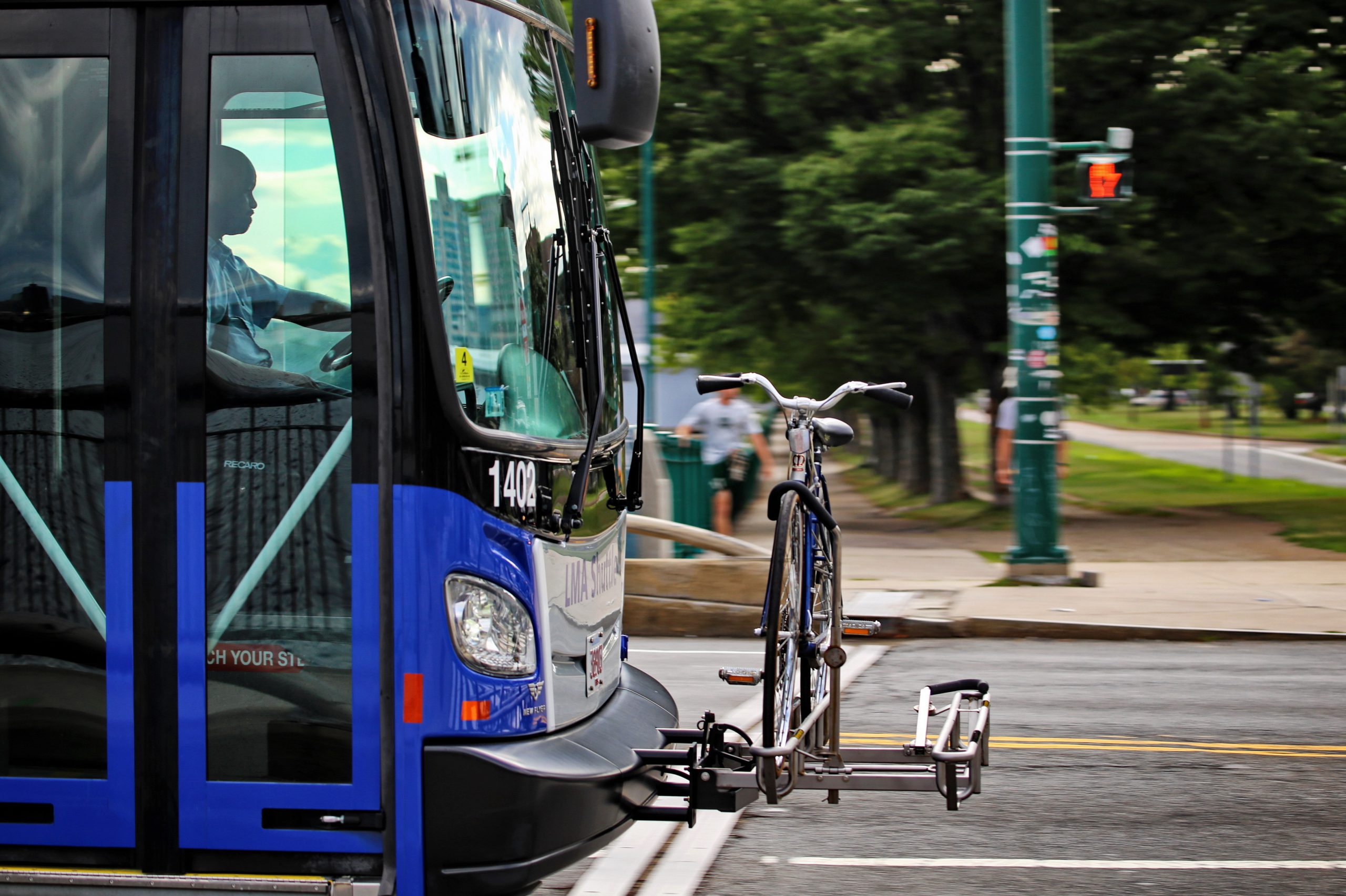 Tip: If you feel nervous about using the bus bike rack at the front of the bus for the first time in the middle of traffic, you can practice the bike-lock mechanism at one of the Rack-and-Ride demo stations at Main Street-Science World Station in Vancouver, or City Hall Plaza in North Vancouver.
Keeping Vancouver Green: Choosing public transit to reduce your emissions
Vancouver's Greenest City Action Plan has a goal of over 50 per cent of trips in the city to be by public transit, on foot, or by bicycle. By taking part in this change yourself, you will not only be reducing your carbon emissions, but also saving a lot of money on car expenses, too. By adding cycling to your commute, you continue to reduce emissions and gain the added benefit of daily exercise. Familiarize yourself with British Columbia's bike safety regulations before you cycle in Vancouver.
Tip: Your carbon footprint can be measured using Natural Resources Canada's Greenhouse Gas Equivalencies tool. Try out a few transportation options to compare the difference.
Getting around Vancouver using public transportation is a great choice for convenient travel, saving money, and protecting the environment. This introduction to the types of public transportation, ways to pay, and trip-planning tools will help to familiarize you with the Vancouver transportation system so you can easily join millions of other riders in the Metro Vancouver area.