Canada has ten provinces and three territories – providing many options for newcomers to work, thrive, and find their own community. Just like each newcomer, each province and territory has its own unique identity and culture and seeks out newcomers who will fulfill their individual needs. 
The provincial spotlight blog series will present each province and territory, highlighting their special histories and cultures, plus primary industries, job demand, newcomer communities and resources, and distinct immigration stream policies. 
This article will explore all that the central Canadian province of Manitoba has to offer for newcomers. Learn about what characterizes this vast and prosperous province. As a newcomer, use the information provided here to determine if Manitoba's economy, environment, and immigration will make the province a fitting home for your journey to Canada.
Tip: You can refer to Provincial Nominee Programs (PNP): Moving to Canada as a permanent resident (PR) and Express Entry: Moving to Canada as a permanent resident (PR) for more information on how to become a permanent resident. 
Location, climate, and demographics: Manitoba basics for newcomers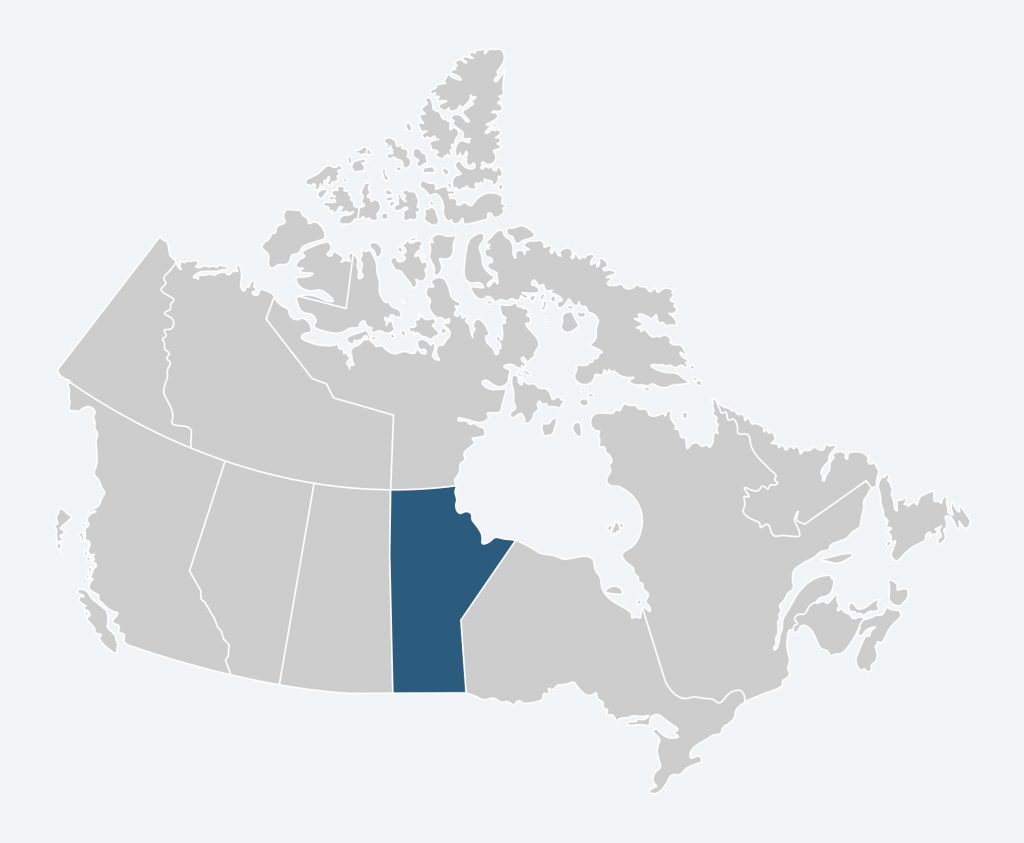 The province of Manitoba is located in the heart of Canada. Its central location connects the east and west coasts of the country through extensive trade and transportation. Manitoba is bordered by Saskatchewan on the West, bustling Ontario in the East, and the newest Canadian territory, Nunavut, to the North. The province is also located on the historical Hudson Bay, where the influential Hudson's Bay Trading Company was originally founded in 1670.
Manitoba encompasses several types of terrains: Prairie grasslands and valleys in the south, boreal forests across the Canadian Shield, and Arctic tundra in the North. Manitoba is called "The Land of 100,000 Lakes," and that is no exaggeration; lakes make up one-sixth of the province's entire land area. 
The climate of Manitoba is defined by four distinct seasons; the province experiences cold, dry winters, hot summers, and cool springs and falls. Southern Manitoba experiences a longer growing season than other provinces due to more hours of sunshine and frost-free days, giving the province a large and bountiful agriculture industry. 
Tip: Invest in snug winter clothing for the colder months, especially if you plan to walk or use transit often. Good quality winter clothing may be costly (a warm, sport-style adult winter jacket is typically $70-130 CAD, and formal-style coats are usually upwards of $200 CAD). However, sports equipment stores and department stores often put on major sales mid-winter. Here are some popular stores offering reasonably-priced adult and family winter gear:
Regional and newcomer populations of Manitoba
Manitoba has a population of almost 1.4 million people. Approximately 800,000 of those people live in Manitoba's capital city of Winnipeg. The rest of Manitoba's population is spread out through smaller communities, midsize cities, and towns across the province, like Brandon or Portage la Prairie.
According to the 2016 Canadian Census, nearly 20 per cent of Manitoba's population is composed of newcomers to the province. Immigrate Manitoba reports that Manitoba also welcomes the highest number of refugees per capita in Canada. As the highest populated city in the province, newcomers are typically drawn to Winnipeg, which welcomed over 50,000 newcomers between 2011 and 2016. 
The most common countries of origin of newcomers in Manitoba in 2016 (the most recent census year), according to Immigrate Manitoba:
The Philippines

India

Eritrea

Syria

China
Languages spoken in Manitoba
English is the primary language in all regions of Manitoba. Some of the most common languages spoken in Manitoba (outside of Canada's official languages of English and French) are Tagalog, Punjabi, and German.
Tip: If you are interested in improving your English, adult English language programming is readily available to newcomers in Manitoba. Take the Government of Canada's online self-assessment language test before arriving in Canada. Take advantage of these English Language Learning resources for newcomers in Manitoba:

Manitoba's economic strengths and growing sectors
Manitoba's unique economic advantages allow the province to build up a stable economy across many different industries. The province cites these six strengths that make Manitoba economically robust and welcoming to new businesses:
A diverse and well-educated workforce

Central location in North America

Abundant natural resources

A diverse industrial makeup

Low business costs

A high quality of life
Manitoba's capital of Winnipeg is a main economic centre for all of Canada, as trade and transport run through this centrally-located city. 
Tip: Manitoba's urban and rural areas provide distinct career and life opportunities. Consider the advantages and challenges of settling in a smaller Canadian city when exploring your career and lifestyle options as a newcomer.
Manitoba's diverse industrial makeup makes the provincial economy stable and adaptable; by relying on many different successful industries, the province is not tied to the success of any one industry. Manitoba's most important and successful growing economic industries include:
Advanced manufacturing 

Aerospace 

Agribusiness 

Creative industries 

Education 

Energy and environment 

Financial services 

Furniture and building products

Information and communication technologies 

Life sciences and biotechnology

Mining and minerals 

Tourism 

Transportation and distribution
The Manitoba job market
Employment rate and in-demand professions
As of April 2020, the employment rate in Manitoba was 93 per cent. The Manitoba Labour Market Occupational Forecast projects job opportunities in many sectors between 2018 and 2024.
 These are some of the projected in-demand jobs in Manitoba by sector:
Sector
Occupation

Management

Retail and wholesale trade managers

Managers in agriculture

Business,

Finance

, and Administration

General office support workers

Administrative officers

Financial auditors and accountants

Natural and applied sciences and related occupations

Information systems analysts and consultants

Electronic service technicians

Civil engineers

Health occupations

Registered nurses

Nurse aides, orderlies, and patient service associates

Occupations in education, law and social, community and government services

Elementary school and kindergarten teachers

Social and community service workers

Sales

and service occupations

Retail salespersons

Janitors, caretakers, and building superintendents

Trades, transport, and equipment operators

Transport truck drivers

Automotive service technicians

Natural resources, agriculture and related occupations

General farmworkers

Landscaping and grounds maintenance labourers

Occupations in manufacturing and utilities

Labourers in food, beverage, and associated products processing

Mechanical assemblers and inspectors
Refer to Manitoba's Labour Market Occupational Forecast for a full list of in-demand occupations projected for the next four years.
The Manitoba Provincial Nominee Program (MPNP)
The Manitoba Provincial Nominee Program (MPNP) seeks to support newcomers with educated backgrounds, skilled job experience, and/or business experience. There are many possible MPNP pathways, depending on your personal work and education experience, which fall under three main categories:
International Education Stream

(IES) for Manitoba graduates
Tip: If you do not qualify for any of the above MPNPs, you may be able to come to Manitoba through a federal immigration program instead. Refer to the list of other immigration options to find the best fit for your personal needs in your journey to Canada.
The MPNP Skilled Worker Stream
The Skilled Worker Stream is a locally-driven PNP that seeks candidates based on the needs of Manitoba employers. There are two streams for skilled workers:
Skilled Workers in Manitoba

Skilled Workers Overseas
The Skilled Workers in Manitoba Stream is intended for applicants with ongoing employment in Manitoba, while the Skilled Workers Overseas Stream is intended for applicants living elsewhere who have demonstrated a connection to Manitoba through family, friends, previous education, work experience, or received a direct Invitation to Apply from the MPNP.
The MPNP International Education Stream for Students
The International Education Stream (IES) is dedicated to international students graduating in Manitoba and planning on gaining employment in the province. There are three pathways for Manitoba graduates:
Career Employment Pathway

:

Requires recent graduation from a full-time post-secondary institution and a job offer from an eligible Manitoba employer that qualifies in

Manitoba's in-demand occupations list

. Visit

Immigrate Manitoba

to view the minimum requirements and register for an information session before applying.

Graduate Internship Pathway

:

Provides accelerated nomination for international student graduates of masters and doctorate programs, through the Mitacs

Accelerate

or

Elevate

internships which contribute to industry innovation in Manitoba. Visit

Immigrate Manitoba

to view the minimum requirements and register for an information session before applying.

International Student Entrepreneur Pilot:

Provides up to 20 international graduates in Manitoba with the opportunity to pursue entrepreneurship, rather than employment. Visit

Immigrate Manitoba

to view the minimum requirements and register for an information session before applying.
Tip: If you are an international student who graduated from an educational institution outside of Manitoba, you will not be eligible for the IES program. However, you may still be eligible under the Skilled Worker in Manitoba Stream or the Business Investor Stream Entrepreneur Pathway.
The MPNP Business Investor Stream
The Business Investor Stream allows Manitoba to nominate business investors and entrepreneurs from around the world who intend to create or purchase a business in Manitoba. There are two available pathways through the Business Investor Stream:
Entrepreneur Pathway:

Requires demonstrated full-time experience as an active business owner or senior manager of a successful business. Visit

Immigrate Manitoba

to view the minimum requirements and how to express your interest in this pathway.

Farm Investor Pathway

:

Requires a demonstrated minimum of three years of farm ownership and operation experience. Visit

Immigrate Manitoba

to view the minimum requirements and how to express your interest in this pathway.
Tip: Be sure to thoroughly research all of your Canadian immigration options on the Government of Canada website or speak with an authorized immigration consultant before applying. 
Cultural snapshot: What makes Manitoba special for newcomers?
Cultural identity in Manitoba
As the home of the influential Hudson's Bay Company and the Canadian Fur Trade, Manitoba's deep history goes back farther than some other Canadian provinces. Manitoba was first home to thousands of indigenous peoples, who established enduring culture and civilization around Manitoba's thousands of lakes and prairies. The province is home to a large population of Métis; a group descended from Aboriginal women and French and Scottish fur traders, who now have a distinct culture that is recognized in the Canadian constitution.
Newcomer communities continue to influence the cultural profile of Manitoba, especially in its culture-rich capital of Winnipeg. Cultural events such as the Manitoba Filipino Street Festival, or Canada Day celebrations that take place each year on July 1 are a welcoming and fun introduction to the culture of Manitoba. Winnipeg is home to many other distinctly Manitoban cultural experiences, such as the world-famous Royal Winnipeg Ballet, and the Canadian Human Rights Museum.
Exploring Manitoba
Manitoba's varied landscape has something for everybody. The province's vast provincial parks offer close escapes to nature to hike, bike, or just to appreciate the wildlife. Try to spot a moose in Hecla/Grindstone Provincial Park (Central Manitoba), have your breath taken away by roaring waterfalls in Spruce Woods Provincial Park (Western Manitoba), or learn about Indigenous history in Whiteshell Provincial Park. 
Churchill, Manitoba, is famous for being named the polar bear capital of the world. This northern town is located on Hudson Bay and is also known as a whale-and bird-watching spot, as well as an ideal place to experience the northern lights.
Manitoba's many lakes provide areas for swimming, boating, paddle boarding, fishing, and more in the summer months. In the winter, some lakes freeze over and create natural ice rinks for one of Canada's favourite sports, hockey. The province's largest lake is Lake Winnipeg, an important source of freshwater, hydroelectric power, and recreational adventure for the province.
How to study in Manitoba as an international student
Manitoba welcomes thousands of international students to its universities and colleges each year Newcomers participate in thoughtful, diverse, and internationally-minded campuses. The University of Manitoba's student body is almost 20 per cent international students. See the list of designated learning institutions that are permitted by the government of Manitoba to accept international students.
Tip: Obtaining a student work permit as an international student to gain work experience in Canada while you study may improve your chances of becoming a Permanent Resident after you graduate. To move to Canada as an international student, see our article on how to obtain a student permit.
Manitoba: Tips and resources for newcomers
If you plan on moving to Manitoba, do not hesitate to reach out and make connections with newcomer communities to ease your transition to Canada. Here are some relevant resources for newcomers to help you get started:
Province-Wide Services
Winnipeg
Where to buy groceries in Manitoba?
There are many options for affordable food shopping in the province of Manitoba. Once you figure out which neighbourhood and city you plan to live in, take a quick look on Google Maps to find grocery stores near you that fit your price range and food preferences. Chain grocery stores usually offer a wide choice and consistent service for low prices. To get you started, here are some well-known grocery retail chains that typically carry internationally-sourced products:
Red River Co-op (Founded in Manitoba)

Superstore

Safeway

Sobeys
Tip: Grocery store chains typically have loyalty-points systems to reward regular customers with free or discounted items. If you find yourself always shopping at the same grocery store, ask to be signed up for their loyalty program to start earning redeemable points.
Many chains carry ethnic food items, but occasionally you may have to go to a specialty grocery shop to find your favourite ingredients from your home country. Winnipeg has many specialty shops and international food markets. Try getting to know your neighbourhood in Manitoba by attending a Farmer's Market for fresh, locally sourced produce and artisanal products. Manitoba's long growing season means markets can sell fresh products from late spring to mid-autumn. 
Transportation options: How do you get around in Manitoba?
Knowing your transportation options and including them in your budget will help you accurately plan for your life in Manitoba as a newcomer. The Winnipeg Transit system runs frequently throughout the city and is a reliable form of transport. See the Newcomer's Guide to Winnipeg Transit to learn important information about transit fees, routes, and expectations. The WINNpass program provides a reduced rate to new permanent residents or refugees who have lived in Canada for less than one year.
Tip: You can download the Rocketman app to get real-time transit alerts and arrival times for the Winnipeg area.
Prepare for the possibility of needing to rent, lease or buy a car for personal transportation. Individuals in mid-size or smaller cities and towns tend to use their own vehicles, however riding public transit, or your bicycle, are great options to cut down on your transportation costs and environmental footprint in smaller cities (read Manitoba's cycling laws before heading out on the road). The Government of Canada outlines the pros and cons of purchasing or leasing a vehicle as a newcomer in any region.
Tip: When choosing a possible house or apartment as a newcomer, test out multiple travel routes on an online route calculator that displays public transit and driving options like Google Maps. Try calculating your routes in between your home, your place of employment, homes of friends and family, and other significant locations like the grocery store or bank. Consider the length and congestion of your route at peak rush hour (7-9 a.m., 4-7 p.m.) to give you an idea of your future transportation needs.
Manitoba is a province that is large in area and economic influence; yet, it still feels like a well-connected community and welcoming home to newcomers from all over the world. Manitoba's distinct landscape, culture, residents, and opportunities all come together to create a forward-looking province that is eager for technological innovation and cultural growth.