At the centre of the Canadian prairies lies the expansive and sunny province of Saskatchewan. This province is known for its agricultural production of wheat and canola, energetic football fans, and friendly rural culture. Saskatchewan is also known as the "Land of the Living Skies," as its sprawling level landscape allows for unobstructed views of sunrise and sunsets, fluffy clouds, and occasionally the Northern Lights. 
Saskatchewan is one province out of Canada's ten provinces and three territories in which newcomers may choose to settle. Each province or territory provides a unique experience to newcomers depending on which community they settle in, which job opportunities are available, and the welcoming yet distinct cultures of every area.
If your goal is to become a permanent resident in Canada, it is important to know about all of the amazing locations you can move to. The provincial spotlight blog series will focus on the highlights of each province and territory, including the landscape, culture, job opportunities and industry, as well as immigration programs and newcomer resources specific to each province. 
Tip: For more information on becoming a permanent resident, see Provincial Nominee Programs (PNP): Moving to Canada as a permanent resident (PR) and Express Entry: Moving to Canada as a permanent resident (PR).
All about Saskatchewan: Location, language, and demographics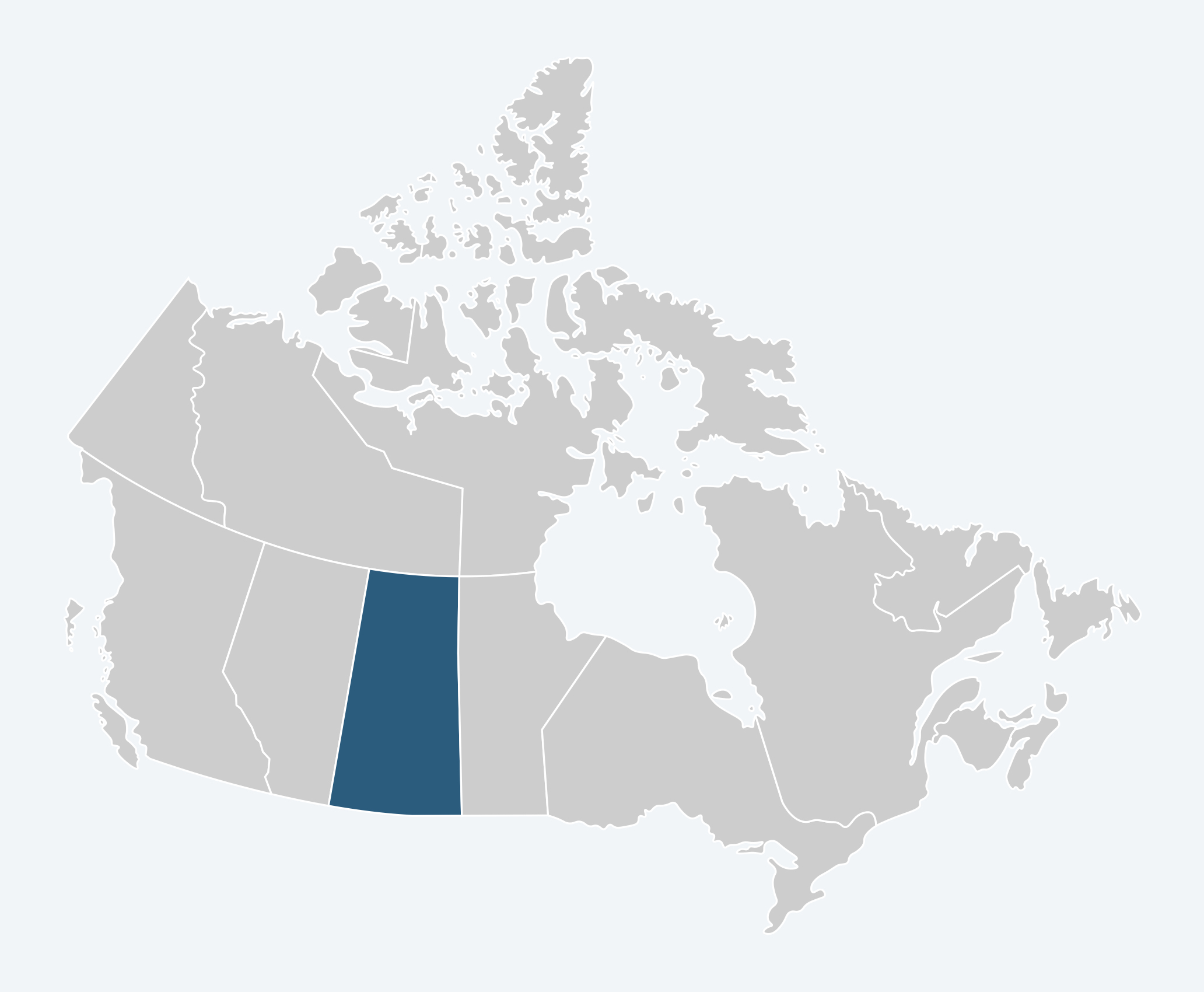 Geography of Saskatchewan
Saskatchewan (SK) is located in central Canada. It is bordered by Alberta to the west, Manitoba to the east, and the Northwest Territories to the north. 
The southern part of the province is made up of prairie grasslands in an area known as the Great Plains that stretches across central Canada. The north is dominated by boreal forests and lakes in the Great Canadian Shield. Most of the population lives in the southern portion of the province, as the expansive north can get very cold.
Saskatchewan's climate typically experiences mostly clear, sunny days in all seasons. This can cause summers to get very warm and winters to be extremely cold. Summer temperatures usually hover between 20 and 30 degrees Celsius, with spring and fall usually cooler than 20 degrees. Winters are regularly dry, and cold and wind chills can sometimes make -15 degrees Celsius feel like -30 degrees Celsius.
Tip: Decent winter wear is essential in chilly Saskatchewan, and can be expensive to purchase. Include the purchase of a winter jacket in your budget (around $150-$200 CAD), plus gloves, hats, and scarves. Start looking with these outerwear retailers:
Saskatchewan population centres
Over one million people live in the province of Saskatchewan. Its capital city is Regina, a city of over 230,000 in the southeast of the province. To its northwest, the similar-sized city of Saskatoon is home to over 250,000 people. Other cities and towns include Prince Albert, Moose Jaw, Yorkton, and more. The majority of communities outside of Regina and Saskatoon are fairly small and can be considered rural.
Newcomers make up 10 per cent of the population of Saskatchewan. In recent years, many newcomers have come to Saskatchewan from the Philippines, the United States, the United Kingdom, China, India, Pakistan, Bangladesh, and more, according to the 2016 Canadian Census. 
Tip: The communities of Saskatchewan have relatively small populations compared to other areas in Canada. Consider the advantages and challenges of settling in a smaller Canadian city when exploring your career and lifestyle options as a newcomer.
Language in Saskatchewan
The primary language spoken in Saskatchewan is English. The 2016 Canadian Census shows that the most common languages spoken other than English include German, Cree languages, Ukrainian, and Tagalog. Conversational English skills are helpful for newcomers moving to Saskatchewan, as there are not many services in other languages.
Tip: English language programming is available free of charge for newcomers from the Government of Canada and the Government of Saskatchewan. Contact the Saskatchewan Intercultural Association or your nearest newcomer support centre for more information on English language programs.
Culture in Saskatchewan: Farming, football, and finding yourself in nature
Saskatchewan: A brief history
The land now known as Saskatchewan was first occupied by many First Nations groups who tended to and lived off the land. It is thought that these aboriginal groups have lived here for over 11,000 years, and they still have a significant presence in the province today. French and British settlers moved into the area throughout the Fur Trade and interacted with the First Nations people, forming a new indigenous group as French settlers married First Nations women. Generous parcels of farmland in the form of homestead grants drew people of German, Austrian, Ukrainian, Scandinavian, Russian, and Polish descent, who all influenced parts of Saskatchewan culture through language, food, and tradition.
At one point, the majority of the population in Saskatchewan lived on rural farmland. Now, farming practices are more efficient, requiring fewer farm labourers, so many people have moved to cities like Saskatoon, Regina, and Moose Jaw.
Saskatchewanians are now known for their hard-working ethic and honest friendliness that comes from their roots in farm culture. Newcomers and visitors will feel as welcome in the city as they will in the most remote farm town in Saskatchewan.
"We are a friendly and hospitable group of people in Saskatchewan. Even in the city, there is a rural community feel; friendliness on every corner, people always willing to assist, and always eager to learn about new cultures."
– Krista, Saskatoon resident.
What are the best places to see in Saskatchewan?
Although the province is famous for its flat, grassy topography, there is lots to see in Saskatchewan. The inland province has no ocean shoreline but makes up for it in its 100,000 beautiful lakes. Many of these lakes, such as Candle Lake or Lake Diefenbaker, have long stretches of sandy beaches that draw swimmers, campers, and canoers throughout the summer. Saskatchewan is also home to many parks with unique scenery and history, such as the Great Sand Hills in northern Saskatchewan, and the sweeping Grasslands National Park, where you can ride traditional wagons and see uncovered dinosaur bones.
Though the wintertime gets quite cold, Saskatchewan still has lots to do and see in the snowy months. Cross country skiing, snowboarding, tobogganing, snowmobiling, and other snow sports are easily accessible in Saskatchewan as long as you have a winter coat and gloves. Don't forget about ice skating and hockey on the many indoor and outdoor rinks and shinny sites (a rink for informal drop-in hockey).
 As the "Land of the Living Skies," Saskatchewan's open skies often put on displays of spectacular Northern Lights from October to March. The higher north you travel, the more likely you are to see them, but sometimes the Northern Lights can be seen from just outside of the city of Saskatoon. 
The Saskatchewan Roughriders
The Saskatchewan Roughriders are the province's football team in the Canadian Football League (CFL), and locals enjoy watching a football game with family and friends. The Roughriders are a point of provincial pride for many, and the events and rituals of the energetic fanbase can sometimes be outlandish. Members of "Rider Nation" deck themselves out in white and green, sing loudly, and sometimes wear watermelons as helmets to show their pride for their favourite team. Newcomers will find they can bond immediately with Saskatchewan residents by referencing the Roughriders.
"Newcomers would be surprised to see how patriotic we are about the CFL and the Roughriders. Wherever you come from, the province will turn you into a football fan."
– Johnny, Regina resident
Moved to Canada in 2009
Study in Saskatchewan: Is Saskatchewan good for international students?
International students have great options for post-secondary institutions in Saskatchewan. There are two major universities, the University of Saskatchewan in Saskatoon and the University of Regina, both of which have large populations of international students. There are also several colleges and applied technical schools in Saskatchewan welcome to all learners.
Tip: To move to Canada as an international student, see our article on how to obtain a student permit.
Saskatchewan's biggest industries
As primarily fertile grasslands in the south, Saskatchewan's many farms make up a large and diverse agricultural industry, but the province has even more to offer. Saskatchewan's largest industries are:
Agriculture:

The province grows more than a third of the world's durum wheat, as well as being the top world exporter of lentils and dry peas. The province grows many more grains and staples such as barley, oats, and canola.

Mining:

Saskatchewan provides one-third of the world's potash and one-fifth of the world's uranium.

Manufacturing:

The province innovates and produces many items from industrial equipment to airplanes.

Food processing:

Dairy, meat, and agricultural products are all processed in Saskatchewan

Energy:

Oil fields over the Alberta-Saskatchewan border are lucrative. Energy is also created with coal, geothermal power, wind power, and hydropower.

Life Sciences:

The province is a world leader in biotechnology related to agriculture and food sciences as well as pharmacy, botany, and animal sciences.
Finding a job in Saskatchewan
Occupational Outlooks
The province provides the Saskatchewan Detailed Occupational Outlook for the next four years. The outlook states that these positions will have the most available opportunities between now and 2023.
Managers in agriculture

Retail and wholesale managers

Transport truck drivers

Retail salespersons

Janitors, caretakers, and building superintendents

Registered nurses

Administrative officers

Nurse aides and orderlies

Elementary school teachers
See the full Occupational Outlook for more information and to look up specific careers.
Tip: The Government of Canada Job Bank also offers an online job trend analysis with estimates of job availability, wage, and educational requirements based on position and region. Test out these tools by searching your current and/or ideal occupations and region of Canada to gain insight on current career prospects.
Volunteering in Saskatchewan: Get to know your community through volunteering
Volunteering in Saskatchewan is one of the best ways to meet new people and gain experience in Canada. Volunteer Canada can provide volunteer opportunities across the province, and Saskatoon Open Door Society and Regina Open Door Society both source volunteer opportunities specifically for newcomers. You can use your specific skills (like graphic design or teaching experience) to secure a volunteer job in your field or do general volunteer work at a food bank or newcomer centre. Volunteering is a great way to get Canadian work experience before securing a job. 
Tip: See our article on the benefits of volunteering as a newcomer in Canada for more volunteering tips.
Saskatchewan Immigration
The Saskatchewan Immigrant Nominee Program (SINP)
The Saskatchewan Immigrant Nominee Program is a provincially-run nominee program for potential newcomers to Saskatchewan. The program is intended to accelerate the immigration process for skilled workers, students, and entrepreneurs who can fill important positions in Saskatchewan's economy that cannot be filled locally. There are multiple streams available to fit your needs:
1. International skilled worker: 
2. Entrepreneur and farm categories
3. Worker with previous Saskatchewan work experience
Tips: If you do not qualify for any of the above provincial immigration programs, you may be able to come to Saskatchewan through a federal immigration program instead. Refer to the list of other immigration options to find the best fit for your personal needs in your journey to Canada. 

Be sure to thoroughly research all of your Canadian immigration options on the Government of Canada website or speak with an authorized immigration consultant before applying.
Saskatchewan: Additional resources for newcomers
There are 11 Regional Newcomer Gateways in Saskatchewan to provide community-specific support. Find the one closest to where you plan to settle for settlement assistance, including language, family, career, and housing support:
Getting around in Saskatchewan
In the larger cities of Saskatoon and Regina, public transit is a great way to travel. Monthly transit passes cost around $90 CAD, with discounts for children, seniors, students, and low-income riders. The cities of Moose Jaw and Prince Albert also have public transit systems. 
Tip: You can download the Rocketman app to get real-time transit alerts and arrival times for Saskatoon transit and many other regional transit systems in Saskatchewan.
Many people drive cars as their main form of transportation in Saskatchewan. If you believe you will need a car to get around, you have the option to rent, lease or buy a car for personal transportation. The Government of Canada outlines the pros and cons of purchasing or leasing a vehicle as a newcomer in any region. 
Grocery options in Saskatchewan
There are many solid options for chain and local grocery stores in Saskatchewan.  Once you figure out which neighbourhood and city you plan to live in, take a quick look on Google Maps to find grocery stores near you that fit your price range and food preferences. Chain grocery stores usually offer a wide choice and consistent service for low prices. To get you started, here are some well-known grocery retail chains that typically carry internationally-sourced products:
Superstore (large selection of international foods)

Co-op

Sobeys

No Frills

Safeway
Tip: Grocery store chains typically have loyalty-points systems to reward regular customers with free or discounted items. If you find yourself always shopping at the same grocery store, ask to be signed up for their loyalty program to start earning redeemable points.
Local specialty grocery stores may have specific international ingredients that you are less likely to find in a chain store. You may want to ask other newcomers or locals in Saskatchewan where they like to buy produce, meat, bread, and spices to get a better idea of what is available. Here are some specialty grocery shops to try:
Saskatoon
Ahmad's Grocery (Pakistani, Indian, and Bangladeshi groceries)

Eastern Market (Asian groceries)

Saskatoon Persian (Persian groceries)
Regina
Al-Minar Halal (Mediterranean, African, and Asian groceries)

East Indian Grocery Store

G&J Phillipino Food Store 

Ngoy Hoa Asian Foods 

Ukrainian Coop
Tip: Saskatchewan grows all kinds of great food locally. Shopping at a farmer's market is a great way to support local farmers and get to know your community. See the list of regional farmer's markets in Saskatchewan to find a market in your area.
The province of Saskatchewan offers a high quality of life to newcomers through many employment and volunteer opportunities, plenty of space to explore, and a strong sense of community, whether you live in the city or a farming town. This prairie province welcomes newcomers from all over to continue Saskatchewan's economic and cultural richness and progress towards a dynamic, multicultural future.