There are ten provinces and three territories in Canada offering countless options for newcomers to settle. Each province and territory has something special to offer newcomers, with unique career options, lifestyles, and cultures. 
Yukon, or "The Yukon," as locals call it, is one of three territories located in Canada's North. The Yukon's stunning northern environment has been home to many First Nations for over 10,000 years and is also known to many as the site of the Klondike Gold Rush, and this history is reflected in the adventurous character of the Yukon and its residents. Discover more about Yukon's immigration programs, history and culture, resource-based economy, and additional newcomer resources to decide if the great white north will be your new home.
Tip: For more information on becoming a permanent resident, see Provincial Nominee Programs (PNP): Moving to Canada as a permanent resident (PR) and Express Entry: Moving to Canada as a permanent resident (PR).
The Yukon Territory: Basics for newcomers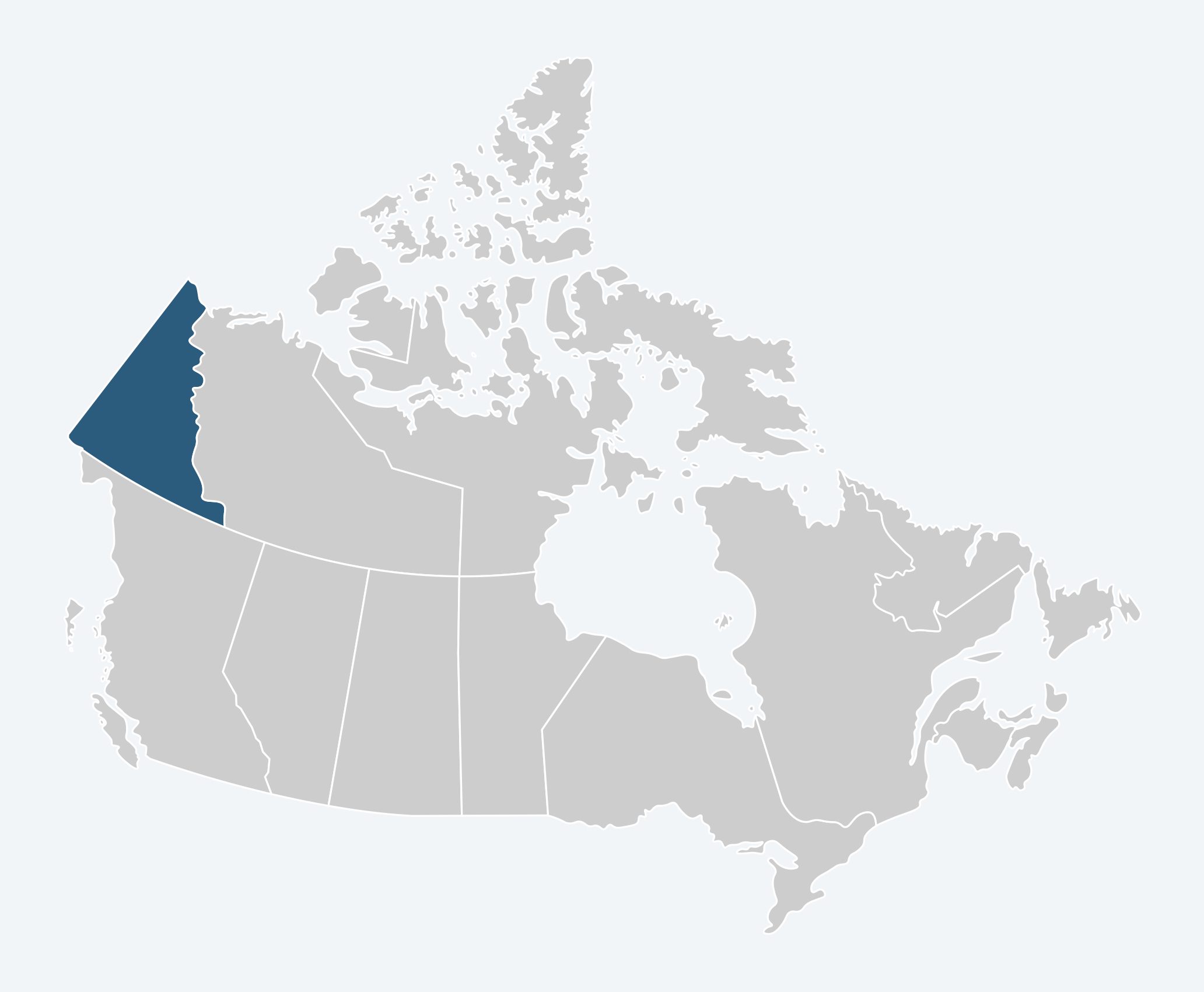 Geography of the Yukon
The Yukon territory is located in the northwest of Canada. It is bordered by the Northwest Territories to the west, the province of British Columbia to the south, and the U.S. state of Alaska to the west.
The climate of Yukon varies greatly between seasons. Newcomers might be surprised to know that despite these cold winters, Yukon actually gets quite warm in the early summer season, often reaching between 20 and 30 degrees Celsius with clear, sunny skies. Summer days in Yukon receive many hours of daylight, with the sun sometimes staying up past midnight, or even for the full 24 hours in very northern locations. This phenomenon is called the midnight sun, which inspires locals and visitors to stay up until the early hours of the morning exploring outside or celebrating in broad daylight.
Yukon typically experiences long, cold winters, similar to other northern regions in Canada's provinces and territories. Winters can sometimes get colder than -30 degrees Celsius, with lots of snow. Winter nights are very long and grow longer the farther north you travel.
Winter clothing is essential in the Yukon. Budget for a quality winter jacket (around $150- $200 CAD), plus gloves, hats, scarves, and other layers to wear underneath. Start looking with these outerwear retailers:
For extended adventures outdoors, Parkas are recommended. Parkas are extremely thick and warm winter jackets made for below-freezing temperatures and can cost over $1,000 CAD. There are many high-quality Canadian-made parka brands, such as Canada Goose or Skookum Brand. Winter clothing is also available for rental for temporary excursions from companies like The Base Yukon, Arctic Range, and many more.
Populations of Yukon territory
The population of the territory of Yukon is over 35,000 residents, spread out over a vast area. Almost 25,000 people live in the capital of Yukon, Whitehorse. Whitehorse is the largest city in northern Canada, and most newcomers choose to settle here when moving to Yukon. Other larger communities include Dawson City, Faro, and Watson Lake.
About 25 per cent of Yukon's populations are First Nations. The Yukon First Nations, and other First Nations groups now dispersed across Canada, have lived on this land for thousands of years. There are over 20 First Nations groups that call Yukon land home or have ancestral territory that crosses its current borders.
Newcomers make up over 12 per cent of the total population of this territory. The top five countries of origin for newcomers in 2016 included:
The Philippines

The United States

The United Kingdom

Germany

China
Tip: The northern communities of Yukon have small and dispersed populations which can have unique benefits and drawbacks. Consider the advantages and challenges of settling in a smaller Canadian city when exploring your career and lifestyle options as a newcomer.
What languages are spoken in the Yukon?
The official languages of the Yukon are English and French. English is the primary language spoken in most communities in Yukon. The Yukon is also a part of the Francophone Welcoming Communities initiative, supporting French-speaking newcomers in partnership with the Association franco-yukonnaise (AFY).
There are also eight aboriginal languages spoken by the First Nations who live here, from the Athapaskan and Tlingit language families. The Yukon Native Language Centre works to preserve these languages, some of which now have few speakers left.
Tip: English and French language programming is available free of charge for newcomers from the Government of Canada and the Yukon through the LINC program.
Yukon Culture: Indigenous people, gold rushes, and the great outdoors
Unique Yukon history
Yukon's history tells many stories, from volcanoes and glaciers and ancient tribes to the gold rush and modern-era indigenous culture. Many thousands of years ago, this vast northern landscape was dominated by its ancient wildlife such as woolly mammoths, Yukon wild horses, bison, and caribou. Early First Nations people, between five and ten thousand years ago, began to move into this area to hunt caribou before a large volcanic eruption covered much of the southern Yukon. The indigenous peoples of Yukon were nomadic but eventually settled into now-traditional territories that are known still today.
Everything changed in this peaceful and highly livable northern land with the 19th century Gold Rush in Klondike. Forty thousand Europeans flocked to Yukon from the South in search of rumoured gold in the rivers, making their way through port cities and First Nations land and changing the First Nations' traditional ways of life through this prolonged contact. Many prospectors never found gold, but the infrastructure created to house and transport them initiated Yukon as an official territory before the prospectors left again years later. 
Modern indigenous culture in Yukon
The Yukon First Nations peoples have a strong cultural presence in the North through vibrant art such as traditional carvings, skilled weavings, and paintings, as well as dancing and drumming at cultural festivals like the Adaka summer festival. Modern First Nations writers of song, poetry, and films also shed light on the distinct perspectives of the First Nations in the Yukon. 
Exploring Yukon: Unusual wildlife and stunning scenery
You can explore Yukon's history through its nature, or simply appreciate the beautiful north for its peaceful and clean natural wonders. The Yukon Wildlife Preserve near Whitehorse allows visitors to see incredible animals in their natural habitat like caribou, lynx, and bison that have lived here for thousands of years. Hike Miles Canyon or visit the historical sites of MacBride Museum or the S.S. Klondike to relive the adventure of the 19th century Gold Rush. 
Brightly coloured glacial lakes like Emerald Lake, or peaceful spots like the soothing Takhini Hot Springs, make great days trips out of Whitehorse in which you can experience the true beauty of the Canadian North in Yukon.
Yukon Aurora: Catching the Northern Lights
The Aurora Borealis, also known as the Northern Lights, is a natural phenomenon where multicoloured lights seem to flash and dance across the night sky. The Northern Lights appear for viewing throughout much of the year and are especially visible during Yukon's long winter nights. See Yukon's top 5 tips for watching the Northern Lights in the territory.
Prosperous Yukon: Economic sectors and job market projections
Main economic sectors of Yukon
Yukon has a varied economy with a diverse reliance on these mostly resource-based economic sectors:
Mining:

Gold mining brought thousands to the Yukon territory in 1896 and continues to support the Yukon mining industry. Mining and exploration have now expanded to include lead, silver, tungsten, iron, coal, and more.

Energy:

Yukon's rushing rivers allow it to create significant hydro energy. The territory also produces energy through diesel combustion, wind, natural gas, and solar energy. 

Fishing:

Whitefish, salmon, and game fish are commonly fished commercially and for sport in 24 Yukon lakes and many rivers.

Forestry:

The region of Yukon located south of the tree line (the northern biome boundary where the tundra begins and no trees can grow) is a boreal forest that is mainly forested by small operators.

Hunting and trapping:

Hunting and trapping in Yukon is an important part of First Nations culture. Yukoners hunt to feed their families and community, be close to nature, or for sport.

Agriculture:

The agricultural sector in Yukon is growing as more crops are being planted nearby Yukon's major communities. Hay, various produce, grains, and livestock are all grown in Yukon.

Tourism:

Many of Yukon's businesses rely on seasonal tourism such as tour guides, accommodation, recreation, museums, and more.

Film and sound:

Yukon's burgeoning film industry is drawn to the territory for its beautiful backdrops and long hours of sunlight that allow plenty of shooting. Many recording artists come to the Yukon for the high-quality sound recording industry from across the country.
Next steps in moving to Yukon: How to find a job in Yukon
Most of the jobs available in Yukon are located in the city of Whitehorse. Many locals work in public administration with the Government of Yukon, plus there are many resource-based and service positions available based on your skills and region of Yukon.
Tip: Download the essential workbook for newcomers created by the Governments of Canada and Yukon for more in-depth employment information.
Yukon's most up-to-date job board and job search tool is the Yukon Work Information Network (YuWIN). This tool provides free labour market information on over 100 careers in Yukon based on the skills and region you are looking for. You can also apply to jobs directly using the YuWIN site. 
The Canadian Job Bank is a federally-run tool that newcomers can use to source and compare jobs all over Canada, including in Yukon. You can use this tool to match your skills to many open positions in Canada and receive daily email updates of the latest jobs in Yukon.
Tip: The Government of Canada Job Bank also offers an online job trend analysis with estimates of job availability, wage, and educational requirements based on position and region. If you know you will be moving to Yukon in the next few years; you can use it to research the future prospects of your ideal careers and regions.
Next steps: Immigrating to Yukon
The Yukon Nominee Program
The Yukon territory works with Immigration, Refugees, and Citizenship Canada to nominate foreign, skilled workers and entrepreneurs for expedited permanent residency (PR) status through the Yukon Nominee Program (YNP). See the YNP Application Handbook for a step-by-step application guide.
The Yukon Nominee Program is employer-driven. This means that Yukon employers must first advertise a position locally, and after receiving no local job interest, the employer may then offer full-time work to an eligible foreign national. Newcomers cannot immigrate through the YNP without a full-time job offer. There are three YNP streams:
Tips: If you do not qualify for any of the above programs, you may be able to come to the Yukon through a federal immigration program instead. Refer to our guide on Immigrating to Canada to find the best fit for your personal needs in your journey to Canada. 

Be sure to thoroughly research all of your Canadian immigration options on the Government of Canada website or speak with an authorized immigration consultant before applying.

Resources for newcomers moving to Yukon
Programs specifically for newcomers in Yukon
The Yukon has many resources for newcomers making their new home in Canada. Upon your arrival in Yukon, reach out to any of these services for assistance with everything from language resources to community activities.
Getting around in the Yukon
Whitehorse is the only city in northern Canada with a public transportation system. Monthly passes are $62 CAD with discounts for children and seniors. Taxi services are widely available in Whitehorse.
Yukon residents typically use personal vehicles as their most common form of travel. If you believe you will need a car to get around, you have the option to rent, lease or buy a car for personal transportation. The Government of Canada outlines the pros and cons of purchasing or leasing a vehicle as a newcomer in any region. 
If you have never driven in the winter before, you should brush up on winter driving tips for icy roads and low visibility. Installing winter tires and keeping an eye on the forecast are the best first steps to winter driving. See Transport Canada's winter driving tips.
Buying food in the Yukon
Food can be slightly more expensive in the territories, due to the high cost of transporting produce to the North. You can use our monthly expenses calculator to stay on track of budgeting for groceries and other necessities. There are many large grocery stores in Whitehorse, accompanied by a few small specialty stores:
Chain grocery stores
Real Canadian Superstore

Independent Grocer

Save-on-Foods

Walmart
Specialty grocery stores
Riverside Grocery (Health and wellness)

The Gourmet (European foods)

Cultured Fine Cheese 
How to study in Yukon as an international student
Studying in Yukon as an undergraduate or graduate student is an amazing way to gain a whole new perspective on your education. Yukon University, located in Whitehorse, is a small-sized university equipped to offer hands-on experience in many subjects with small class sizes. You can also improve your English while taking courses with advanced English as a Second Language courses specifically for students. Yukon's tuition fees are lower compared to other institutions, which can help cut down on international student fees. See Yukon University's amenities for future international students. 
Tip: You may find it more difficult to get specific international ingredients in Whitehorse than in other cities. There are a few international restaurants such as Antoinette's Restaurant (Caribbean), Panda Panda Noodle House (Chinese), Chef Angelo (Filipino), and more.
Moving to Yukon is unlike any other experience; newcomers can encounter the ancient First Nations cultures and spirit of Gold Rush adventure while exploring the territory, while also enjoying the benefits of city life in Whitehorse. Finding a job opportunity using Yukon's helpful resources, or making the move to start a business in the Yukon will provide newcomers with the opportunity to live in one of the world's most quietly beautiful places while experiencing professional growth and creating new opportunities for yourself and your family.