Canada has ten provinces and three territories in which newcomers may choose to settle. Each province and territory has something special to offer newcomers, with unique career options, lifestyles, and cultures.
This article will set out what newcomers need to know about Canada's Northwest Territories as a part of the provincial spotlight blog series. This series will focus on the highlights of each province and territory, including the landscape, culture, job opportunities and industry, as well as immigration programs and newcomer resources specific to each province.
The Northwest Territories is one of Canada's three territories, located in the expansive northern half of the country and occupied by small, dispersed populations. The Canadian territories differ from provinces in their governance: provinces have their own constitutional power, while territories are governed directly by the federal government. The Northwest Territories provide newcomers with a unique opportunity to experience the wonders of the Canadian North, such as the Northern Lights and stunning lakes and mountains, as well as plenty of career and growth opportunities in the less densely populated northern cities.
Tip: For more information on becoming a permanent resident, see Provincial Nominee Programs (PNP): Moving to Canada as a permanent resident (PR) and Express Entry: Moving to Canada as a permanent resident (PR).
The Northwest Territories: Basics for newcomers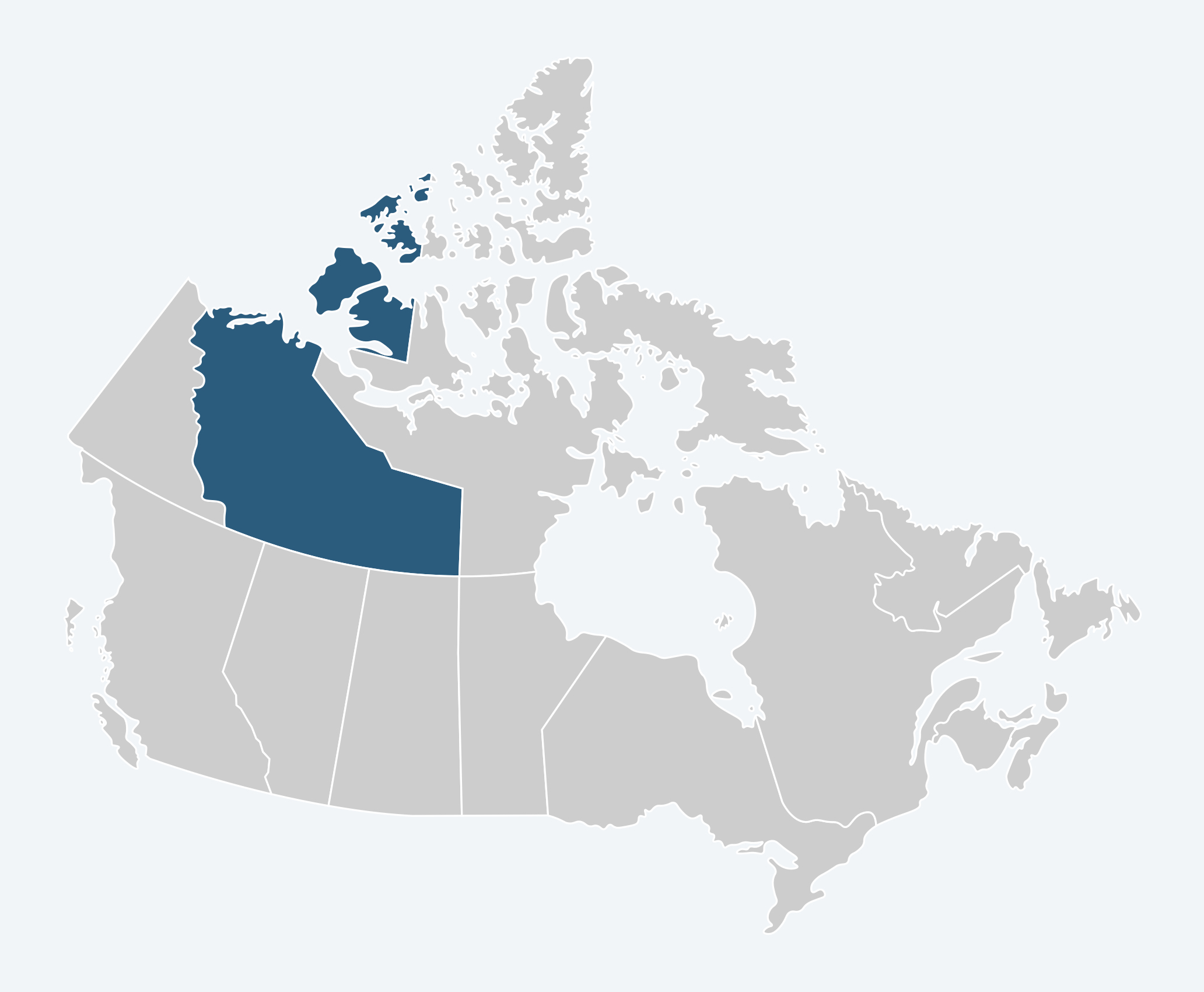 Geography of the Northwest Territories
The Northwest Territories (NWT) is located in the northwest region of Canada, as the name suggests. It borders the smaller Yukon territory to the West, and the territory of Nunavut to the East, as well the provinces of British Columbia, Alberta, and Saskatchewan to the South. A large portion of the Northwest Territories lies above the Arctic Circle, but most of the population lives in the South of the territory.
The climate of Northwest Territories can be extreme, but enjoyable if you are adequately prepared for it with warm clothing. Winters get very cold and snowy, sometimes dropping to -20 to -40 degrees Celsius. Spring and fall are quite short, cool seasons in NWT.
Newcomers might be surprised to know that despite its northern latitude, the Northwest Territories actually get very warm in the summer. Between June and August, temperatures can rise over 30 degrees Celsius. NWT typically receives many clear, sunny days and little wind. Summer days also last much longer this far north; on the summer solstice, the sun sometimes doesn't set until past midnight, and above the Arctic Circle, it doesn't set at all.
Tip: Winter clothing is essential in the Northwest Territories. Be sure to budget for a quality winter jacket (around $150-$200 CAD), plus gloves, hats, scarves, and other layers. Start looking with these outerwear retailers:

Parkas, which are extremely thick and warm winter jackets made for below-freezing temperatures (like Canada Goose or Mush Mush), can cost over $1000 CAD. If you plan to spend a lot of time outside, a parka is a good investment.
Populations of the Northwest Territories
The Northwest Territories is home to approximately 42,000 people — a smaller population than many Canadian cities. Around half of the population of the Northwest Territories is indigenous to the land. There are three main indigenous groups that live in many communities across the territory: Dene, the largest group, the Métis, near the Great Slave Lake, and the Inuvialuit in the far North. 
About half of NWT's population lives in its capital of Yellowknife, around 20,000 people. Yellowknife is often described as a small city with a big city feel, meaning that it has most of the amenities of a bigger city with a much smaller population. Most festivals in the NWT, such as the music festival Folk on the Rocks or the Snow King Winter Festival, occur in Yellowknife.
NWT is home to almost 4,000 newcomers, which makes up about 9 per cent of its population. Most newcomers move to the capital, Yellowknife, but others may choose a more remote location depending on job opportunities in mining, oil, or forestry. 
Tip: The communities of the Northwest Territories have fairly small populations, which can have unique benefits and drawbacks. Consider the advantages and challenges of settling in a smaller Canadian city when exploring your career and lifestyle options as a newcomer.
What languages are spoken in the Northwest Territories?
The Northwest Territories have more official languages than anywhere else in Canada. There are eleven official languages: nine indigenous languages, along with English and French. The Northwest Territories speaks English as a primary common language, but it is very common for residents to speak a second or third language. First Nations languages such as Cree, Chipewyan, and Inuktitut are spoken frequently, especially in small communities.
Tip: English language programming is available free of charge for newcomers from the Government of Canada and the Northwest Territories through the LINC program. Aurora College also offers English as Additional Language courses.
Spectacular NWT: What's special about the Northwest Territories?
Indigenous culture in the Northwest Territories
The indigenous history, customs, and language in this land makes up its most prominent and vibrant cultural groups. The Northwest Territories were covered in thick glaciers until 12,000 BC, and the indigenous Dene group made these challenging and cold lands their home shortly thereafter. The Dene group is a very large indigenous group that stretches all across North America. Hunting game such as caribou, deer, and moose, as well as fishing in the large lakes in the Northwest Territories, is as much a part of Dene and Northwest Territories culture today as it was thousands of years ago. Skilled Dene drummers are present at many Dene events, as a representation of both prayer and celebration.
The Inuvialuit peoples were also well-adjusted to the frozen terrain and lived in the Arctic areas of the province. The Inuvialuit are a group of Northern Inuit peoples whose culture is based around the Beaufort sea; fishing and hunting on the icy seashores are a large part of the Inuvialuit identity. Like the Dene, the Inuvialuit often drum and sing at cultural events.
Later, with the arrival of the European explorers and the fur trade, the Métis aboriginal group (descended from French explorers and indigenous women) arrived in the Great Slave Lake area 300 years ago as the fur trade moved West. Métis culture in the Northwest Territories is reflected in traditional fiddle music and dancing, as well as dog sledding and racing in the snowy North.
European settlers only came to the Northwest Territories about a century ago as employees of the Hudson Bay Company, missionaries, whalers, oil drillers, and miners. Most present-day communities in the Northwest territories were born out of fur trading posts and resource extraction, such as gold and diamond mining.
Must-see natural wonders of NWT
The Northwest Territories have an immense amount of land to explore, and much of it is relatively undisturbed by human presence. Adventurers will have the ultimate playground to travel across, full of mountains, waterfalls, lakes, rivers, and icy tundra in the North. Here are some must-sees in the Northwest Territories:
Watching the Northern Lights in the Northwest Territories
The Northern Lights, also known as the Aurora Borealis, is a natural phenomenon where multicoloured lights seem to flash and dance across the sky. Residents of the Northwest Territories are lucky as they get to witness this magic nearly 200 nights of the year, thanks to their clear nights and location beneath the Auroral oval. The Northern Lights are spiritually important to indigenous groups and the area, but anyone can appreciate this amazing light show over the vast North. Many visitors choose to take Aurora-viewing camping trips or excursions over frozen lakes for the full Northern Lights experience out of the city.
Tip: Download the free Explorer's Guide from the Northwest Territories to get a taste of adventures big and small available for newcomers in the territory.
The NWT economy: Biggest industries and the job market
Industries of the NWT
The Northwest Territories has a long history of mining, which remains one of the most important industries in the economy today. Gold, diamonds, lead, zinc, and more are mined in the Northwest Territories. Oil and gas exploration is also a pillar of the NWT economy, with high levels of oil and gas reserves that have yet to be developed and hold plenty of revenue potential for the territory.
As the home to indigenous groups, traditional First Nations ways of life are significant to the economy of the Northwest Territories as well. Fishing, hunting, and trapping continue to play an important role and sustain many indigenous communities.
The Northwest Territories is currently looking into places to expand its economy, as mining opportunities can be finite. It is projected that agriculture, commercial fishing, and tourism will all become more important to NWT over the next few decades.
Finding a job in the NWT
The Northwest Territories small population leaves room for newcomers to secure high-paying work in their field. The Northwest Territories also boasts the highest median household income in Canada.
The capital city of Yellowknife holds the most job openings, according to recent labour market outlooks. Annually, Yellowknife is projected to have about 975 job openings. The regions of Beaufort Delta, Dehcho, Sahtu, South Slave, and Tłchǫ each project between 80 and 300 openings per year.
Tip: Use the Northwest Territories job search tool to find detailed information on all NWT occupations and outlooks.
These are the jobs projected to have the most openings until 2027 in the Northwest Territories:
School teachers and educational counsellors

Administrative and regulatory occupations

House and business cleaners

Policy and program researchers

Paraprofessionals in legal, social, commercial, and educational fields

Home care providers and educational support

General office workers

Legislators and senior management

Retail Salespersons
See the Northwest Territories Labour Market Outlook to learn more.
Tip: The Government of Canada Job Bank also offers an online job trend analysis with estimates of job availability, wage, and educational requirements based on position and region. Test out these tools by searching your current and/or ideal occupations and region of Canada to gain insight on current career prospects.
How to immigrate to the Northwest Territories
Immigrating to the Northwest Territories can often be a much shorter process compared to immigrating to other areas of Canada, as there are typically fewer applicants and a streamlined immigration process for workers.
The Northwest Territories Nominee Program (NTNP)
The Northwest Territories Nomination Program (NTNP) is an immigration program for potential newcomers to the Northwest Territories. The nomination is intended to accelerate the immigration process for skilled workers, students, and entrepreneurs who can fill important positions in the territory that cannot be filled locally. There are two available streams:
Employers can nominate and hire foreign nationals to work in high-demand positions. You must have a job offer from an NWT employer before sending an expression of interest.
Look at these NWT job resources to help you find an employer:
For individuals who wish to start, purchase, or invest in a business in NWT. You must have the intent to settle permanently in the territory.
Tips: If you do not qualify for any of the above programs, you may be able to come to the Northwest Territories through a federal immigration program instead. Refer to the list of other immigration options to find the best fit for your personal needs in your journey to Canada. 

Be sure to thoroughly research all of your Canadian immigration options on the Government of Canada website or speak with an authorized immigration consultant before applying.
The NWT lifestyle: Additional resources and tips for newcomers
Newcomer-specific resources in NWT
Download the Welcome to the NWT guide as the first step in your journey to the Northwest Territories. Most newcomer resources in the Northwest Territories are based out of the capital of Yellowknife. If you plan on living in a smaller community, they may still be able to help you out or point you in the direction of other resources closer to you: 
Cost of living in the Northwest Territories
Living in Northern Canada is generally more costly than in the South of Canada because of the extra cost to transport goods to the North. However, the Northwest Territories also have higher wages on average, so you may find these aspects to balance each other out.
Our Monthly Expenses Calculator can help you manage your budget in your move to Canada.
Transportation in the Northwest Territories
Driving is the way that most locals travel in the Northwest Territories. If you need a car to get around, you have the option to rent, lease or buy a car for personal transportation. The Government of Canada outlines the pros and cons of purchasing or leasing a vehicle as a newcomer in any region. 
Winter driving may be new to some newcomers, so it is important to know how to prepare for icy roads and poor visibility in snowstorms. Installing winter tires and keeping an eye on the forecast are essential first steps to winter driving. See the NWT Winter Driving Tips for more information.
Commutes are typically short in NWT, as communities are relatively small. There is public transit in Yellowknife in the form of bus service that runs three routes. Smaller communities do not have public transit, but taxis are available.
Daily flights take off from southern Canadian flight hubs like Edmonton, Calgary, and Vancouver to the city of Yellowknife in the Northwest Territories, most of which take between one and three hours. This makes flying internationally to and from the Northwest Territories straightforward for newcomers and visiting family. 
Buying food in the Northwest Territories
There are just a few bigger grocery stores and a few smaller food shops in most communities in the NWT. Here are some of the main spots for locals to buy groceries in the capital of Yellowknife:
Independent Grocer

Co-op

Luluz Market

Northern Food Services

Walmart
Tip: You may find it more difficult to get specific international ingredients in Yellowknife than in other larger cities, but the international restaurant scene is growing. There are many highly-rated international restaurants such as Zehabesha Ethiopian Food, YK Hotpot, the food truck One of a Thai, and more.
Moving to the Northwest Territories as a newcomer can give you great job opportunities, space to live and explore, new cultural exposure, and the experience of a lifetime. Though it can be a cold place to live, this land can be rewarding in its natural wonders, plentiful hunting and fishing, and view of the Northern Lights for more than half of the year. If you thrive in a smaller community and close access to nature and don't mind a slightly remote location, the Northwest Territories can be an ideal place to support you in your new life in Canada. 
About Arrive
Arrive is powered by RBC Ventures Inc, a subsidiary of Royal Bank of Canada. In collaboration with RBC, Arrive is dedicated to helping newcomers achieve their life, career, and financial goals in Canada. An important part of establishing your financial life in Canada is finding the right partner to invest in your financial success. RBC is the largest bank in Canada* and here to be your partner in all of your financial needs. RBC supports Arrive, and with a 150-year commitment to newcomer success in Canada, RBC goes the extra mile in support and funding to ensure that the Arrive newcomer platform is FREE to all. Working with RBC, Arrive can help you get your financial life in Canada started – right now. Learn about your banking options in Canada and be prepared. Click here to book an appointment with an advisor.
* Based on market capitalization
Disclaimer:
This article offers general information only and is not intended as legal, financial or other professional advice. A professional advisor should be consulted regarding your specific situation. While information presented is believed to be factual and current, its accuracy is not guaranteed and it should not be regarded as a complete analysis of the subjects discussed. All expressions of opinion reflect the judgment of the author(s) as of the date of publication and are subject to change. No endorsement of any third parties or their advice, opinions, information, products or services is expressly given or implied by Royal Bank of Canada or its affiliates.