From an interview with Mitchell Cabrera.
Mitchell Cabrera is a co-owner of The Night Baker, home of Toronto's best soft and chewy cookies. But he wasn't always a baker. Mitchell graduated with honours from a prestigious university in the Philippines, with a double major in chemistry and computer engineering. He was looking forward to landing a job with a  multinational company there. Instead, he came to Canada. We couldn't persuade Mitchell to give us his secret "Ooh Bae" cookie recipe, but he did share his story of coming to Canada during the financial crisis, working multiple jobs and landing a career while doing his MBA, and turning a passion project into a successful entrepreneurial venture.
In 2004, my parents were planning to come to Canada and asked if I wanted to join them. I thought about it for a second and said, "of course!" Even though I was set up for a good job in the Philippines, I knew there would be more opportunities in Canada. The application process took years, to the point that we thought it wasn't going to happen at all. I graduated from my second degree, and  was on my way to a job interview when my mom phoned me and said, "We got accepted to Canada––and we have one week to go!" So I had to pretty much uproot my life in one week. I called the interviewer and said, I was sorry, but I would not be attending the interview. One week later, we were in Calgary, Alberta.
2009 wasn't actually the best time to immigrate. Due to the financial crisis, it was really tough to find a job. Also, I had just come from school in the Philippines and had no work experience. I applied everywhere. but couldn't find anything for a long time. Thankfully, my mom knew someone who worked at the local food court and that's where I got my first job. I mopped the floors which was an honest job, but it was humbling because at the time my friends were landing jobs left and right at multinational companies in the Philippines.
But now I had Canadian job experience, so I applied for my next job as a bank teller. I aced the interview and they pretty much hired me immediately. After that, I thought, "Okay, what else can I do?" I applied for the Master's of Computer Science program at the University of Calgary and I got in. I left the job at the food court, but I was still working at the bank and as a teacher's assistant (TA). It was a hectic time, but it was great. I was doing really well. 
Networking
pays off: You don't know who will open the door
My mindset at this point was to be open to meeting as many people as possible and saying yes to all events and opportunities to network. I believe that's what really gets you through the door––knowing the right person, being in the right place when the opportunity comes along.

Networking got me my next job, which turned into a career in computer science. I played in a Filipino basketball league and one day, when I was downtown, I bumped into one of the guys from the league. We got talking and he asked me what I was doing. When I told him I was doing my master's in computer science he asked, "Do you know Java? Do you know how to write programming?" When I told him that I taught programming I could see the gears turning in his head.

He was working on software that was very programming intensive and did contracting work for IBM, where there was a job opening. He sent me all the programming material and I studied it for two weeks straight. I trained myself day and night, as much as I could. I showed him the test results and everything was good. That was it. That was me getting my foot in the door.
I was in the middle of doing my master's degree and was now working seven days a week, juggling school and three jobs. I had my TA job, I had been promoted to a financial services representative at the bank, and I was also working three days a week as a computer consultant. Eventually, I was flying back and forth between Calgary and Toronto to meet with clients, so I quit my job at the bank.

Flying to Toronto for a few days a week and then flying back, going to class, and then flying back the next week was becoming more and more difficult. I quit my job as a TA. I sat down with my advisor and explained my situation and that I would have to drop out of school. He was very understanding. He said that it often happens that people drop out of master's degrees to pursue an opportunity to actually do what they want to do. So, for a period of about five years, I flew back and forth from Calgary to Toronto,  living in hotels for pretty much 300 nights a year. So it was quite a life. It was also very tiring.
My wife (whose story is very similar to mine, coming from the Philippines with a degree in chemistry) was studying and working in New York. We were dating long distance for a while, but in 2017 we decided to get married. Leading up to our wedding, we planned our life together: where would we live, New York or Calgary? I really wanted to stay in Canada and she wanted to be close to her family. So we met halfway and decided to move to Toronto. I had my consultant job and she worked remotely for her company in New York. 
Turning passion into a successful business
Both of us have been home bakers for a long time. In 2017, we began baking as a side business. We were pretty nervous because our backgrounds were both in chemistry and we had no professional baking experience. It's a very different thing to bake for your family and friends than baking for actual paying customers. We gave it a shot, and attended our first market in a school gymnasium in Etobicoke.

Our cookies were an instant hit! The market was open from 11:00 a.m. to 5:00 p.m., but our cookies were completely sold out by 2:00 p.m. It was the most amazing feeling to be honest. And yeah, it was a validation of what we'd been working on. We did more and more markets and kept selling out every time. We doubled our production for each market and we just kept selling out.
One of our most popular markets takes place in front of Royal Bank Plaza in downtown Toronto. The market opens at 8:00 a.m., but we'd set up between 6 a.m. to 7 a.m. A line up would start at 7:30 and we'd sell out by 1:00 p.m. We were shy and embarrassed about it, because a lot more people would come and we had nothing left for them but business cards.
I was a full-time IT security consultant and we were baking on the side. A lot of people liked what we were making and we saw there was potential for a business. When the business started to take off, my wife decided to leave her job to focus on The Night Baker full time. We opened our first location at College and Ossington in February 2019. That's when I quit my job and we both dove in full time. Fast forward to 2021 and we have our second store now open on the Danforth. 
Making recipes that work based on traditions and science
A lot of what we do comes from our Filipino backgrounds. For example, our most popular cookie is called "Ooh Bae." It's a very striking purple cookie that looks like a galaxy and, when you open it and it's hot, jam oozes out. It's really, really good. Ooh Bae is named for the sweet purple yam Ube, which is the main ingredient in some of the most popular desserts in the Philippines, especially around Christmas time.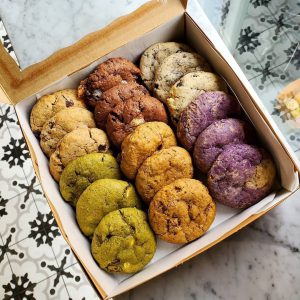 In the Philippines, we count down Christmas from 100 days out. There are Christmas songs and jingles everywhere. When December comes, you attend parties almost every day. It's such a big celebration. We have Simbang Gabi, which translates to night mass (the Philippines is a largely Catholic country) and, for the nine days leading up to Christmas, you go to midnight mass. Afterwards there are food vendors outside the church serving things like bibingka, which is a sweet rice cake with cheese and butter served over banana leaf, or puto bumbong, which is a purple rice cake served with toasted coconut, butter and sugar. They're served piping hot and they're the best thing ever.

If celebrations inspired the creativity in our cookies, our backgrounds in chemistry ensure we make our cookies with consistency. It actually took us nine months to create our first cookie. We did a lot of research and experimentation. We used scientific methodology, due diligence, and were very systematic and meticulous with our notes.
Mitchell's top five tips for newcomers
1. Get out into the community.
It's important to talk to people and build relationships (During COVID, it may be virtually). You never know who you're going to meet or who will open a door for you. Get out there.

2. Be resilient. 
Even in an economic downturn, there are opportunities out there for everyone. If you go for a job interview, the worst thing they can say is no. And if they say no, you move on to the next one, and the next one. You just keep on searching, keep on going until you get that first yes.

3. Get your credentials or certification. 
If you have a specific career in mind, do your research on what credentials you actually need in order to get that job, or go into that career. There are a lot of programs available online to get certifications that will dramatically increase your chances of getting the job you want.

4. Take advantage of resources for entrepreneurs
When we first started out, we really didn't know anything about running a business. The City of Toronto and the Government of Ontario offer great programs to support first-time business owners and entrepreneurs. My wife attended seminars, and we watched tutorials and seminars online. We learned how to start a business, make a business plan, and lots more.

5. Stay warm.
Coming from a climate with temperatures of 27 to 30 C and arriving in Calgary, where winter temperature can drop to -30 C or -40 C, is a real adjustment. 
I learned very early on that, when you move to a new country, nothing will be handed to you. You have to be resilient and persevere. You have to do the hard work. That was my mindset. I think I got a lot of it from my parents, especially from my mom. My parents were both executives in companies in the Philippines, and my mom's first job here was at a department store. My dad, who was a vice president of marketing at home, started working at a convenience store. They saw it as necessary. It was hard but they kept on going and kept on working. I think that's what inspired me to just keep going as well.
I came here freshly graduated from school, started working at the food court, then as a bank teller, a teacher's assistant, and then got into IT security. I was very lucky to have a job that compensated well, so we were able to have enough savings to actually do what we're passionate about.

Right now it's all about making people happy with our cookies. I'm hopeful we can expand and make more and more people happy. If our business continues to do well, we'd like to open more stores in Toronto and, if that goes well, open stores in other cities in Canada. And, if it goes really well, then probably expand to the United States. That's the roadmap for now.