Canada is the second-largest country in the world, so it is no surprise that it is home to all kinds of landscapes, cities, towns, people, and cultures. This great variance from coast to coast means that there are endless opportunities for newcomers, with great new careers and friendly communities for everyone. Canada has three territories and ten provinces, each with a distinct culture to explore in our provincial spotlight blog series. This article will focus on the Canadian territory of Nunavut.
The northern territory of Nunavut is lesser-known to many newcomers than Canada's big cities, yet it offers great opportunities in career options and lifestyle choices. Located in the northeastern corner of Canada, this territory is known for its indigenous culture, cold weather, and majestic tundra scenery. 
Tip: For more information on becoming a permanent resident, see Provincial Nominee Programs (PNP): Moving to Canada as a permanent resident (PR) and Express Entry: Moving to Canada as a permanent resident (PR).
The largest territory: Nunavut's geography and population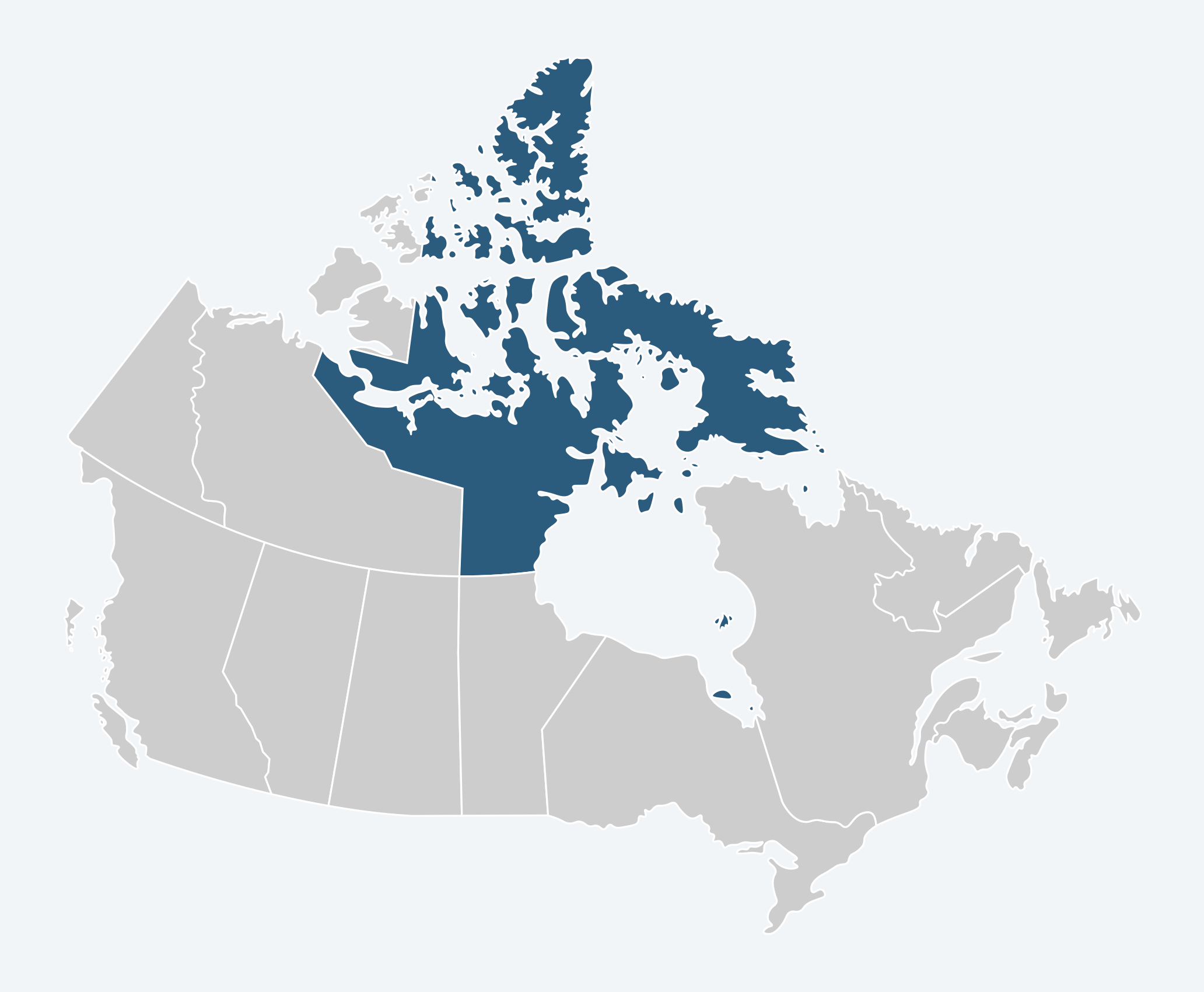 Geography of Nunavut
The territory of Nunavut is located in the northeasternmost region of Canada. Nunavut lies north of Manitoba, Ontario, and Quebec, and to the east of the Northwest Territories. Nunavut is the largest territory by land mass, and much of its land is made up of frozen arctic islands called the Arctic Archipelago, above the Arctic Circle. Much of Nunavut's land is classified as tundra, with frozen permafrost resting underneath the ground where many arctic species, such as polar bears and caribou, roam freely. 
Winters are very cold in Nunavut, with average temperatures sitting around 30 degrees Celsius. Summers are typically quite cool, around 5 and 15 degrees Celsius.
Tip: In Nunavut, warm winter clothing is an essential investment. In the winter, wearing multiple layers is always a good idea, along with gloves, hats, and scarves. A quality winter jacket is necessary to include in your budget. The most common parka style can be quite expensive (at least $800 CAD) from a Canadian retailer like Canada Goose or Arctic North. Shopping for locally made products is a good way to save money and support indigenous vendors.
Nunavut's population
The population of Nunavut is around 40,000 people, according to the 2016 Canadian Census. Over 80 per cent of the population of Nunavut is of Inuit descent. The Inuit peoples have been indigenous to the land surrounding the Arctic Archipelago for over 4,000 years. The name Nunavut means "Our land" in the Inuktitut language of the Inuit.
The capital city of Nunavut is Iqaluit, on the southern tip of Baffin Island. The city is the smallest capital in the country at just over 8,000 residents. Iqaluit is the largest community in Nunavut, followed by Arviat, Baker Lake, and many more smaller communities of 1000 people or less.
"
I moved to Iqaluit, NT from Manitoba for an amazing professional opportunity, and fell in love with the amazing Inuit culture, food, language, and warmth of the people here.
"
– Catherine, Iqaluit resident.
There are less than 1,000 newcomers currently living in Nunavut, as few people immigrate to the territory each year. Newcomers tend to come most often from the Philippines, the U.S., and the U.K.
Tip: The communities of Nunavut have fairly small populations, which can have unique benefits and drawbacks. Consider the advantages and challenges of settling in a smaller Canadian city when exploring your career and lifestyle options as a newcomer.
Nunavut identity: The newest territory with the oldest cultures
The territory of Nunavut is the newest designated territory or province in Canada, as it was divided from the Northwest Territories in 1999. This new distinction was made to create an official homeland for the Inuit of Canada, governed by themselves, in the land in which they have lived for thousands of years. 
Inuit culture in Nunavut territory
As the majority of Nunavut's small population is Inuit, the Inuit culture is very strong in the territory and differs slightly between each small community. Traditional Inuit arts and crafts are one of the territory's largest industries, including stone carvings, weavings, and prints. The elders of the Inuit community, highly valued for their wisdom, teach the traditional arts to their younger generations, along with music, dance, and story.
Inuit celebrations are marked by traditional performing arts such as storytelling, throat-singing, and drum dancing, along with Inuit athletic games. Festivals such as the Rockin' Walrus Arts Festival, Toonik Tyme Festival, and the Alianait Arts Festival celebrate the ancient traditions in a modern setting in the capital, Iqaluit.
The Inuit culture is sometimes misrepresented in the world based on incorrect assumptions made decades or centuries ago. The people prefer the name Inuit, which has always been the name they had for themselves, as opposed to the offensive term "Eskimo," a name given to them by European settlers. Despite preserving ancient traditions, Nunavut is a modern society, and folks do not live in igloos, as some across the world have been led to believe. 
Language in Nunavut: What languages do they speak in Nunavut?
Nunavut has three official languages: Inuktitut (the family of Inuit languages), English, and French. Inuktitut is the most common mother tongue, but many residents also speak English. Not many other languages are spoken widely in Nunavut.
The Inuktitut language family includes various dialects. Speakers in Northern Quebec speak Inuttitut, a separate dialect, and speakers in Northern Labrador speak Inuttut.
Tip: Contact Carrefour Nunavut for adult and child language programming in both French and English to assist in your transition to life in Canada.
What is the Arctic really like?
The land of Nunavut is very diverse, with high mountains and fjords in the Qikiqtani Region, to rolling tundra and large lakes in the Kivalliq and Kitikmeot Regions. The cold weather is a welcome challenge, rather than a barrier, for many exploring these incredible northern regions. Exploring Nunavut by dog sled, hiking, or fishing for arctic char, are all great ways to experience the breathtaking Arctic lands, as well as witness Inuit culture. As long as you are prepared with the right gear and guide, anything is possible in the North.
"
There are great hiking areas just outside the city perimeter of Iqaluit. Sylvia Grinnell park is nice for hiking and camping and is only a ten-minute drive. I also find walks on the beach in the nearby community of Apex to be calm and beautiful.
"
– Catherine, Iqaluit resident.
Clear skies in Nunavut: The Aurora and the midnight sun
In Nunavut, residents are lucky to catch nightly views of the Northern Lights, also known as the Aurora Borealis, a natural phenomenon where multicoloured lights seem to flash and dance across the sky. Due to long winter night hours, these lights are visible well into the day. The Northern Lights are known as aqsarniit to the Inuit people. Many visitors choose to take Aurora-viewing camping trips or excursions over frozen lakes for the full Northern Lights experience out of the city. 
Its high northern position means not only does Nunavut experience long winter nights, but also extremely long and sunny summer days. In the capital city of Iqaluit, the sun can shine for almost 21 hours of the day — a phenomenon known as the midnight sun — when visitors can use their extra daylight hours for celebration or exploring. 
Finding prosperity in NT: Industries, job market, and work-based immigration
What are the main industries in Nunavut?
The main industries of Nunavut are primarily resource-based, including traditional and commercial hunting, fishing, and trapping. Selling traditional arts and crafts are also a large part of the way in which individuals and families support themselves in Nunavut. Mining exploration and mining is also a growing industry, as there are plenty of unexplored areas in Nunavut. However, the northern position of the territory currently makes it both difficult and expensive to uncover new resources and transport equipment. Tourism is also growing in Nunavut, as more of the world discovers its natural beauty and culture.
What jobs are available in Nunavut?
The largest employer in the territory is the Government of Nunavut. Typically a diploma or degree in business administration, finance, or a related discipline is required. Other in-demand career options include:
Facility and maintenance managers

School administrators

Construction managers

Human resource professionals
Shippers and receivers

Conservation and fishery officers

Registered nurses

Early childhood educators

Janitors and caretakers

Taxi drivers
See more information on in-demand career options in Nunavut. You can also download our guide to the Canadian job market for newcomers for in-depth analyses of several professions.
Tip: The Government of Canada Job Bank also offers an online job trend analysis with estimates of job availability, wage, and educational requirements based on position and region. Test out these tools by searching your current and/or ideal occupations and region of Canada to gain insight on current career prospects.
Nunavut immigration: How can I immigrate to Nunavut?
Unlike other provinces and territories in Canada, Nunavut has no provincial nomination program for immigration. However, interested candidates can still apply for immigration to Nunavut through federal immigration programs by the Government of Canada. Here are common options for immigrating to Nunavut:
Express Entry:

Skilled workers can immigrate to Canada through this federal program. See our article on

Express Entry

for more tips on becoming a permanent resident. 

Family Sponsorship:

Your family in Canada can sponsor your immigration to Canada, or if you become a permanent resident, you can sponsor your family's immigration. See our article on

Family Sponsorship

for more tips on becoming a permanent resident.
Tip: Be sure to thoroughly research all of your Canadian immigration options on the Government of Canada website or speak with an authorized immigration consultant before applying.
Moving to Nunavut: Additional resources and tips for newcomers
Resources for newcomers in Nunavut
Most newcomer resources are based in Iqaluit. However, they may still be able to assist if you move to a smaller community:
Groceries up north: Are the food prices higher in Nunavut?
Food prices are generally a bit higher in the territories as the food has to be shipped a farther distance. Nutrition North Canada is a program by the Government of Canada to subsidize the cost of healthy, fresh food.
Each community typically has multiple food and convenience stores for everyday items. The sealift is a service used by locals to ship non-perishables and non-food items by ship each summer when the ice melts. International ingredients can be ordered in this way, or ordered online by Air Cargo, which is more expensive but runs year-round. 
Country food generally refers to traditional Inuit foods such as caribou, seal, fish, and whale. Nunavut Country Food Store, located in Iqaluit, is one place to try country food. 
See the list of Nunavut FAQs for more information on food in Nunavut.
Tip: Our Monthly Expenses Calculator can help you manage your grocery and living budget in your move to Canada.
How do I travel to Nunavut?
There are no roads available to drive to Nunavut, nor are there roads connecting communities in Nunavut. Getting on a plane is the best way to travel between communities and into the rest of Canada. The four gateway flight cities to Nunavut are Montreal, Ottawa, Winnipeg, and Edmonton. Nunavut Tourism has more information about flying into and around Nunavut. There is no public transit in Nunavut, but there is a taxi service in some communities.
Within communities, residents typically drive cars to reach their destinations. Newcomers can rent, lease or buy a car for personal transportation. The Government of Canada outlines the pros and cons of purchasing or leasing a vehicle as a newcomer in any region. Winter driving may be new to some newcomers, so it is important to know how to prepare for icy roads and poor viewing conditions in snowstorms. Winter tires and high road awareness are necessary for icy winter driving. See the Nunavut driver's manual to learn more about winter driving and obtaining a driver's license.
The territory of Nunavut is one of Canada's most special and awe-inspiring places due to its sweeping tundra landscape and long-standing cultural traditions. Though not many people outside of Nunavut will get to make the journey in their lifetimes, it is important for Canadian citizens and potential newcomers to be aware of everything Nunavut territory has to offer to its residents and visitors. For newcomers hoping to make the journey to Nunavut, the community of the Nunavummiut and the opportunity of a lifetime to start a new career and life in the north will be one of the greatest adventures of your life.